Reverse osmosis water system technology is used across a wide range of industries from healthcare and food and beverage production to industrial processing and laboratory testing. With their ability to create cost-effective, efficient demineralised water streams, it's easy to see why reverse osmosis water systems are central to many water treatment processes.
For a free assessment to evaluate water treatment and process filtration solutions for your site, contact our team of expert engineers
What is reverse osmosis?
Reverse osmosis is an energy-efficient and water-efficient way of generating pure water streams. By using pressure and a semi-permeable membrane, water molecules can be separated from impurities, such as microbes, suspended solids and dissolved salts. Unlike ion exchange demineralisation technology, reverse osmosis water system technology doesn't require hazardous chemicals for regeneration. This makes this technology the perfect choice for businesses who can't store chemicals on-site or want to eliminate health and safety risks.
How does reverse osmosis work?
Reverse osmosis is an adaptation of a natural process: osmosis. Osmosis is the flow of a solvent (such as water) through a semi-permeable membrane from an area of low solute (dissolved substance) concentration to an area of high solute concentration. As the solvent moves across the membrane it increases the volume on the high solvent concentration side.
Reverse osmosis, as the name suggests, reverses this process. By applying pressure to the higher solute concentration side, osmosis can be stopped. By increasing the pressure further, the water molecules can be driven back towards the low solute concentration side. The amount of pressure needed is directly proportional to the concentration of dissolved solids.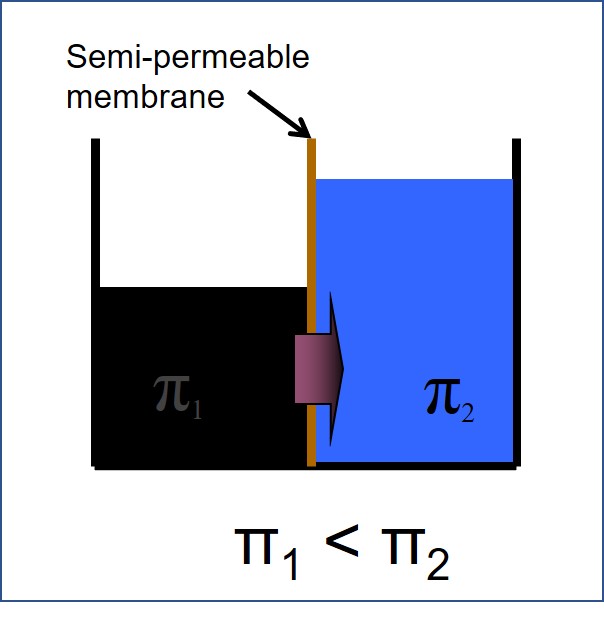 During osmosis, a solvent moves from an area of low solute concentration to an area of high solute concentration.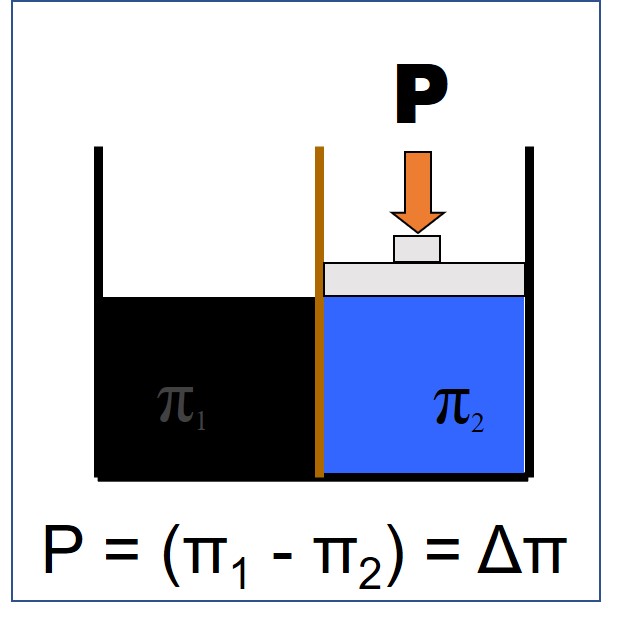 By applying pressure to the higher concentration side, osmosis can be stopped.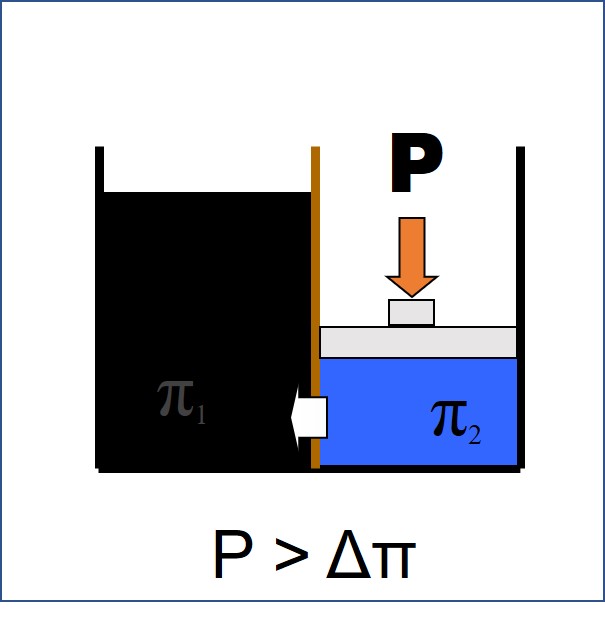 By increasing the pressure further, reverse osmosis can be initiated, increasing the diluted volume.
By separating water streams in this way, up to 96% to 98% of dissolved salts and 99.9% of organic molecules can be retained in the brine, while only water molecules are forced into a new, highly purified stream. Because of the nature of the semi-permeable membrane, other impurities, such as organic materials, microbes and pyrogens are also retained in the brine, further increasing the purity of the resulting water stream.
Interested in learning more about reverse osmosis water system technology for your process? Speak to our expert team.
What is reverse osmosis technology?
Reverse osmosis water systems use advanced membrane technology to increase the efficiency of the reverse osmosis process making it scalable and highly effective for industrial use.
Spiral wound membranes are arranged in high-pressure housings. Feedwater is passed across the membrane and the pressure forces the water molecules into a central channel where they are extracted as a purified stream. The remaining concentrate typically has a four-fold increase in total dissolved solids, versus the incoming stream.
Envirogen reverse osmosis water system technology typically recovers around 75% of incoming water streams. For even greater efficiency, nanofiltration modules can be added to filter the concentrate and achieve an overall 90% water recovery rate, which ensures only a small amount of the incoming water stream is sent to drain as waste.
Reverse osmosis water systems the Envirogen way…
Envirogen reverse osmosis water systems are based on a range of fundamental features, depending on the product and application:
High-quality spiral wound membranes
Robust high-pressure housing
Full PLC and HMI touchscreens available for complete control and monitoring
Optional variable speed pumps for improved process control and energy efficiency
High recovery nanofiltration bolt-on option, for up to 90% water recovery rate
Continuous operation – no chemicals needed and no pausing for regeneration cycles
Compact, modular design – for easy integration with existing water treatment systems
Straightforward membrane recovery and replacement
Future-proofed design – upscale by adding additional modules to increase flow rates
Straightforward service and maintenance – with a variety of tailored PureCare plans available
Speak to our team of experts to discover how you could save money, increase manufacturing efficiencies and reduce costs. We conduct free assessments to identify how you can improve your water treatment and process filtration systems
Envirogen reverse osmosis products
We offer a range of reverse osmosis water systems, each designed for specific applications:
EcoRO – modular, skid-based reverse osmosis plant for every demand and budget in industrial applications.
EcoRO Compact – this cost-effective system provides high-quality water using straightforward controls, achieving volumes of up to 1,000 litres per hour.
PureSep RO – with stainless-steel fittings and hygienic connectors for food and beverage manufacturing.
Eco MultiPro – system is designed to provide high purity security. Combining three powerful technologies in one skid-based, plug-and-play design, Eco MultiPro uses reverse osmosis (RO) and electrodeionisation (EDI), along with carbon dioxide (CO2) degas membranes.
EndoTherm – for healthcare applications including automatic endoscope reprocessors and surgical instrument washer-disinfectors, autoclaves and sterilisers.
Bespoke reverse osmosis systems – designed, built and installed to meet your exact water treatment needs. For further information contact our team of experts.
Reverse osmosis case studies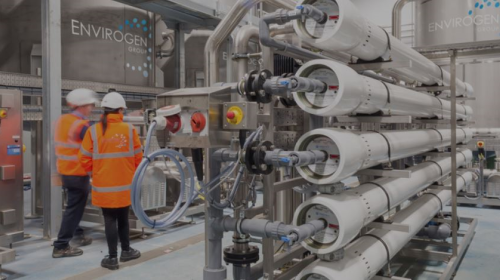 Enhanced water treatment and water purification solutions, including reverse osmosis technology, helps Britvic Rugby achieve manufacturing growth on aseptic lines.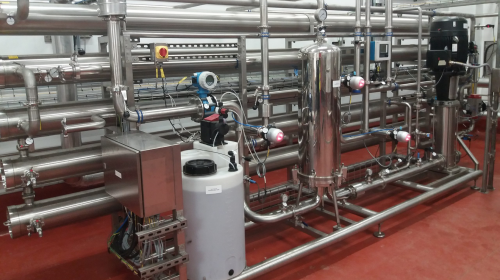 Hygienic PureSep RO system helps CCEP Edmonton site reach ambitious sustainability standards, with 90% water recovery.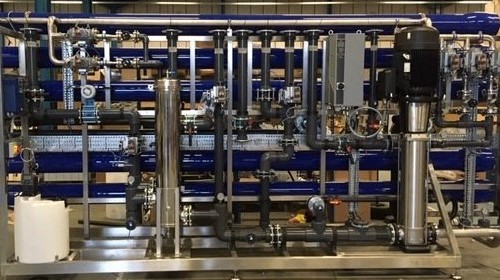 EcoRO reduces water conductivity for highly sensitive paint dipping process with a 90% water recovery rate.
Reverse osmosis technology helps Crown Slovakia reach a 90% water recovery goal in its can manufacturing process.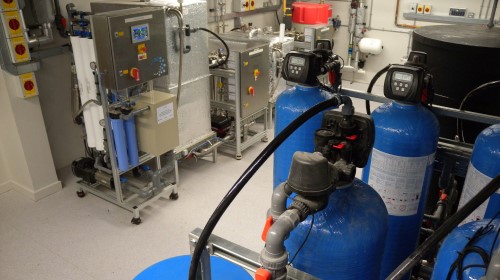 The small and flexible EndoTherm Duo Modular reverse osmosis system helps meet high reprocessing rates for centralised endoscope reprocessing facility.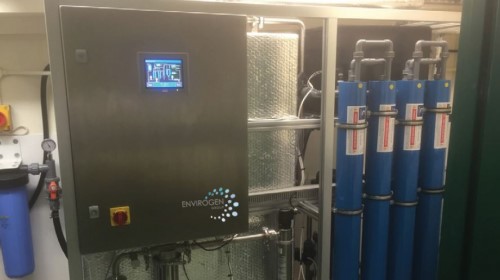 Compact EndoTherm Duo RO system keeps sterile services department running at Musgrove Park Hospital with zero downtime during installation.
Speak to our team of experts to discover how you could save money, increase manufacturing efficiencies and reduce costs. We conduct free assessments to identify how you can improve your water treatment and process filtration systems