Physical filtration through disks consists of retaining suspended solids of water in channels created by an overlapping set of disk filters, fitted within a highly secure structure.
Disk filters have a number of disc-shaped components held on a central core. The stacked disk filters are hollow, with filter media over the faces of the disc. They contain a series of single disks, porous on both sides, that are stacked over a perforated inner tube with intermediate spacing washers creating a flow space between each pair of discs. Flow is between and then through the filter discs and into the inner tube.
The complete disc filter assembly is clamped together inside an outer, cylindrical straining screen that prevents passage of larger particles into the spaces between the discs.
The Vortix in-line self-cleaning strainer system with disk filter elements
Our Vortix disk filtration system provides a sustainable solution with its polymeric body and patented backwash technology. Disk channels perform deep filtration, combining precise depth filtration, high dirt-holding capacity, and an easy-to-scale modular design that permits a wide range of flow rates and configurations.
The Vortix self-cleaning strainer system is ideal for many industries and applications, including:
Irrigation protection – for filtration of surface water, and water containing organic contaminants, including surface irrigation, drip and sprinkler irrigation.
Industrial protection – for cooling and process water filtration, heat exchanger protection, pre-filtration, water treatment plants, water reuse, recycling, recirculation.
Other applications – golf course, turf, landscape and greenhouse irrigation systems, including nozzle and pump protection.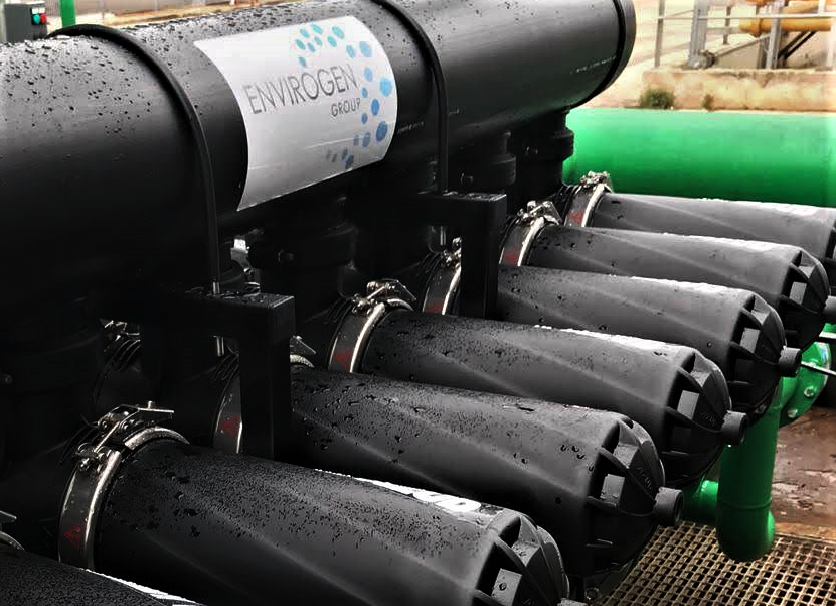 An Envirogen Group self-cleaning disk filtration system
In simple terms, our self-cleaning disk filter technology works in three stages:
Controller system:
The controller, which may be set to trigger the cleaning cycle by pressure differential, time, or both, operates hydraulic valves in the inlet which change the direction of water flow in the filter.
This reverse flow initiates the self-cleaning filtration and backflush process.
Self-cleaning filtration stage:
Water flows from the outside of the disc stack to the inside, passing along the specially designed grooves on the surface of the disk filters which catch suspended material.
The Vortix generates an outward centrifugal helical effect upon entry into the filter (commonly known as 'vortex filtering'), this moves the particles away from the disks.
Clean filtered water then passes efficiently trough the depth of uniquely designed discs.
Backflushing stage (one station at a time for continuous filtration):
The clean water from the auxiliary filter is introduced from the reverse direction through the filtering element. This decompresses the stack discs, allowing the discs to separate and back-wash efficiently.
The solids are expelled from the discs and exits through the back wash manifold. The filtration process then restarts with the compression of the discs.
The back-wash is controlled by valves and a controller, which integrates the filtration equipment.
Key benefits
Our disc filters offer a unique disc filter design, engineered for longevity and low maintenance with attention to numerous features that reduce the overall cost of ownership:
Filtration degree 5 to 400 micron
Modular range to meet every requested flow rate
Self-cleaning without any interruptions
Automatic flushing by means of both differential pressure and time
Highly durable with corrosion free plastic construction materials
Working principle is the combination of surface, depth and vortex/cyclone filtering
Highly secure structure – large filtration areas with modular and effective design
Centrifugal action optimises filtration performance and reduces backwash frequency and maintenance
Self-cleaning filtering element – backwash process uses minimal water maintaining an efficient cleaning action
Wide range of flows and configurations using a minimal number of components
Compact assembled systems for easy transportation and installation – 'plug and play'
Cost effective – Range of designs available with low operating costs and easy maintenance
Simple and robust design – compact design for installation in small or tight locations
Water and energy saving system
Tailored filtration solutions to meet your needs
Selecting the right disk filter and disk filtration systems for your application will depend on many factors, such as the flow rate and type of liquid, the size and type and number of the particles to be removed, the working pressure, the required retention efficiency and the chemical and temperature compatibility of the media.
Our team of process experts recommend solutions to maximise the effectiveness of your filtration process, enabling you to hit production and quality targets with a low total cost of ownership