Oil adsorption depth filter cartridges are specifically designed for the removal of dissolved and dispersed hydrocarbons from water within oil and gas production, marine/shipbuilding and other industrial applications. Dissolved oil, emulsions and dispersed droplets are adsorbed and retained from water by the filter media.
Refinsorb oil adsorption filter cartridges
Our Refinsorb oil adsorption filter cartridges effectively remove up to 99% of dissolved and dispersed hydrocarbons from water through adsorption. Adsorbing around three times its own weight, Refinsorb retains high flow rates with maximum efficiencies. Filters are available in different lengths to fit most common filter housings, economically removing emulsions and dissolved fractions. Envirogen's RefinSorb oil adsorption filter cartridge technology is often used as the polishing step after oil removal technologies and before discharge.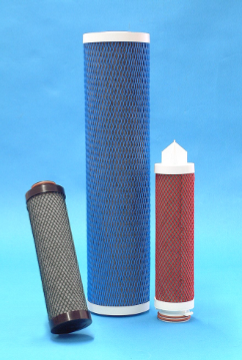 Product details:
Effective and efficient adsorption of dissolved and dispersed hydrocarbons from water
Oil adsorption at around three times the cartridge weight before replacement
No hydrocarbons unloading near saturation
99% hydrocarbon removal rate
360g approximate capacity in standard format and 1290g in big-blue-size format, for every 10 inches of filter cartridge
Several end-cap options available to fit many standard filter housings
No risk of bypass due to the unique design and construction of the filter media and cartridge
Typical applications:
Bilgewater
Well test water
Produced water, including offshore
Displacement water
Trace oil
Surface water run-off
Degreasing
Pipeline purge water
Industrial discharge water
Pre-treatment for reverse osmosis systems
Tailored filtration solutions and oil adsorption filter cartridges to meet your needs
With so many filtration options, it can be difficult to choose the oil adsorption filter cartridges and filter housings for your application.
Choosing the right solution depends on:
Process temperature
Type of liquid or gas medium
Type and percentage of solids
Operating and design pressures
Desired particle removal size
Size and micron ratings
Viscosity of the fluid
Available space
Approvals process and regulatory requirements
Other factors linked to your process/application
At Envirogen, we take a solutions-based approach to filter selection, we discuss your process filtration goals, understand your desired outcomes and give expert advice on oil adsorption filter cartridges, filter housings and consumables packages that best meet your needs.
Our team of process experts recommend solutions to maximise the effectiveness of your filtration process, enabling you to hit production and quality targets with a low total cost of ownership