Envirogen Fluxflo needle felt filter bags are silicon-free, cost-effective alternatives to filter cartridges and can also be used upstream to catch part of the dirt load and protect more expensive filter cartridges used in demanding applications. Felt filter bags are used in many industrial processes, from pre-filtration and the protection of nozzles to chemical bath or heating circuit cleaning, maximising product quality and minimising rejection rates.
Fluxflo needle felt filter media captures particles throughout the filter depth, giving high loading rates for both non-deformable and deformable particles. This feature makes these filter bags an excellent choice for many applications.
Featuring a wide range of ratings, from 1 micron to 200 microns, Fluxflo nominal-rated needle felt filter bags are available in a variety of materials:
Polypropylene
Polyester
Nylon
Polytetrafluoroethylene (PTFE)
Our popular polypropylene and polyester filter bags feature an external heat treatment surface finish to eliminate fibre migration into the filtrate and every filter bag is manufactured using 100% virgin fibres for guaranteed, high-quality performance. For more demanding applications, we offer filter bags in a range of more specialised materials. Simply contact us for more details.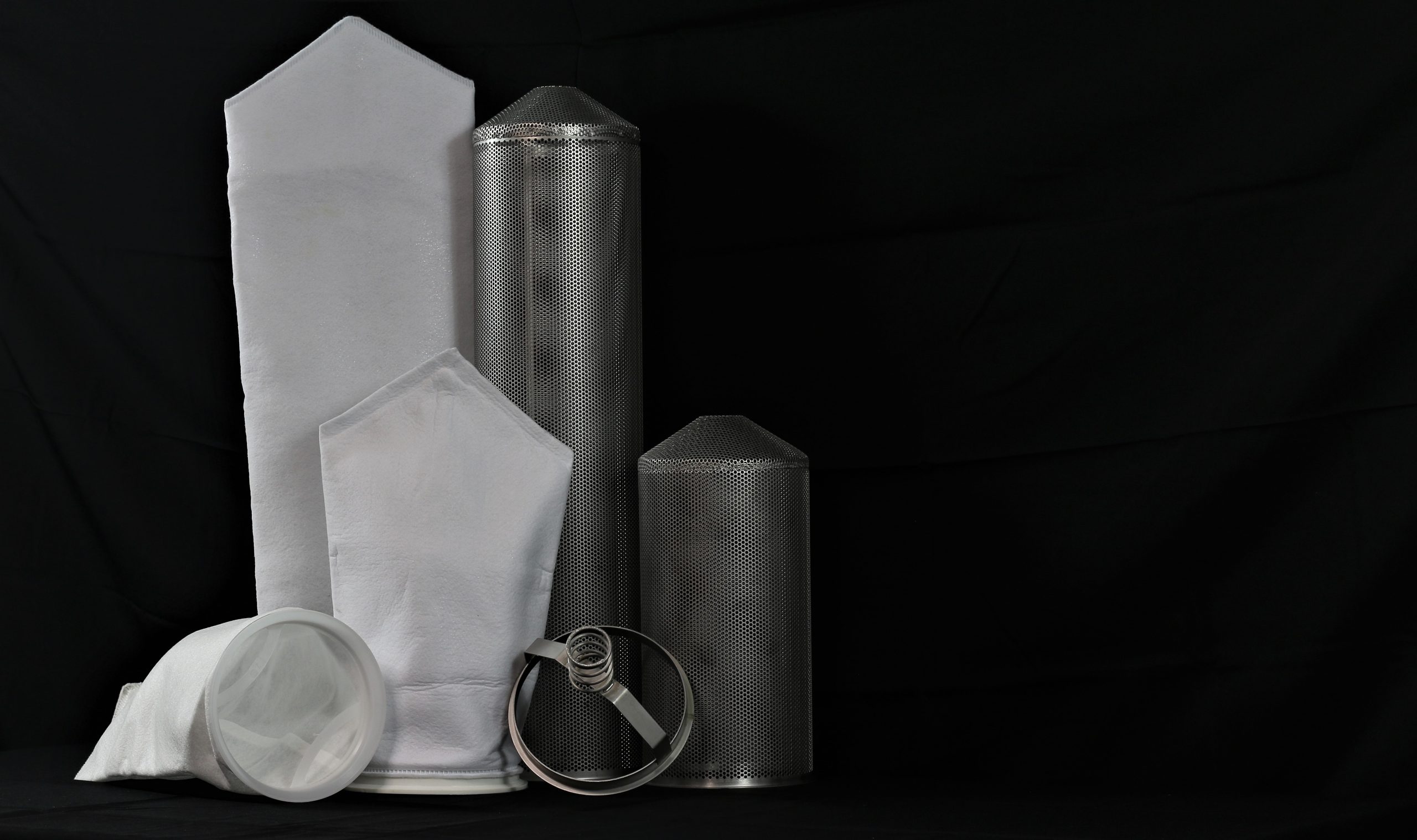 Sealing materials
We offer a range of sealing rings for our filter bags including:
Galvanised steel
Stainless steel 316
Moulded polypropylene
Moulded polyester
Bespoke mouldings for compatibility with specialised filter bags
Felt bag filter materials and typical applications
Bag
filter
material
Maximum
working
temperature (°C)
Aromatic
solvents
Aliphatic
solvents
Water
solutions
Acids
Strong
acids
Alkalis
Strong
alkalis
Vegetable /
animal oils
Polypropylene
90
 
✓
✓
✓
✓
✓
✓
✓
Polyester
150
✓
✓
✓
✓
✓
✓
 
✓
Nylon
135
 
✓
✓
✓
 
✓
✓
 
PTFE
260
 
 
✓
✓
✓
✓
 
✓
Felt filter bag sizes
Our standard sizes are designed to fit most bag filter housings.
Bag size
Outside diameter (cm)
Length (cm)
05
10.4
23
09
10.4
38
1
18
42
2
18
81
Other sizes available on request
Our needle felt filter bags are manufactured to ISO 9001 quality standards, under food safe and silicone-free conditions to minimise contamination. In addition, our polypropylene and polyester felt filter media are compliant with the European Regulation (EC) No 1935/2004 and Commission Regulation (EU) No 10/2011 on plastic materials and articles intended to come into contact with food.
Fluxflo felt filter bags can be used with or without filter housing for complete versatility and lifting handles are provided as standard for easy installation and removal.
We take a solutions-based approach to felt filter bag selection, understanding your process filtration goals and giving expert advice on the bag filters, bag filter housings and consumables packages that best meet your needs. We also supply baskets, gaskets, magnetic inserts, bag retainers and liquid displacers as auxiliaries.
Tailored filtration solutions to meet your needs
Selecting the ideal felt filter bag material for your application will depend on the flow rate and viscosity of the liquid, the size and type of the particles to be removed, the required retention efficiency and the chemical and temperature compatibility of the media.
Our team of process experts recommend solutions to maximise the effectiveness of your filtration process, enabling you to hit production and quality targets with a low total cost of ownership