Envirogen is a unique, international, market focused provider of lifecycle water treatment solutions and process filtration. At Envirogen we design, install and service, purification, filtration and water processing equipment.
The Envirogen service offering provides 24/7 support services and bespoke maintenance agreements. Along with high end filtration and water processing consumables, chemicals & spare parts that are required throughout the lifecycle of our systems.
Our Solutions
Our Markets
INDUSTRIAL
Everything we do, we believe in challenging the status quo and thinking differently. The Envirogen Group provide both technology, filtration consumables and service expertise in addressing both treated water quality and environmental impact in a broad range of applications. Our flexibility and process engineering experience enable us to design bespoke solutions around our customers' requirements.
FOOD & BEVERAGE
Thinking differently is what we do. Envirogens understanding and knowledge of Food & Beverage processes and applications is our strength. This industry experience enables us to provide you with optimum engineering & filtration solutions for your particular process. From pre-treatment for incoming water, product filtration, water reuse, Envirogen technology and expertise helps our customers use water more intelligently. Our process engineering team specialize in the delivery hygienic design systems that utilize high end, EHEDG certificated components that clean, purify, reduce, reuse and repurpose water flows. Our filtration consumables team work with our customers to ensure the right product is used.
HEALTHCARE
We understand how important disinfection and sterilization are in today's hospital environment. Patient care and maintaining compliance while providing an uninterrupted service is our passion. We have over 20 years' experience within the Healthcare market providing water treatment system design, installation, validation, testing and maintenance to ensure ongoing compliance. We specialise in high quality water purification systems that feed all types of decontamination Washer disinfectors, autoclaves and Automatic Endoscope Reprocessers.
Latest News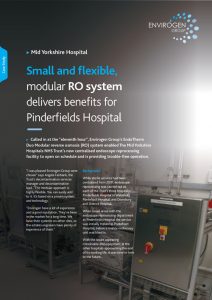 Called in at the "eleventh hour", Envirogen Group's EndoTherm Duo Modular reverse osmosis (RO) system enabled The Mid Yorkshire Hospitals NHS Trust's new centralised endoscope reprocessing facility to open on schedule and is providing trouble-free operation.