The remit for water utility and alliance companies is clear – achievement of drinking water production to Drinking Water Inspectorate (DWI) required standards, as efficiently and cost-effectively as possible.
But with a changing climate, unpredictable source supplies, a growing and moving population, increasing standards and new pressures from Ofwat, this is quickly becoming a more difficult task.
Filtration for point-of-entry, process, and water treatment
The water utility industry faces some of its greatest challenges in the coming years:
Standards are increasing, in terms of quality but also terms of the efficiency of drinking water production.
Source water is becoming more variable with flooding and droughts changing the composition of incoming water streams.
Ofwat is pushing water companies to become more resilient and innovative in response to these changes while ensuring an affordable service to their customers.
New AMP8 standards for 2025 onwards are advocating for more efficient, environmentally friendly, and ready solutions.
Filtration is at the very heart of the solution. The technology already exists to rise to these new challenges, but you need the right partner to make it happen.
The technology of tomorrow and today
We provide total solutions in water filtration from DWI approved filter cartridges and stainless-steel filter housings to complete portable and permanent skid-mounted, containerised mobile water treatment systems. We specialise in the design, installation, and maintenance of filtration systems across the UK, and beyond. Our goal is to ensure the delivery of safe drinking water production in a cost-effective, efficient, and future-proofed manner.
DWI approved Deltapor MW and MWA filters
Our DWI approved Deltapor MW and MWA depth filters (DWI 56.4.1274) are designed to provide exceptional levels of filtration. With a range of pore sizes from 0.5μm to 200μm, Deltapor filters provide exceptional standards of filtration:
Removing sand, silt, particulate and organic matter
Turbidity reduction
Validated Cryptosporidium and Clostridium retention grades
Protection of upstream equipment and pre-filtration processes, including ultraviolet UV sterilisation and membrane systems
At point-of-entry boundary boxes
For small, medium and large-scale treatment plants
To solve unexpected and short-term contamination problems
Deltapor filters have a progressive structure which is designed for long life and a low total cost of ownership. Drinking water providers in municipal organisations and business across the UK use Deltapor in point-of-entry boundary boxes and in small, medium, and large-scale skid-mounted or containerised systems. Our filters provide high standards of water filtration and are available in pore sizes from 0.5 µm to 200µm for all applications – ideal for municipal water treatment.
Our DWI approved filter cartridges and filter housings come with turbidity reduction, and the ability to protect upstream equipment and pre-filtration processes, including UV and membrane systems. Our filters are simple to install and use. They can be fitted to our DWI accredited CF stainless-steel cartridge filter housings range (DWI 56.4.1257) or retrofitted to any standard filter housing for a quick and easy changeover.
Deltapor depth filter cartridges are used in our range of skid-based portable solutions, providing the perfect short-term solution for unplanned changes, such as shifts in water sources due to drought or high loading of contaminants in flood periods.

Containerised and skid-based systems – available to rent or buy
We provide mobile water treatment plants that are available to rent as temporary water treatment plants, or purchase. The mobile water treatment systems are complete with proven modular components, including DWI approved Deltapor MW/MWA filters and CF stainless steel housings. Our systems are designed for point-of-entry, as well as large-scale water treatment and mobile purification. We use proven modular components, tried, and evaluated in municipals processing, to design bespoke systems that meet your exact needs and requirements. We focus on the end consumer and the principles of resilience, innovation, and affordability to make sure that your filtration system is as cost-effective and efficient as possible, delivering a low total cost of ownership.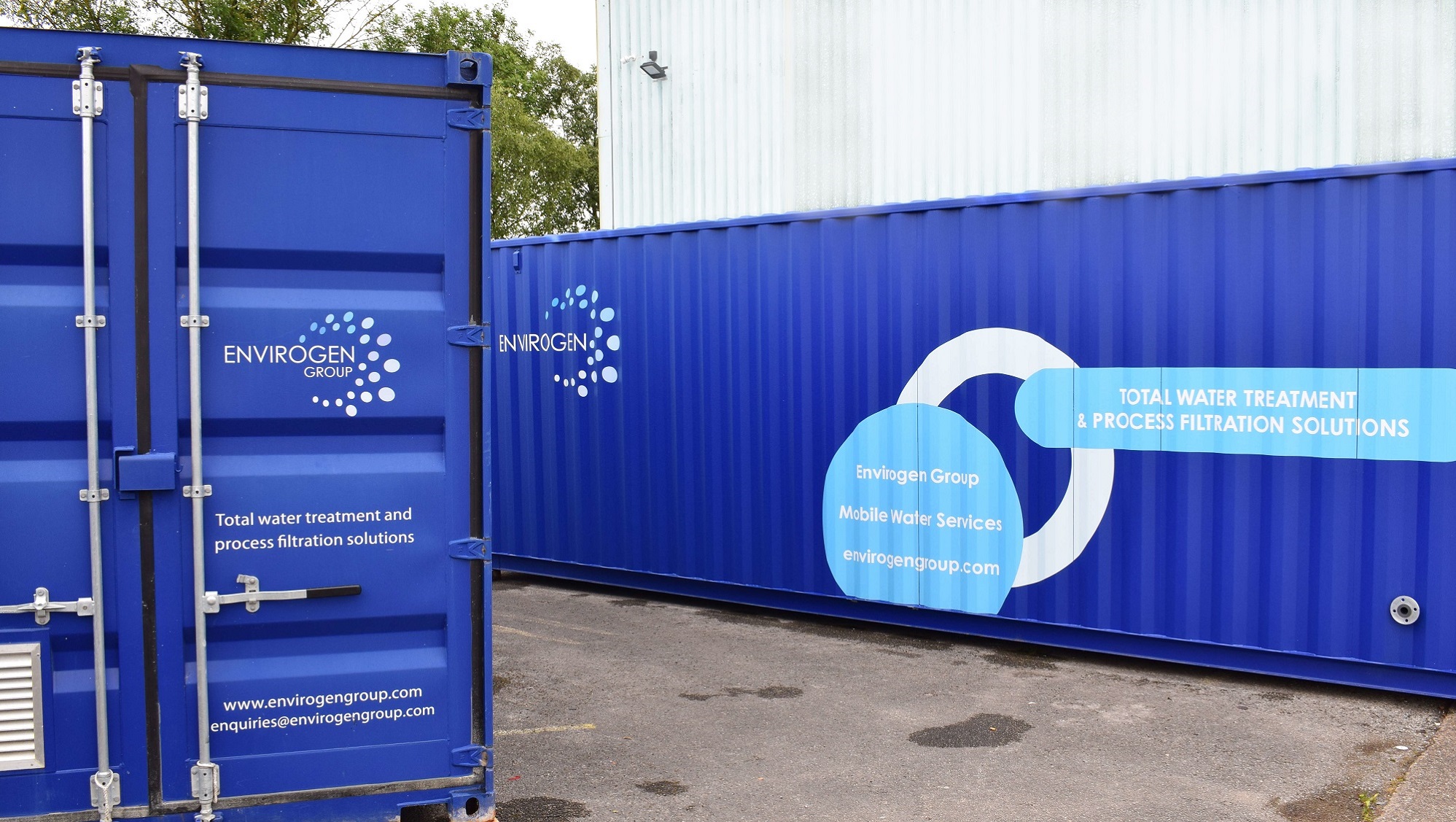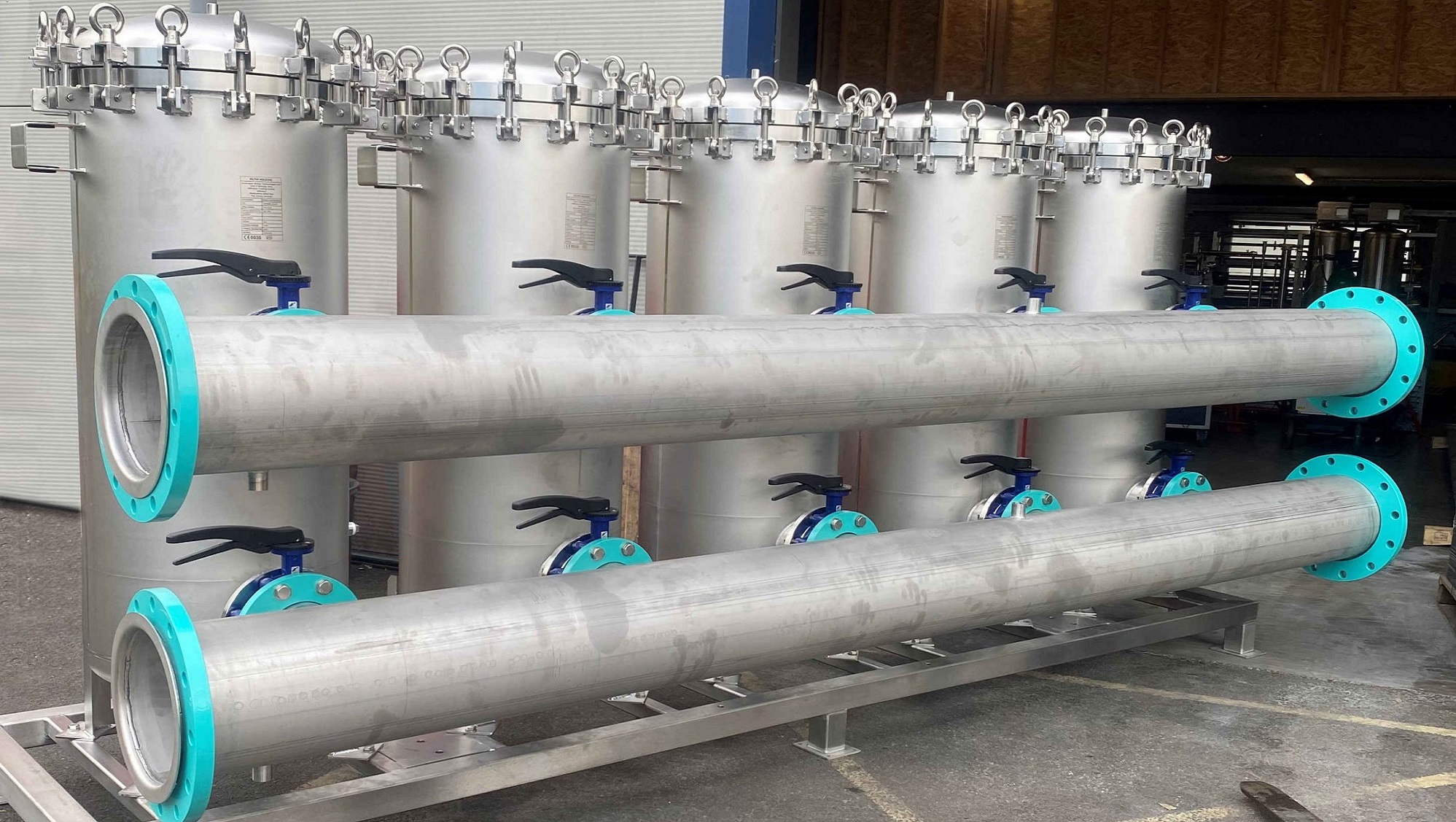 Envirogen provides dedicated mobile water services and water filtration skids, engineered for the purpose of ensuring safe drinking water production for UK water utilities and municipalities.
Our systems are easily scalable, so you can flex to meet whatever changing requirements the future might bring. Our complete mobile water treatment systems are available as permanent solutions, or as rented containerised or skid-based systems that are portable and relocatable. A team of experienced engineers will take care of the whole installation, integration, training, and commissioning process.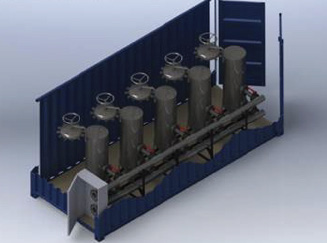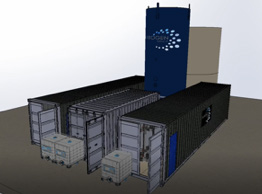 From consumables to total filtration solutions
We don't just provide depth filtration; we also provide solutions with ultraviolet (UV) sterilisation and reverse osmosis water system technology treatment to meet your exact needs and drinking water production standards.
To keep your system running smoothly and efficiently day after day we also provide our PureCare service and maintenance plans with dedicated, experienced and local engineers. We can even stock a dedicated supply of replacement filter cartridges to meet your seasonal demands and to deliver first-rate results all year round.
Interesting in finding out more? Check out our log on AMP7 and what this means for your water filtration systems.
Speak to our team of experts to discover more about our DWI approved solutions for drinking water production, tailored to the needs of water utility and municipal water companies