We provide a comprehensive range of lenticular filters and lenticular filter modules designed for use in the filtration of soft drinks, sugar syrup, beer and wines, as well as in the pharmaceutical and general chemical industries. Our efficient and economical lenticular depth filter media are created from robust, stable, non-compressible, stacked lenticular disc modules. This robust design means that Envirogen's range has a high-mechanical stability when handling large solid particles.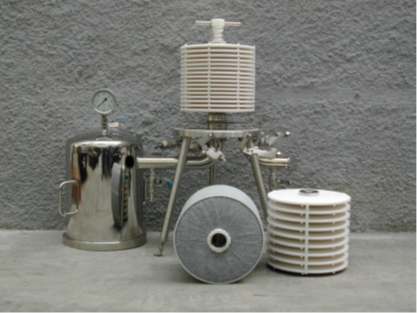 Our lenticular filters are designed as enclosed solutions, they fit most lenticular module housings and provide an innovative alternative to traditional solutions.
Key benefits include:
Simple handling, shorter set-up times and increased operational safety – with lenticular filters enclosed in stacked disc lenticular filter modules.
Increased quality – individual stacked disc cartridge cells are constructed from high-performance depth filter sheets for increased solid retention and longer service life.
Optimum flow paths – with an internal drainage plate design within the filter module cell.
A low total cost of ownership – a consistent cell distance ensures full utilisation of the whole lenticular filter media surface area.
Versatility – available in a range of media types and surface areas, with adaptability to suit a wide number of filtration applications.
Compatibility – a variety of sealing and plastic materials are available to suit every process.
Lenticular filters and modules protect against bypass effects:
Precise polypropylene or polyamide seals with edge moulding
Constant final pressing
An optimised three-part, stainless-steel segment sleeve provides a stable unit, even during sterilisation
Double O-ring adapter available for increased performance
Internal drainage plate for an optimum flow path within the cell
Constant cell distance for full utilisation of the whole filter surface
Our lenticular filters and modules product group includes:
Depth filter sheets with low endotoxin content for pharmaceutical applications
Stacked disc cartridges, with supporting lenticular filters for cake filtration in the pharmaceutical industry
Lenticular filters with activated carbon
Depth filter sheets for standard applications
Depth filters for filtration of highly viscous liquids
Stacked disc cartridges with support sheets for cake filtration
Tailored filtration solutions to meet your needs
Selecting the right lenticular filters and lenticular filter modules for your application will depend on many factors, such as the flow rate and viscosity of the liquid, the size and type of the particles to be removed, the required retention efficiency and the chemical and temperature compatibility of the media.
Our team of process experts recommend solutions to maximise the effectiveness of your filtration process, enabling you to hit production and quality targets with a low total cost of ownership