Process filtration
The Envirogen Group is a leading international manufacturer and distributor of filters for process filtration. We supply reliable and high-quality filter cartridges, bags, sheets, strainers, and other consumable products with low operating costs for all industries, from healthcare to, food and beverage to oil and gas, power, energy, automotive and industrial processing.
Can you afford to choose the wrong filters?
Process filtration is a crucial element of many production processes, responsible for quality, repeatable consistency and product safety. Many filtration systems contain consumables parts, and this comes with an ongoing operational cost. But how do you know you're getting the very best quality and value?
Choosing the right cartridges, bags and ancillary equipment for your process isn't just about excellent quality and a low cost of ownership. You need to have stock available when you want it, and you need to know that they will perform consistently every time.
Protecting your supply chain
Our European and UK warehouses have a large stock of filters, ready for distribution, often with same day dispatch, meaning you can protect your supply chain and maintain production.
Our team of process experts in the UK, the Netherlands, Germany and Italy are available to answer your technical questions and recommend solutions to improve quality standards, hit production targets and provide lifetime cost savings.
If you have concerns about your supply chain, get in touch to discuss how we might be able to help.
Depth filter cartridges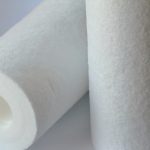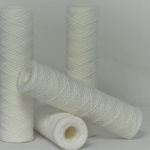 Our depth filter cartridges provide a range of filtration requirements, from pre-filter to final filtration processes. Nominal progression and absolute versions deliver retention ratings from 0.3µm to 1000µm. Products include Filopor Wound, Deltapor Melt Blown and RBC Phenolic Impregnated Resin.
Pleated filter cartridges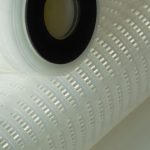 Our Poliflo and Poliflo II ranges provide the large surface area required for optimal filtration while ensuring high flow rates and low pressure drops. Manufactured from *FDA-approved polypropylene, glass fibre, or polyester fibre, these filters suit wide-ranging applications and have retention ratings from 0.2µm to 250µm including a validated cryptosporidium retentive option. Depending on the application, these durable and versatile pleated filter cartridges are compatible with highly aggressive solvents and chemicals.
*EC EC1935/2004 and FDA 21 CFR part 170-199 approved polypropylene.
Membrane filter cartridges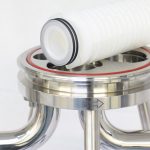 Our Bevflo and Bioflo membrane filter cartridges are designed for use in final stage and microbial stabilisation filtration, with retention ratings from 0.05µm – 1.2µm. Each polyethersulphone (PES), polytetrafluoroethylene (PTFE) or nylon filter is integrity tested and designed to withstand sterilisation temperatures.
Oil adsorption filter cartridges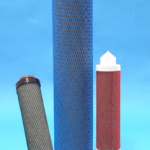 Our Refinsorb filters effectively remove up to 99% of dissolved and dispersed hydrocarbons from water through adsorption. Adsorbing around three times its weight, Refinsorb retains high flow rates with maximum efficiencies. These oil absorption filters are available in different lengths to fit most common filter housings. 
Active carbon filter cartridges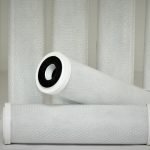 Our Carbopore activated carbon filters are porous filters with high adsorption rates.  Widely used in industrial processes, they are the most efficient method of removing odour, chlorine, volatile organic compounds, colours, tastes and contaminants from fluids.
Resin bonded cartridges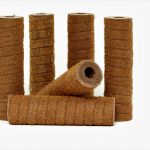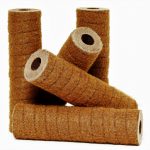 Our resin bonded filter cartridges have a unique, proprietary two-stage filtration design to maximise particle removal and service life in viscous fluid filtration applications. An outer, spiral, prefilter wrap increases cartridge strength and eliminates residual debris associated with other, machined, resin bonded cartridges. To meet a wide range of performance requirements, these resin bonded filter cartridges are available in eight differentiated removal ratings from 2µm through to 150µm. Phenolic resin impregnation strengthens the cartridge for fluid viscosities up to 15,000 SSU (320 cks) and withstand pressure surges up to 150 psid across the cartridge (depending on fluid temperature).
Metal filter cartridges
Our Flusint Fiber, Flusintmesh and Flusint Powder brands of stainless steel, metal filter cartridges are designed for both liquid and steam filtration. These cartridges are ideal for extreme conditions, including high temperatures and the use of high viscosity liquids and aggressive chemicals.
Filter cartridges for porous materials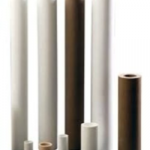 Our range of ceramic, carbon and plastic cylinders and cartridges are available in a range of different porous materials to match your application. These strong and reliable cartridges and cylinders have gas thermal resistance up to 1000°C and chemical resistance within pH0 – pH14.
Filter bags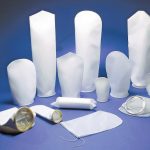 Our Fluxflo filter bags are available in various materials such as polypropylene, polyester, nylon, wool nomex, PTFE and oil adsorbing. This makes them suitable for use across a range of industries and applications.
The filter bag range includes silicone free needle felt bags, monofilament and multifilament mesh bags, absolute rated filter bags, high efficiency filter bags and filter bags certified for use in the pharmaceutical and food and beverage industry. The filter bags are also available in various sizes so that they fit almost like bag filter housings. Available from 0.2ꙡm to 1000ꙡm and are well suited for most industrial applications.
Filter sheets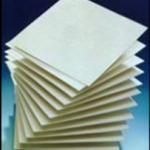 Our filter sheets are designed for purity and quality. From the removal of coarse matter right through to sterilising filtration, we have a product suited for every application. All products are carefully manufactured and tested to ensure consistent product quality.
This range includes:
Depth Filter Sheets – for liquid filtration. With filtration grades from 4.0µm to 0.1µm nominal rating, select specific retention efficiencies for your application.
Support Sheets – a unique washable, reusable protective sheet for pre-coat filtration in kieselguhr frame filters. Our support sheets offer particularly high performance due to their improved wet strength and optimised surface. 30 pre-coating cycles are possible, irrespective of the liquid being filtered and the filter aids used.
Cartridge and bag filter housings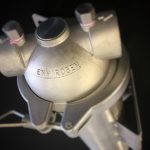 Whether you're looking for single or multiple housing solutions, for bags or filter cartridges, we provide many standardised and bespoke solutions.
Envirogen supplies single bag, multi-bag and cartridge filter housings and vessels, designed and manufactured according to the requirements of the Pressure Equipment Directive (PED). Suitable for all operating conditions, our filter housings are constructed from carbon steel, stainless steel, plastic or special bespoke materials for critical fluids.
For final filtration, steam filtration and clean-in-place applications, for the food and beverage, pharmaceutical and electronics industries, sanitary filter housings are also available. These filter housings have a hygienic design and are self-draining to minimise contamination risk, improve cleanability and corrosion resistance.  
Upon request, filter housings can be designed for installation in areas in danger of explosion, in accordance with the ATEX directive.
We also provide fully customised solutions to suit your exact application.
Pressure leaf filters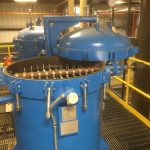 For more than a century, pressure leaf filters have provided an economic, reliable and proven cake filtration solution for liquids with higher solid loads, between 0.01 – 3%. We provide a full range of pressure leaf filters for dry or wet cake discharge, in both vertical and horizontal vessel orientations. We have a range of filter meshes for every filtration step in the production of edible oils, gelatine processing, liquid sulphur filtration and bio-diesel production. In these industries it's common to used top-mesh gauze such as PZ80, 60 Mesh, 24×110 (Dutch Weave) made in stainless steel 316 or 904L.
Filter leaves and spare parts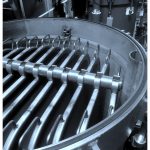 We've installed thousands of pressure leaf filters across the world. While the vessels operate for decades, the filter elements need to be changed more often. For almost every make or model available in the market, Envirogen offers high-quality filter leaves. Using the latest developments for high flow nozzles, a re-enforced box profile as standard and a five-layer mesh configuration. Our high-quality filter leaves come highly recommended and are used for a wide variety of applications. The leaves are available in a variety of materials and with a range of structures to suit every filtration task.
Pulse tube filters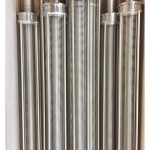 Pulse tube filters are automatic filters comprised of a cylindrical metal element covered with a filter cloth, forming an initial cake more easily on the element. We provide a wide range of pulse filters for every application, replacing bag filters and removing the additional associated consumable cost and time taken to change the bags. Pulse tube filters provide an added safety element as the back pulse cleans the element or filter cloth without exposing operators to toxic liquids.
Filter cloth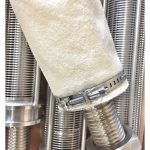 We supply a range of replacement filter cloths for food, vegetable oil and industrial processes and most come ready with an EC1935/2004 Food Declaration. Our knowledgeable staff can recommend the best filter cloth to meet your cake filtration requirements, with the lowest operational cost.
Plate and frame (Orion)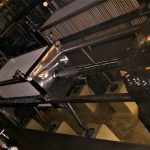 Plate and frame systems are popular in many different applications, especially in the food industry, including vegetable oil and beer production and for use in kieselguhr filtration and sterile filtration using sheets.
We are the only single-source supplies in the market providing a combined supply of Orion plate and frame filter packs alongside hydraulic equipment services and overhauls.
We supply:
Filter sheets in all grades and sizes
Machinery spare parts, including shoes, handles, seals
Emergency exchange components, including vital and frequency-required, pre-assembled and reconditioned components, tested and ready for quick and easy installation.
Horizontal plate filters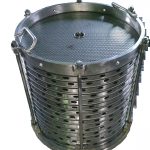 Horizontal plate filters are typically designed for batch processing of liquids with high suspended solids where bags or cartridges do not provide an economical solution.
Our filters are available as normal flow and reverse flow to ensure all solids remain in the element bundle and they can be used with filter paper, filter sheets or mesh depending on the application. With the elements placed horizontally, the filter cake can be easily washed. Both normal flow and reverse flow filters are designed to have no heel liquid at the end of the filtered batch.
Strainers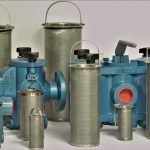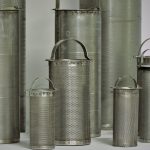 For coarse filtration processes, Envirogen has a full range of strainers available, from single basket to duplex and temporary strainers to ensure continuous flow.
Available in cast steel, carbon steel and stainless steel we have strainers for every application and they are ideal for protecting equipment such as pumps and heat exchangers. Our baskets are available with different ratings ranging from 10 µm to 10 mm.
Self-cleaning filters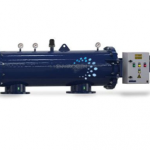 Self-cleaning filters are designed to provide efficient filtration for liquids that require continuous filtration without interruption during the cleaning process, from water to high viscosity liquids. Depending on the process conditions, these automatic filters can be used with a wide selection of screens from 10 µm to a few millimetres.
Our scraper style self-cleaning filters are suitable for high viscosity liquids. Our suction scanner filters are designed for water filtration, including pre-filtration for ultrafiltration and reverse osmosis systems, the production of cooling water or for the intake of river water, borehole water or irrigation water.
We have a wide selection of screens, from 10µm – 1000 µm. Envirogen self-cleaning filters are low maintenance, time-saving and have a large surface area for maximum efficiency.
Disc filters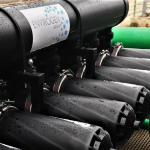 Our self-cleaning disc filters are designed for low micron filtration. Each filter is self-cleaning, with compressible discs that can be flushed with high-speed water, saving energy and water, with no interruption to the clean water supply. Discs are available from 5 µm – 500 µm, all with a compact, energy and water-saving design and easy changeover for low maintenance. 
Tailored filtration solutions to meet your needs
From quality, process and production teams to procurement managers, we understand that multiple stakeholders are involved in process filter selection. Each team has differing needs and requirements, so we tailor our solutions to match.
Our approach is based on five main pillars:
(1) Consultant-led approach
As engineers and installers of filtration systems and filter housings, we understand your requirements and the role that process filtration plays in your business. We analyse your whole process and help you select the consumables that meet your overall objectives. This deep level of understanding means we can recommend solutions to improve quality, hit production targets and provide lifetime cost savings.
(2) Total cost of ownership focus
The total operating cost is the figure that matters most when choosing filtration products. A high-quality filter will need replacing less often, it won't fail and cause unplanned downtime and it won't put your upstream and downstream processes at risk. We'll help you choose solutions that best meet your requirements and provide lifetime cost savings.
(3) Quality and choice
By offering a large range of high-quality consumable filtration products, we find the solution that best fits your needs, rather than trying to push a product that doesn't quite work. We only pick products that are tested and guaranteed for your application and that provide consistent results.
(4) Compatibility first
As engineers, installers and retailers, we know process filtration. We tailor-make a consumables plan that is compatible with your equipment and if we can see a way to save you money, we'll suggest ways to upgrade or rework your process.
(5) Flexible stocking programme
We offer a managed solution – meaning we can have your cartridges, bags, sheets, strainers and other consumable filtration products in stock whenever you need them, so you're never kept waiting. You'll always have experts available for advice on the end of the phone or to visit when you need us.
Integrated water treatment and process filtration solutions
We're renowned for our process filtration solutions but we're also leaders in designing and installing water treatment systems. Our holistic approach ensures that water treatment technology is integrated seamlessly with process filtration, adding value and providing cost-effective and efficient operation. We also provide a complete package of aftersales service support to protect your water treatment assets.
Discover more…
Speak to our team to discover how you could save money, increase manufacturing efficiencies and improve quality standards by switching your process filters.
We conduct free assessments to identify how you can save money or improve your current workflow, helping you to develop new or upgraded processes.
Discover more about our DWI-approved municipal filtration solutions.