Filter sheets are used to remove particles from liquids to produce clear, fine or sterile-filtered results. Filter sheets are ideal for higher particle loads and as a substitute for surface filters, such as membranes, which may not provide a long enough lifetime.
Our filter sheets are designed for purity and quality. From the removal of coarse matter right through to sterilising filtration, we have a product for a wide range of process applications.
Our range includes: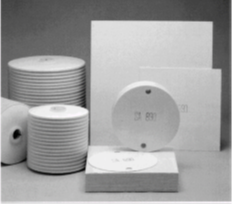 Envirogen filter sheets are available in square and circle formats in a range of sizes and are suited to a wide range of industries and applications. Each sheet is constructed from high-quality materials for maximum retention, such as chemically pure polypropylene fibres, cellulose and filter aids, such as perlite. For the removal of colours, odours, and undesirable by-products, we also offer filter sheets embedded with activated carbon.
Filter sheets combine depth and surface filtration to capture particles within the media and, being available in various ratings from 0.10 microns to 10 microns, they are designed to fit most filter sheet housings. All Envirogen filter sheets are compliant with the European Regulation (EC) No 1935/2004.
Tailored filtration solutions to meet your needs
Selecting the right filter sheets for your application will depend on many factors, such as the flow rate and viscosity of the liquid, the size and type of the particles to be removed, the required retention efficiency and the chemical and temperature compatibility of the media.
Our team of process experts recommend solutions to maximise the effectiveness of your filtration process, enabling you to hit production and quality targets with a low total cost of ownership