In the ever-evolving brewing industry, the quest for high-quality and efficient beer filtration systems is paramount. Envirogen's PureSep MF beer membrane filtration technology offers a cutting-edge solution that combines exceptional beer clarification standards with cost-saving advantages. This blog article explores the key benefits and advantages of the PureSep MF system, shedding light on its impact on the brewing process and why breweries should consider making the switch to this future-proofed solution.
In addition, we will compare the Envirogen PureSep MF system – incorporating Envi-BMF hollow fiber membranes – with industry-leading models from Pall and Pentair to demonstrate its competitive edge. Breweries can effortlessly transition to the PureSep MF system as Envirogen beer filtration modules are plug-compatible with existing beer filtration modules, ensuring a smooth and hassle-free adoption process.
High-quality clarification technology
Envirogen's PureSep MF system sets the bar high with outstanding beer clarification standards. Its advanced hollow fiber membrane filtration technology effectively removes microbes and suspended solids, maintaining low nephelometric turbidity units (NTU) output to produce brilliantly clear beer. The precise filtration enhances flavour stability and extends the shelf life of the final product. By eliminating unwanted particles like yeast, bacteria, and haze-causing substances, the PureSep MF system consistently delivers visually appealing and high-quality taste profiles. Moreover, our advanced beer filtration solution can also  replace non-sustainable diatomaceous/kieselguhr processes, providing a greener and more environmentally friendly approach to beer filtration.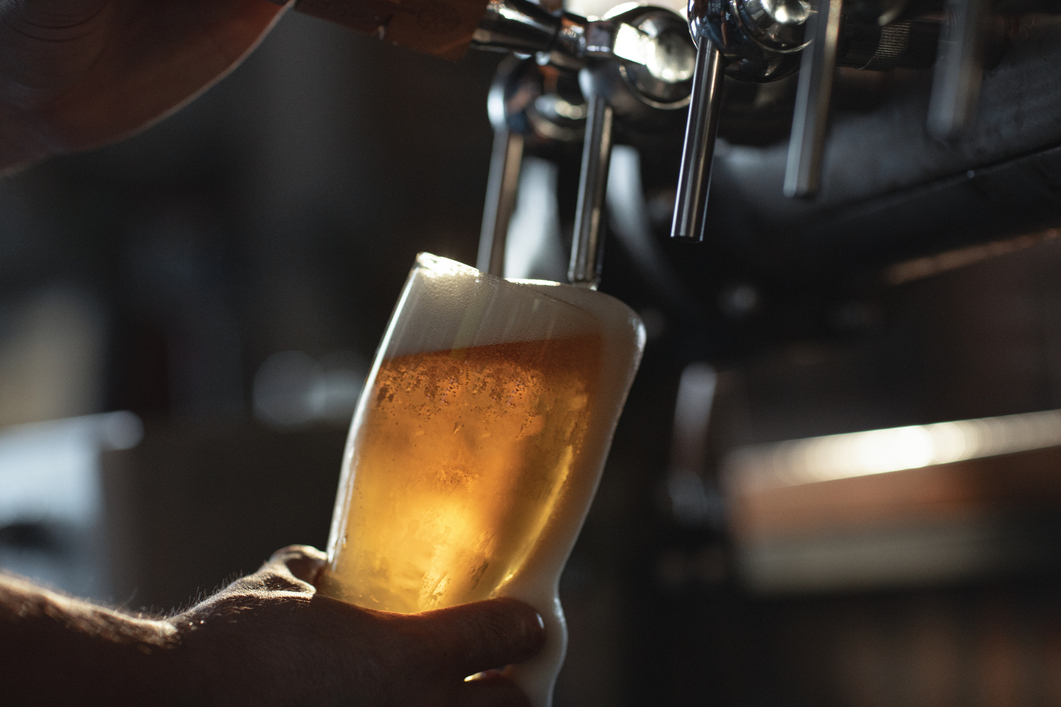 Increased product yields and cost savings
Breweries can experience a significant increase in product yields by adopting the PureSep MF beer membrane filtration system. Outperforming traditional two-stage diatomaceous earth (DE) and sheet filtration methods, this advanced beer membrane filter technology maximises production while minimising operational costs. Its single-stage membrane filtration eliminates the need for additional additives or processes, reducing energy and labour expenses.
Cost-effective investment and futureproofed flexibility
Envirogen offers a cost-effective capital investment with the PureSep MF system. Breweries get exceptional value for their money, with a low capital investment per square meter of surface area. The system's modular skid designs enable easy expansion, allowing breweries to accommodate increased production volumes as their business grows. This future-proofed flexibility ensures that breweries can adapt their beer membrane filtration capacity to meet changing market demands without significant additional investments.
Hygienic design and full automation
Built with a hygienic design, the PureSep MF system features stainless steel frames, pipework, and process valves with an average internal surface roughness of less than 0.8 ra. This ensures a sanitary brewing environment and promotes product integrity. The hygienic design facilitates easy cleaning and maintenance, minimising downtime and enhancing operational efficiency. Thanks to its full automation capabilities driven by PLC control processes, breweries can streamline operations and cleaning procedures, reducing reliance on manual labour, and ensuring consistent filtration performance. Additionally, our beer filtration module is compatible with all commercially used cleaning agents used in beer filtration processes, providing breweries with flexibility and convenience in their cleaning practices.
Remote monitoring and data trending
Embracing technological advancements, the PureSep MF system offers remote monitoring and data trending capabilities. Breweries can optimise operations and achieve efficiency savings through real-time data analysis. Proactive decision-making becomes possible, as potential issues can be identified and addressed promptly, minimising downtime. By tracking beer membrane filtration performance, breweries can analyse data trends to fine-tune processes, improving efficiency and product quality for continuous improvement and enhanced operational efficiency.
Comprehensive membrane optimisation services and pilot plant
At Envirogen, our service engineers are highly experienced in all aspects of commercial beer filtration systems. With our local engineers strategically placed across the UK and Europe, we ensure fast service response times and readily available stock to meet your brewery's process demands. From installation and operation to familiarisation, maintenance, and optimisation, our comprehensive services have you covered. We are well-versed in handling Envirogen's own hollow fiber membranes and spiral wound membranes, along with Pentair membranes and skid-based systems featuring Pall membrane filters.
Envirogen offers comprehensive membrane service packages for all major filtration equipment, covering both hollow fiber membranes and spiral wound membranes:
Seamless Upgrades: Envi-BMF comparison with Pall PROFi and Pentair S-14 models
Envirogen's Envi-BMF beer filtration membranes are expertly designed for breweries as direct membrane replacements for original equipment manufacturer (OEM) hollow fiber membrane filters, such as the Pentair S-14 brand used in Pentair crossflow filtration systems. Constructed from polypropylene for long service life and extended replacement intervals, Envi-BMF membranes offer increased flux rates, batch volumes, and clarity, resulting in low operating costs and reduced waste. Performance is guaranteed to match or surpass current membranes, making Envi-BMF membranes the perfect choice for breweries seeking top performance and cost efficiency.
Envirogen Envi-BMF beer membrane filters come complete and ready-to-use in high-quality Noryl housings, delivering numerous advantages over OEM versions:
Long service life – Envi-BMF membranes are constructed from for long service life and extended replacement intervals.
Enhanced manufacturing efficiency – While the flux rates remain consistent, our membranes offer a 10% larger surface area compared to Pentair S-14 membranes. This allows for increased output in your manufacturing processes.
Increased batch volumes – with less product wastage.
Consistent product clarity – we maintain or slightly exceed specifications, ensuring solid particle retention for enhanced clarity in your product.
Cost-effective operations -to improve your overall profitability.
Reduced waste through efficient operations – by enabling longer run lengths between CIPs (Clean-in-Place), we reduce the frequency of CIPs, resulting in less water usage and fewer product changes, ultimately minimising waste.
Performance guaranteed – identical or better performance versus your current membranes.
Membrane optimisation services – covering both Envirogen's own membranes and competitor brands.
Our Envi-BMF membranes directly replace Pentair membranes and skid systems, providing a comprehensive range of options for breweries. They are direct replacements for various Pentair membranes and skid systems, including:
Pall PROFi
Pentair OptiBMF
Pentair BMF 18
Pentair BMF Compact
Pentair BMF Compact 2
Pentair Doubledecker (2x BMF18 on top of each other)
Pentair Continuous BMF
Pentair X-Flow S-14
Envirogen Envi-BMF cross-flow membranes seamlessly integrate into our PureSep MF 600 beer clarification systems with our plug-and-play replacement concept. By using the same module base but different end caps (one-time investment) specifically designed for Pentair or Pall replacements, switching between systems becomes a hassle-free process. For Pall replacements, we provide a complete replacement of the existing insert concept, including the stainless-steel housing, offering numerous advantages to breweries, such as reduced module weight, without compromising high-performance standards.
With Envirogen Envi-BMF membranes, breweries can optimise their beer clarification process while ensuring smooth operations and consistent filtration performance. To better understand the competitive advantages of the PureSep MF system, let's compare its key specifications with the Pall membrane filters, including its PROFi model and the Pentair membrane S-14 model.
Beer Membrane Filtration: Comparison of Module & Membrane Specifications: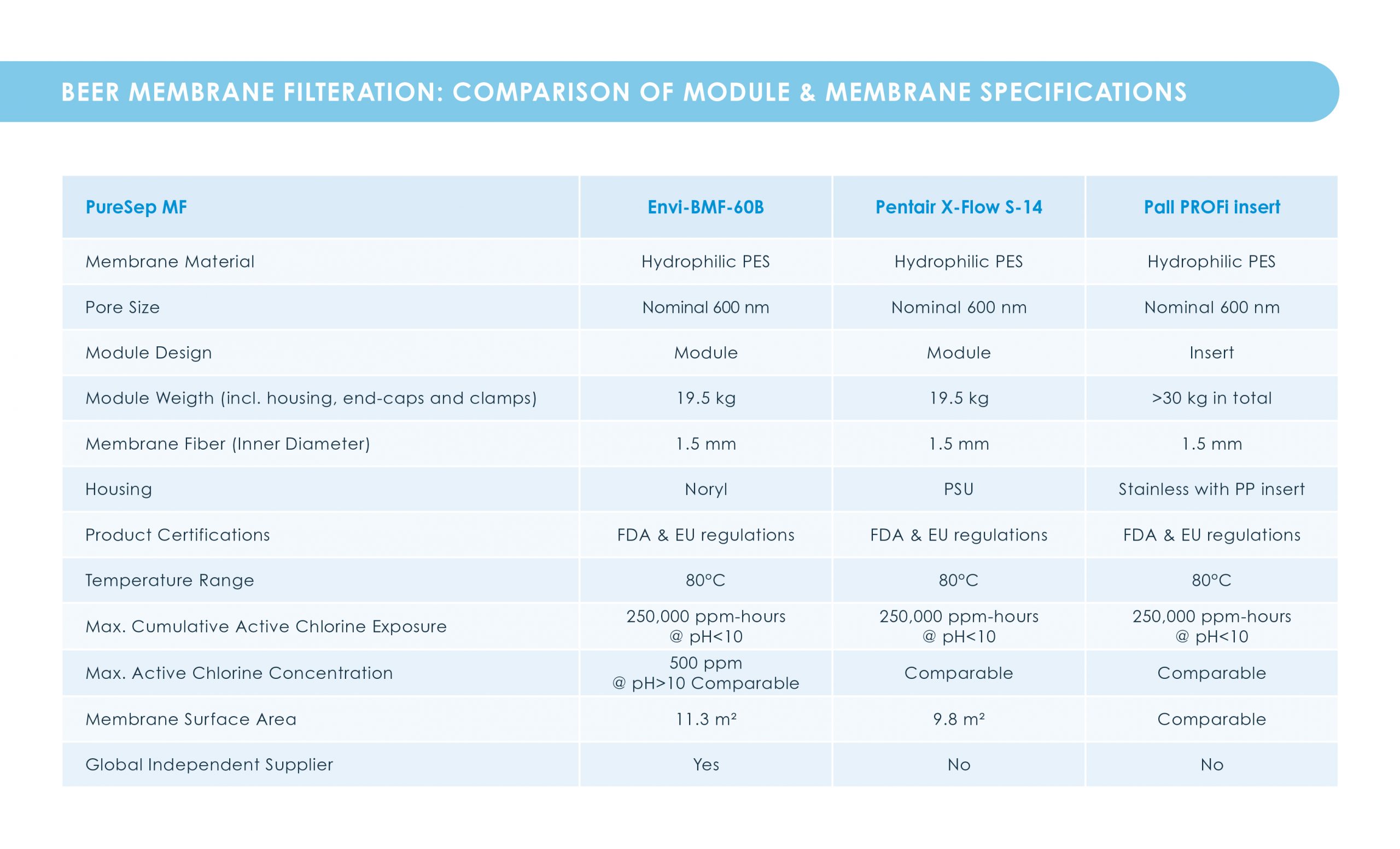 When examining the module and membrane specifications, it becomes evident that the Envirogen PureSep MF beer membrane filtration system exhibits remarkable similarities to its competitors. Notably, the membrane characteristics, module size, and membrane area are comparable to or even surpass those of Pentair and Pall products. Consequently, the PureSep MF system delivers competitive performance, as evidenced by its successful implementation in numerous industrial breweries.
Moreover, the PureSep MF system's plug-and-play compatibility with Pall membranes and Pentair membrane modules in the beer filtration market further strengthens its position as a viable alternative. The unique design of the PureSep MF module allows for seamless replacement, using different end-caps designed specifically for Pall or Pentair replacements. For breweries seeking to transition from Pall or Pentair systems, this compatibility offers a smooth and cost-effective swap, eliminating the need for major equipment upgrades and plant refurbishment.
In terms of operational expenditure (OPEX), return on investment (ROI), pricing, and guarantees, the PureSep MF system is in line with market expectations and on par with the competition. Breweries can have confidence in the system's cost-effectiveness and performance, ensuring optimal long-term value.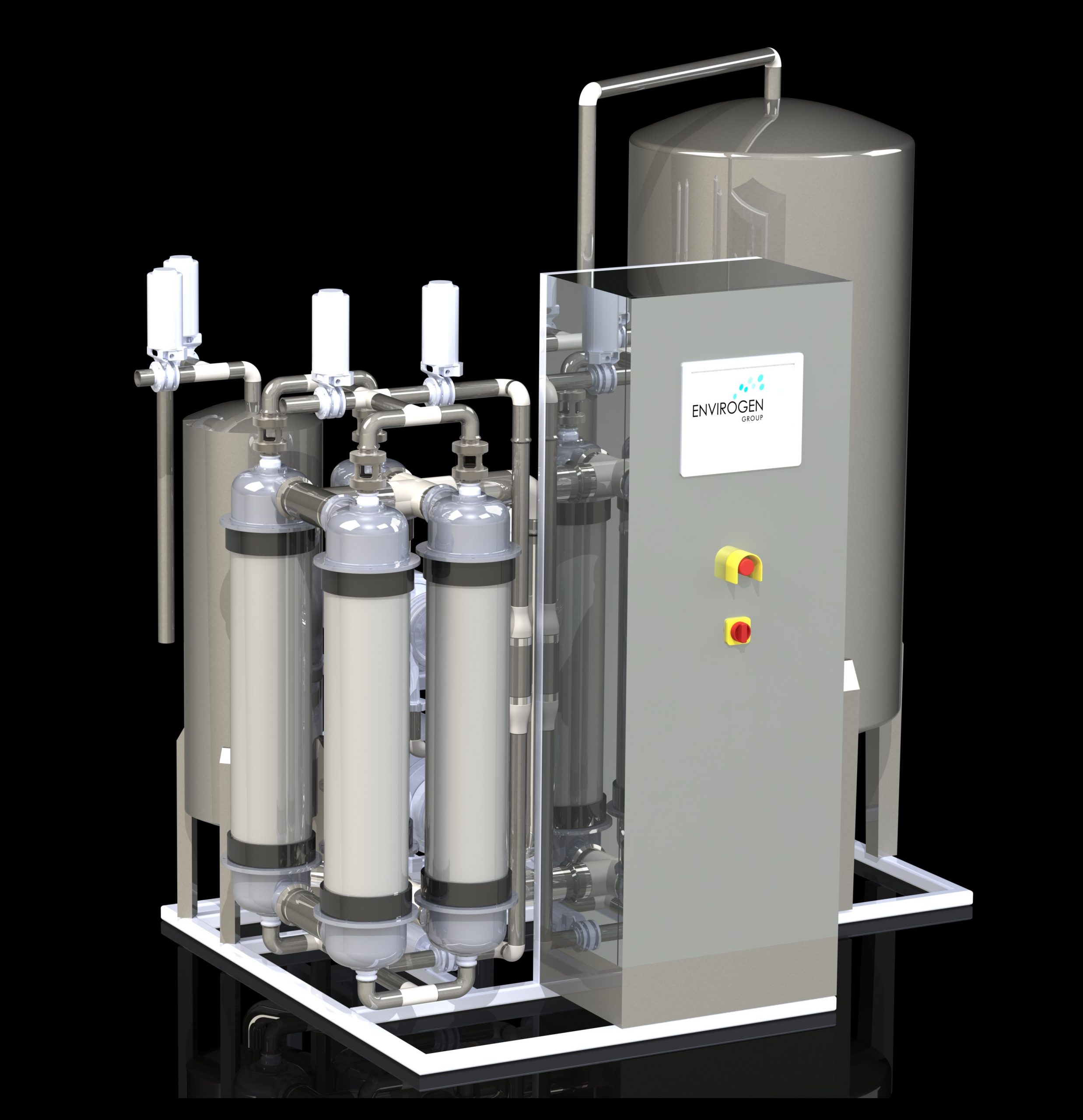 Envirogen's PureSep MF 600 single-step membrane filtration solution, integrated with Envi-BMF membranes, offers a tailored approach to enhance beer clarification, elevate quality and consistency, all while achieving significant cost reductions and minimising waste streams.
Ready to elevate your beer filtration process to new heights?
Envirogen's PureSep MF beer filtration system transforms the filtration process with its exceptional clarity standards, cost-saving advantages, and hygienic design. Breweries can achieve higher product yields, reduced operational costs, and futureproofed flexibility, positioning themselves for success in the competitive brewing industry. By embracing the PureSep MF system, breweries can confidently propel their brewing process into the future of beer filtration, benefitting from advanced membrane technology and ongoing support to optimise their operations and consistently deliver top-quality brews – cheers to the future of beer membrane filtration, powered by Envirogen's enhanced PureSep MF system.
Find the perfect beer membrane filtration solution for your beer clarification process. Contact our team of expert engineers today for a free, no-obligation assessment on how you can save energy, water, waste, and money