Clarification is a critical stage in the manufacturing of alcoholic beverages (such as beer, wine and cider), vinegar and fruit juice. It's important that suspended solids and microorganisms are removed to reduce haze, produce a standardised taste profile and improve shelf life. Membrane filtration provides effective, efficient and high-quality clarification as part of wider filtration processes.
Traditional, two-stage diatomaceous earth (DE) and sheet filtration clarification methods are labour-intensive, inconsistent and wasteful, which can lead to increased operating costs and reduced yields.
Envirogen's PureSep MF membrane filtration systems including beer membrane filtration (BMF) provide superior, high-quality clarification and increased yields in a compact modular design.
For a FREE, no-obligation assessment on how you can save energy, water, waste and money, contact our team of expert engineers
Membrane filtration equipment specially designed for the clarification of alcoholic beverages, fruit juice and vinegar
PureSep MF is our next-generation range of hollow fiber membrane filtration systems. Built on the success of our PureFlow and installed in factories across Europe, Africa and the Caribbean, this new range has been specifically designed for beer membrane filtration and the clarification of wine, cider, vinegar and fruit juice.
PureSep MF systems are single-step, membrane filtration solutions, designed to improve product quality and consistency while reducing costs and waste streams. The PureSep MF 100 model is optimised for the clarification of wine, cider, vinegar and fruit juice, while the PureSep MF 600 model is specifically designed for beer clarification.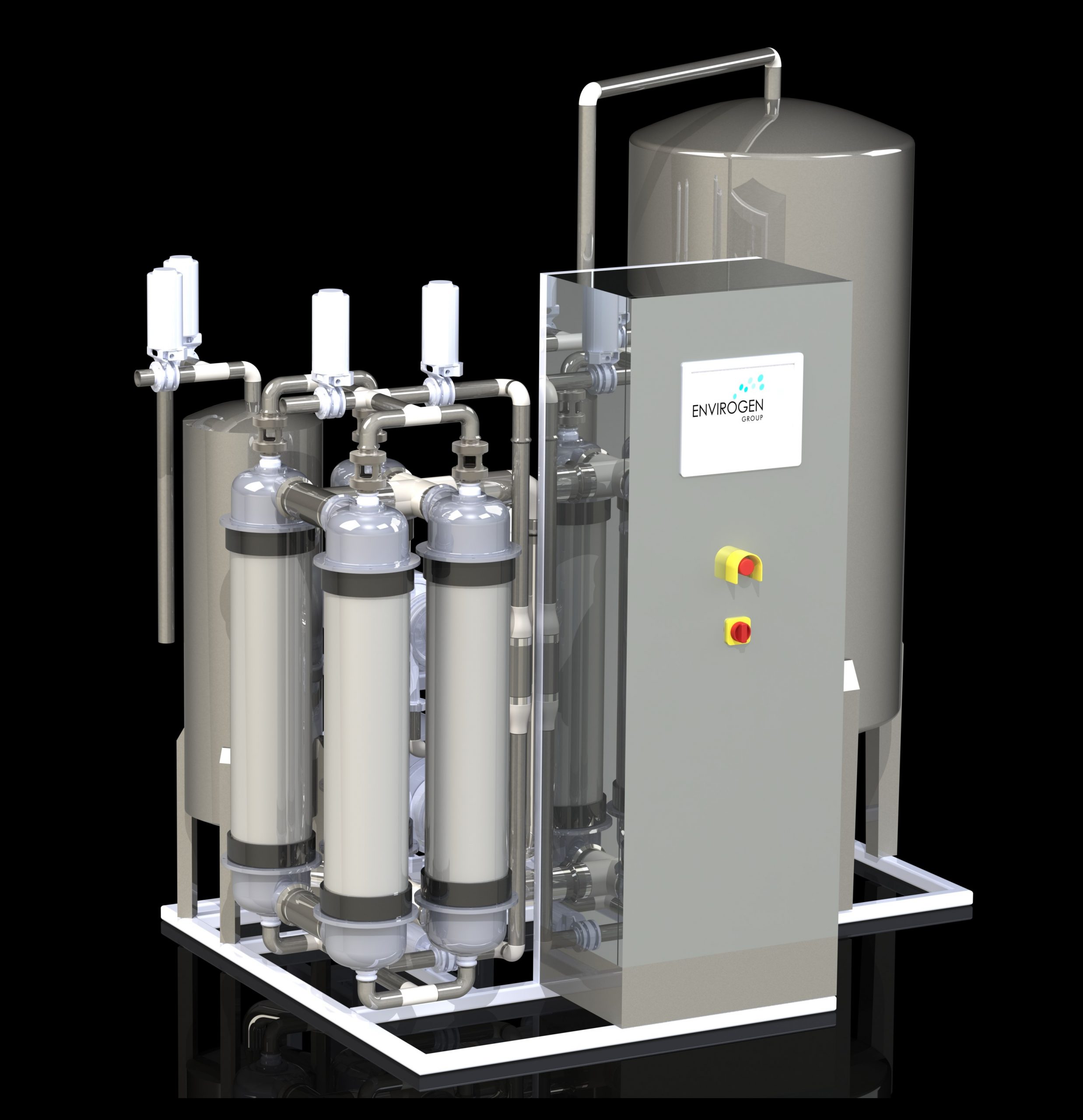 PureSep MF 600 single-step, membrane filtration solution, specifically designed to improve beer quality and consistency while reducing costs and waste streams.
Each system includes Envirogen's own Envi-BMF (beer membrane filter) or Envi-WMF (wine membrane filter) units. Each hydrophilic polyethersulfone (PES) hollow fiber membrane features an extra-wide, 1.5 mm lumen for excellent solid retention capacity and superior filtration quality.
Easy operation and straightforward maintenance are key to the PureSep MF system. Single-stage clarification is achieved with no additional treatment steps or additives. Cleaning protocols are automatically scheduled when the filters become saturated and require no manual intervention or hazardous cleaning fluids. The removal of chemical costs and the reduced labour requirement deliver significant efficiency savings while reducing environmental impact.
PureSep MF membrane filtration systems are the latest evolution of our tried and trusted PureFlow models: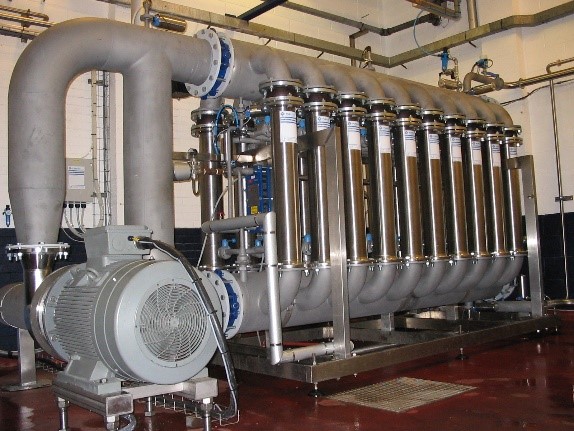 PureFlow membrane filtration system installed at Halewood International winery in Liverpool, UK.
Membrane filtration equipment built for customisation and integration
The PureSep MF range is based on a modular design and can be fully customisable to meet manufacturers' exact requirements. The compact, skid-based systems slot easily into existing processes and even congested operational environments.
PureSep MF 100 and 600 models can operate as standalone units, provided with a complete control system and Siemens PLC touchscreen human-machine interface (HMI) as standard. With integration becoming an important feature of modern manufacturing processes, PureSep MF systems can be easily connected to supervisory control and data acquisition (SCADA) systems for complete control and even remote monitoring.
Find out more about our range of PureSep MF wine and beer membrane filtration systems.
High-quality, efficient and reliable clarification technology
When you make the switch to PureSep MF membrane filtration technology you invest in future-proofed technology with immediate benefits:
Excellent clarification standards – with high levels of microbe and suspended solids removal
Consistent membrane filtration performance with low nephelometric turbidity units (NTU) output.
Increased product yields, versus two-stage DE and sheet filtration.
Reduced energy and labour costs – single-stage membrane filtration equipment that requires no additional additives or processing.
Hygienic design – with stainless steel frames, pipework and process valves with an average roughness of less than 0.8 ra.
Full automation – for easy operation and cleaning with PLC control processes.
Low capital investment per m² of surface area.
Remote monitoring and data trending – for further optimisation and efficiency savings.
Maximised production volumes – with in-time process control and automatic pressure and flow control managed via inverter drives, PID loops and a PLC control panel.
Complete control – with Siemens PLC and touchscreens supplied as standard, along with Endress instrument suite.
Futureproofed flexibility – modular skid designs enable easy expansion should production volumes increase.
Ongoing support and full lifecycle value – with fully-comprehensive PureCare service and maintenance packages.
Find the PureSep MF system to meet your clarification needs.
Futureproofed, modular skid designs that grow with your business
PureSep MF membrane filtration systems are fully customisable with the flexibility to change and grow as your production demands evolve. Manufacturers can choose the configurations and bolt-ons that achieve process-specific clarification standards without the cost of a fully bespoke system.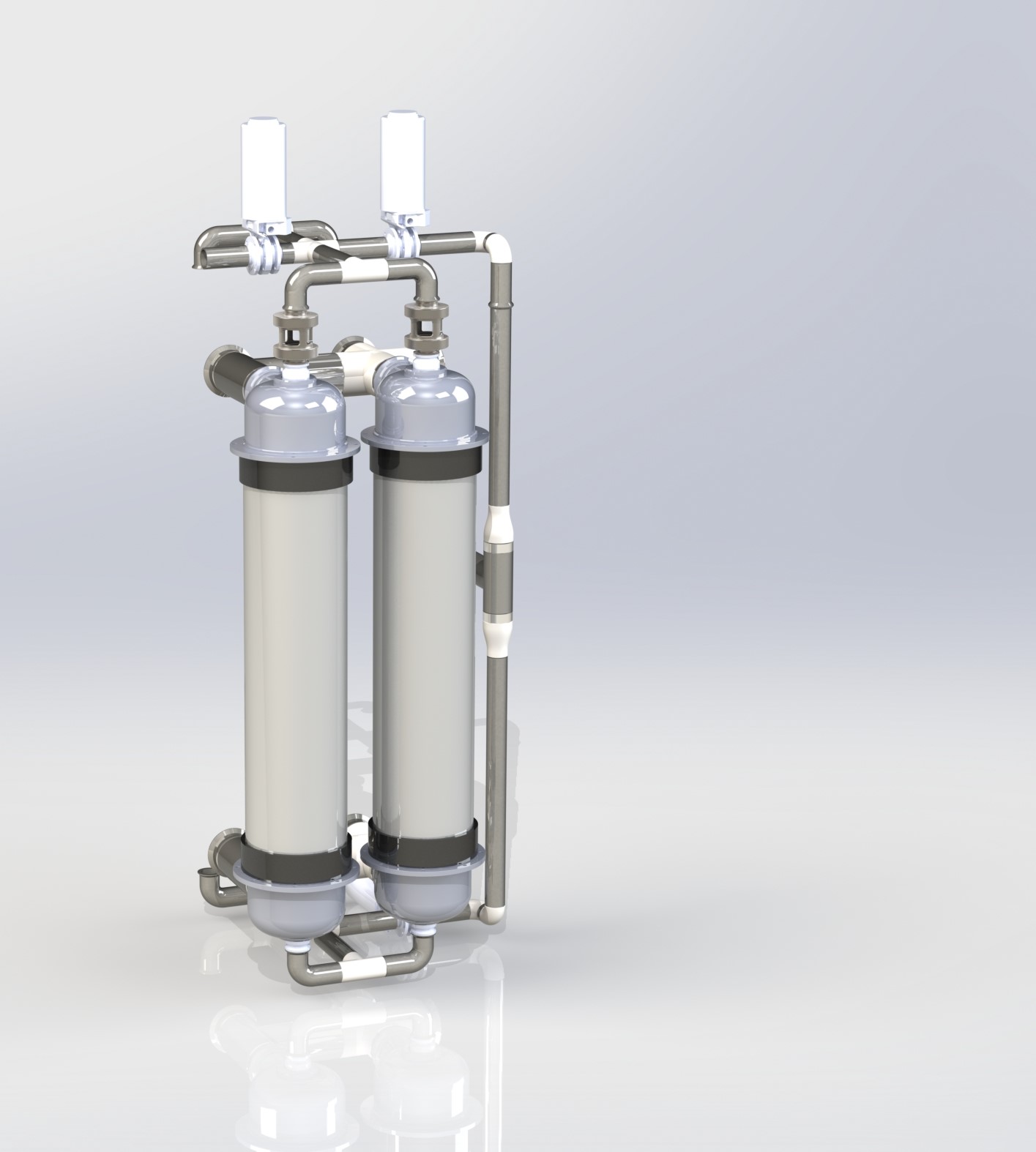 PureSep MF's flexible skid design enables additional membranes to be added as production demands increase.
Filtrate back pulse bolt-on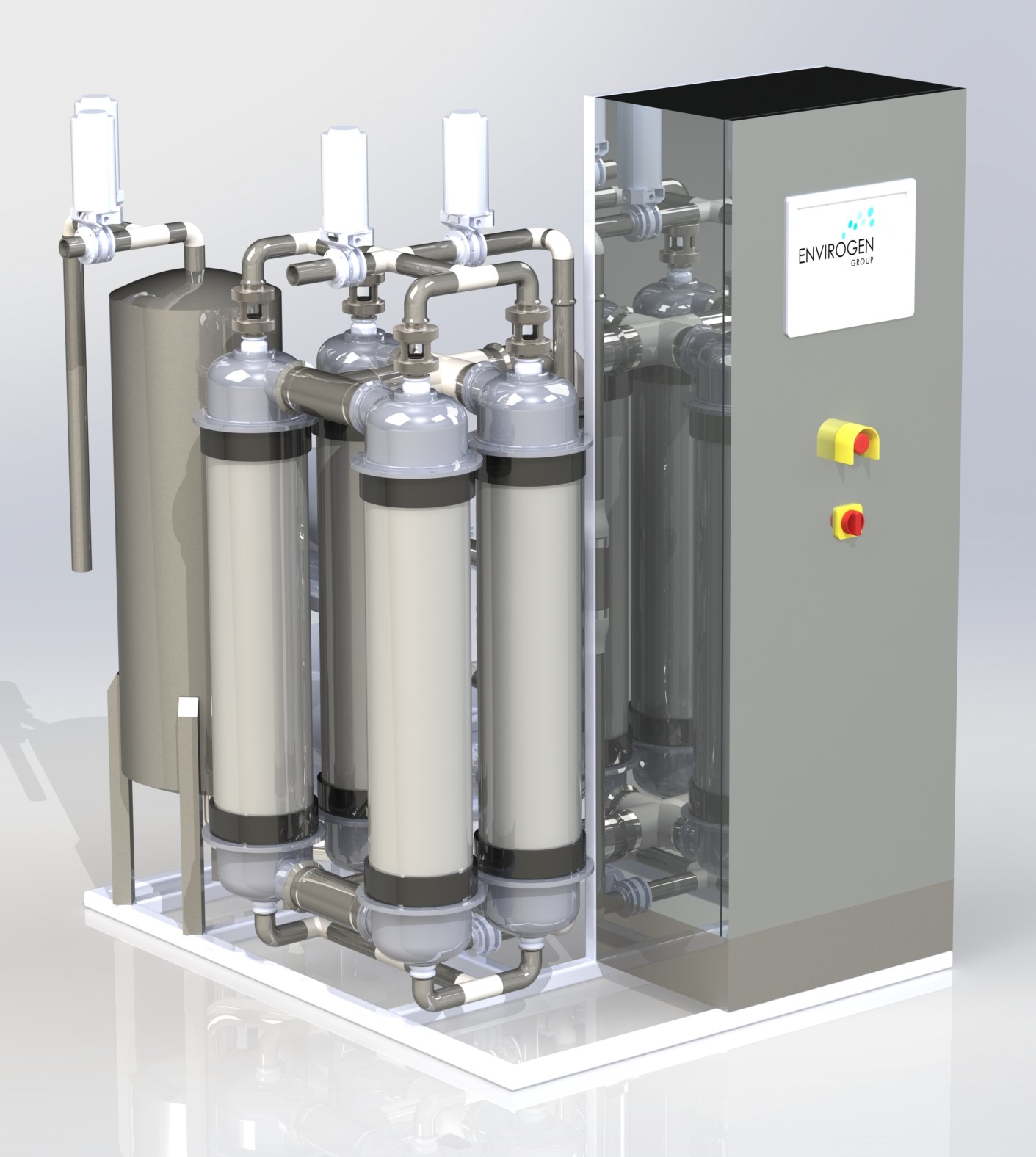 A filtrate back pulse unit can be added for challenging products. The system reverses the filtrate flow to breakdown the gel layer inside the membrane lumen. The disruption decreases trans-membrane pressures and increases production volumes.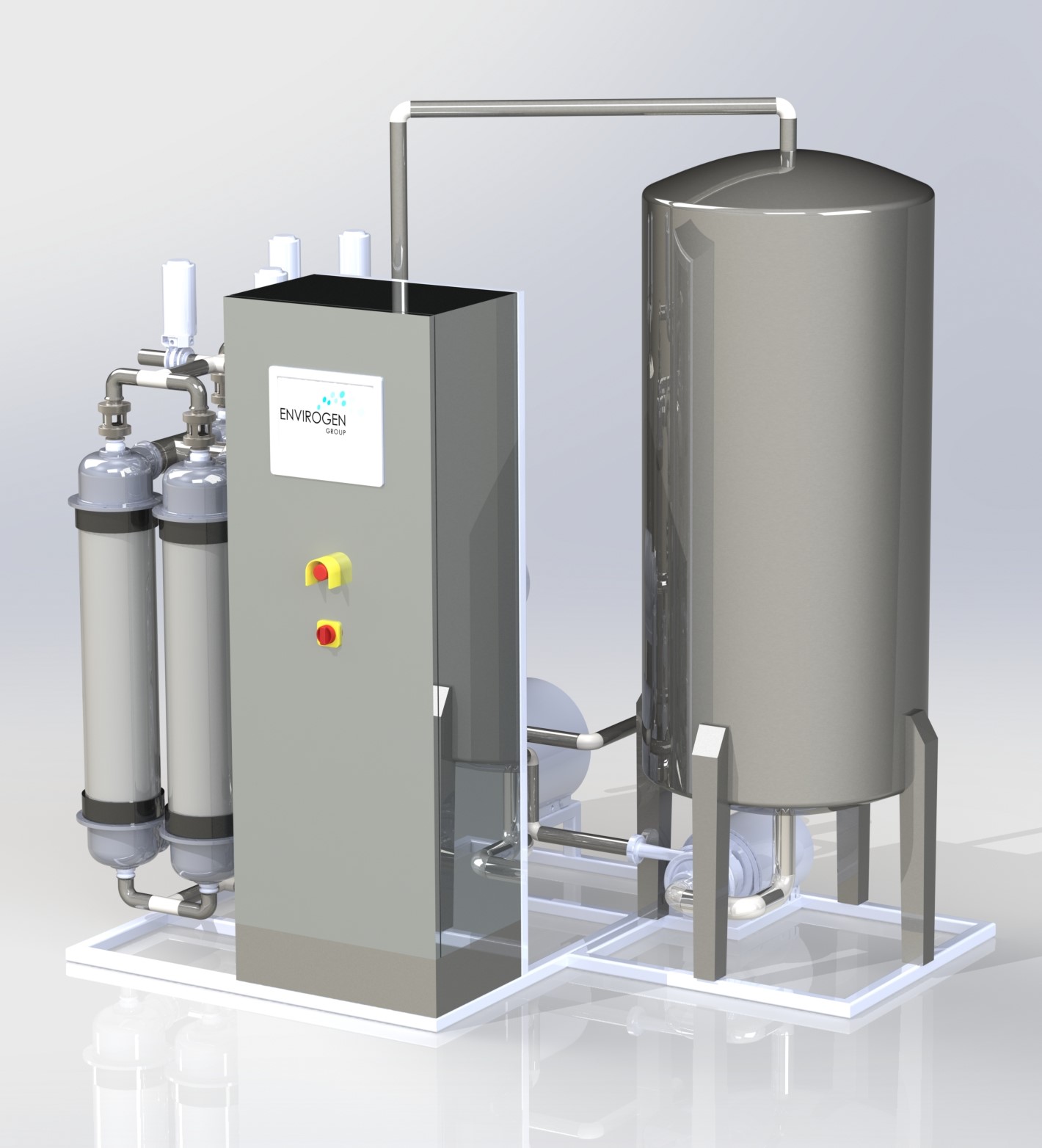 Separate feed and filtrate tanks can be added for independent wine conditioning. Vessels are pressure-rated for isobaric operation and include an internal spray ball for clean-in-place (CIP) operation.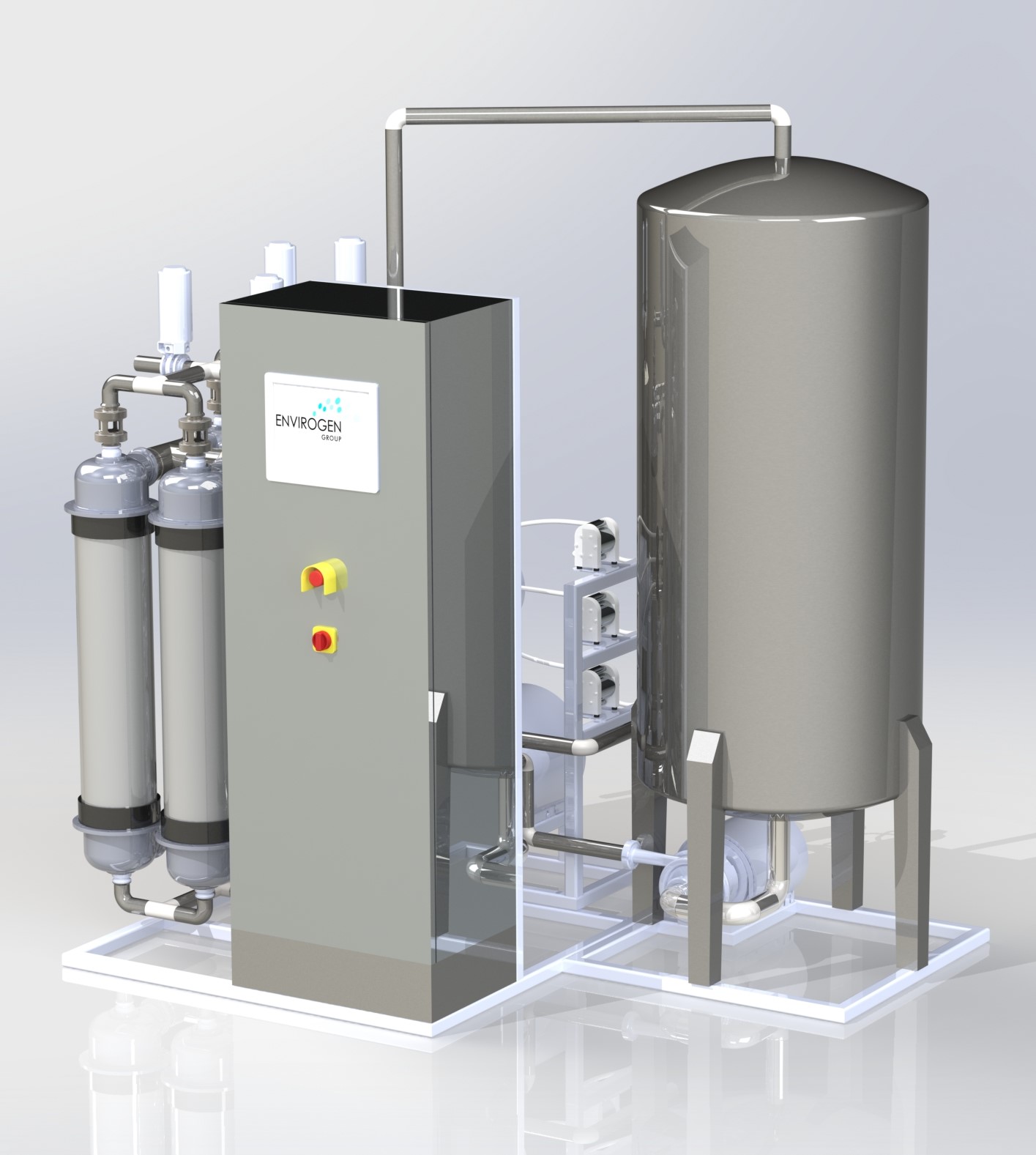 CIP chemical dosing tanks, bunds and associated instrumentation can be added to PureSep MF skid for independent cleaning of the membranes and associated tanks. The automated cleaning protocols reduce chemical handling and associated health and safety risks.
PureSep MF range of membrane filtration systems for every application
PureSep MF systems are available in two main ranges:
PureSep MF 100 range – for wine, cider, vinegar and fruit juice clarification
PureSep MF 600 range – for beer membrane filtration and clarification
The number of membranes can be adjusted to increase membrane filtration surface area and achieve different flow rates.
PureSep MF 100 – Application range:

PureSep MF 600 – Application range: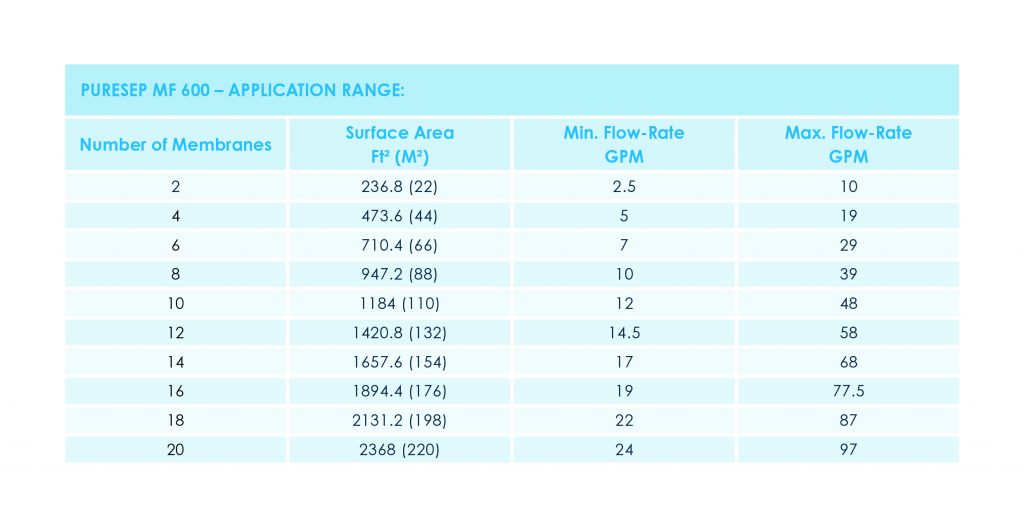 Try before you buy
Investing in new membrane filtration equipment can be a big decision and it's important to know that new systems will achieve the exact standards and flow rates that your process needs.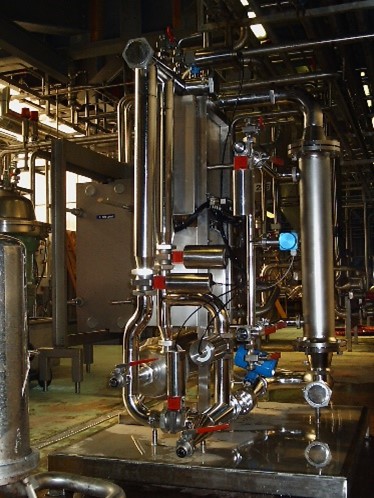 Single-module PureSep MF membrane filtration pilot trial plant, including PLC and instrumentation
We offer a wide range of on-site pilot trial plants for all applications and products. Our PureSep MF pilot trial plant includes Envi-BMF or Envi-WMF membranes for exact replication of full-scale process conditions. Our expert engineers come to site and run clarity, output and batch volume tests on live process streams or samples.
Book your pilot plant trial.