Your beer membrane filter is an integral part of the crossflow filtration system, providing vital beer clarification before your product is bottled and sent to customers. This filtration process ensures product clarity, consistent taste profiles and long shelf life. Product clarification plays a pivotal role in maintaining high-quality standards. A robust beer membrane filtration process is crucial to your business's success, as it ensures your unique taste profile, locking in complex flavours, and protecting your brand identity.
High performance shouldn't mean high prices
No beer membrane filter lasts forever and when they come to the end of their natural life, they'll need replacing. However, original equipment manufacturer (OEM) filters might not offer the best performance or price or availability.
Now, there's a better option…
Envirogen Group Envi-BMF beer filtration membranes are specially designed for breweries as a direct replacement for OEM hollow fiber membrane filters, such as the Pentair membrane S-14 brand used in Pentair crossflow filtration systems.
Envi-BMF membranes are designed by our expert process engineers. They are based on decades of experience in the process filtration and water treatment industry, working alongside some of the largest, global food and beverage brands.
Our Envi-BMF beer membrane filter systems come complete and ready-to-use in high-quality stainless-steel housings and offer many benefits when compared with OEM versions:
Long service life – Envi-BMF membranes are constructed from polypropylene for long service life and extended replacement intervals
Increased flux rates – with a 10% larger surface area than Pentair S-14 membranes, manufacturing processes are accelerated
Increased batch volumes – with less product wastage.
Improved clarity – an increased 1.8mm lumen means better solid particle retention for increased product clarity.
Low operating costs – for a better bottom line.
Reduced waste – retaining more product and using less water.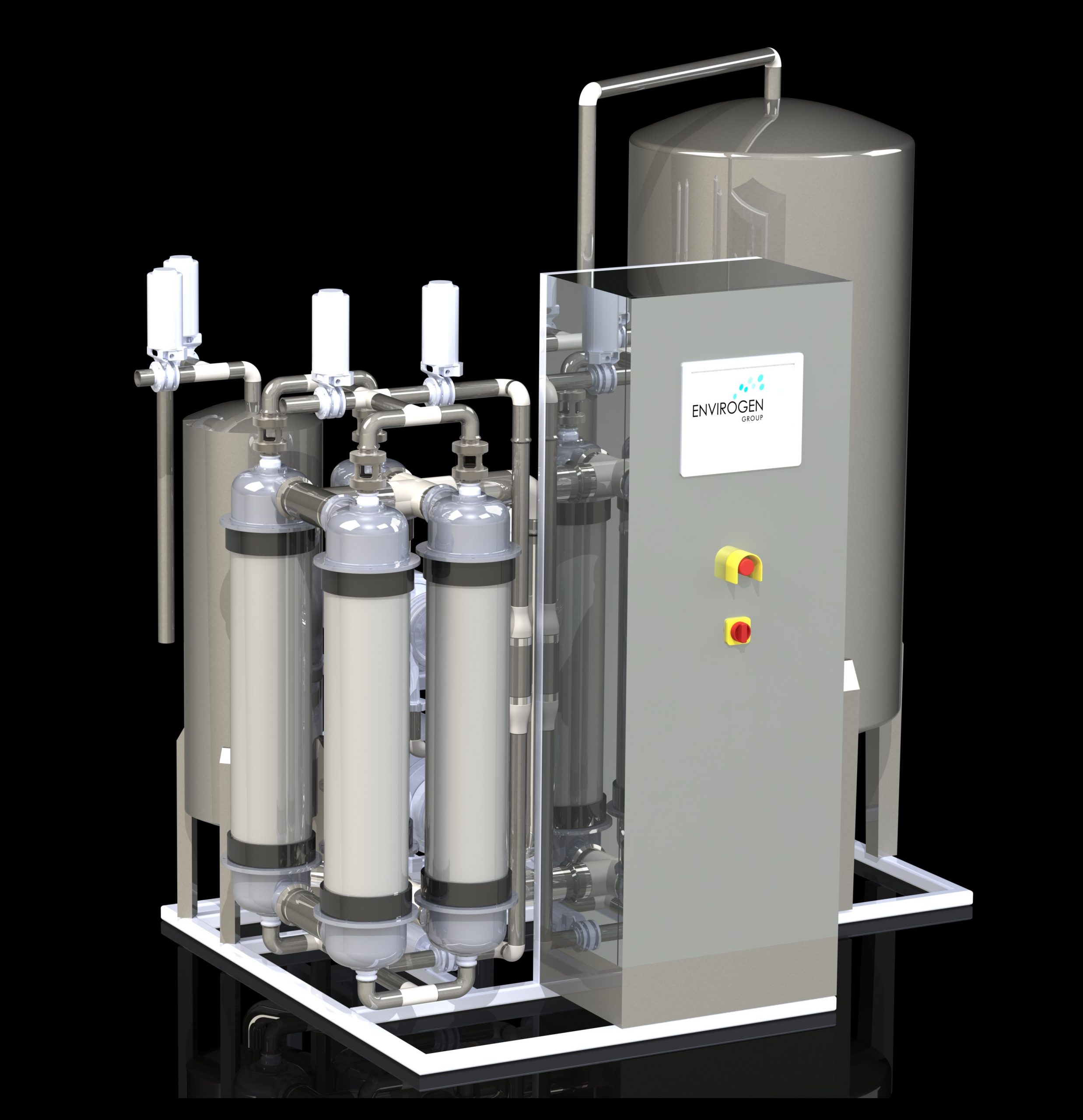 The Envirogen PureSep MF 600 single-step membrane filtration solution, complete with Envi-BMF membranes, is specifically designed to improve beer clarification, quality and consistency while reducing costs and waste streams.
Beer filtration equipment servicing – with membrane optimisation services
At Envirogen, our service engineers are highly experienced in all aspects of major beer filtration systems. From installation and operation to familiarisation, maintenance, and optimisation, our team has you covered. This includes Envirogen-own hollow fiber membranes and spiral wound membranes, as well as Pentair membranes and any skid-based systems featuring Pall membrane filters.
Our local engineers are available throughout UK and Europe offering fast service response times and stock to meet your process demands
Our tailored membrane service packages are designed to ensure optimum performance and profitability. We deliver maximum service life for your membrane system through careful monitoring, targeted clean-in-place (CIP) regimes and considered chemical and membrane selection.
Our comprehensive membrane service packages include:
Replacement membrane supply, installation, tooling and seals
Process optimisation and troubleshooting
Pilot plant supply for on-site trials and hire
On-site and off-site CIP services
Membrane diagnostics and repair services
Training and plant familiarisation programmes
Access to local engineers and expert advice throughout Europe
Ready to transform your beer filtration process?
Make the ultimate choice for your brewery and transform your beer filtration process with Envi-BMF beer membrane filters. Experience the power of cutting-edge hollow fiber membrane technology that provides exceptional beer clarification standards, consistent taste profiles, and a longer shelf life for your brews. Don't wait any longer – embrace the future of beer filtration and elevate your operations with Envi-BMF.
Find the perfect Envi-BMF membranes for your beer clarification process. Contact our team of expert engineers today for a free, no-obligation assessment on how you can save energy, water, waste, and money.