Fysieke filtratie door filterschijven (filter discs) wordt gedaan door het afvangen van gesuspendeerde vaste stoffen in de kanalen van een overlappende (op elkaar gestapelde) set discfilters, gemonteerd in een filterhuis.
Disc filters hebben een aantal schijfvormige (filters discs) componenten die op een centrale kern worden vastgehouden. De gestapelde Disc filters zijn voorzien van een gegroefd patroon.
Het gegoefde patroon zorgt voor een optimale stromingsruimte tussen de filterschijven waardoor de vaste stof wordt afgevangen.
Het complete disc filter is samengeklemd in een buitenste, cilindrische zeef die voorkomt dat grotere deeltjes in de ruimtes tussen de schijven komen.
Het Vortix in-line zelfreinigend strainers systeem voorzien van filter disc elementen
Ons Vortix-Disc filter systeem biedt een duurzame oplossing met zijn unieke terugspoel terugspoeltechnologie. De disc kanalen zorgen voor diepe filtratie en combineren nauwkeurige dieptefiltratie, hoge vuilopnamecapaciteit en een eenvoudig op te schalen modulair ontwerp dat een breed scala aan volumestromen en configuraties mogelijk maakt.
Het Vortix zelfreinigend zeefsysteem is ideaal voor vele industrieën en toepassingen, waaronder:
Irrigatiebescherming – voor filtratie van oppervlaktewater en water dat organische verontreinigingen bevat, inclusief oppervlakte irrigatie, druppel- en sprinklerirrigatie.
Industriële bescherming – voor koel- en proceswaterfiltratie, warmtewisselaarbescherming, voorfiltratie, waterzuiveringsinstallaties, waterhergebruik, recycling, recirculatie.
Andere toepassingen – irrigatiesystemen voor golfbaan, gras, landschap en kassen, inclusief bescherming van sproeiers en pompen.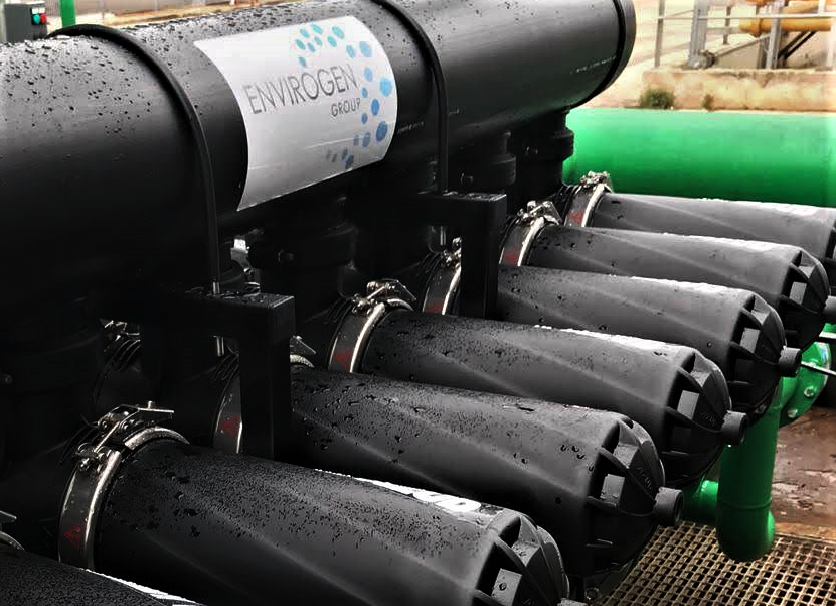 Een zelfreinigend Disc filtratie systeem van de Envirogen Group
In eenvoudige bewoordingen werkt onze zelfreinigende disc filtertechnologie in drie fasen:
Controlesysteem:
De controller, die kan worden ingesteld om de reinigingscyclus te starten door drukverschil, tijd of beide, bedient hydraulische kleppen in de inlaat die de richting van de waterstroom in het filter veranderen.
Deze omgekeerde stroom zet het zelfreinigende filtratie- en terugspoelproces in gang.
Zelfreinigende filtratiefase:
Water stroomt van de buitenkant van de Disc filter stapel naar binnen, langs de speciaal ontworpen groeven op het oppervlak van de schijffilters die zwevend materiaal opvangen.
De Vortix genereert een naar buiten gekeerd centrifugaal spiraalvormig effect bij binnenkomst in het filter (algemeen bekend als 'vortexfiltering'), dit beweegt de deeltjes weg van de filterschijven.
Schoon gefilterd water stroomt vervolgens efficiënt door de diepte van uniek ontworpen Discs.
Terugspoelfase (één station per keer voor continue filtratie):
Het schone water van het hulpfilter wordt vanuit de omgekeerde richting door het filterelement geleid. Hierdoor worden de stapel filterschijven (discs) gedecomprimeerd, waardoor de discs efficiënt kunnen worden gescheiden en teruggespoeld.
De vaste stoffen worden uit de discs verdreven en gaan naar buiten via het terugspoel verdeelstuk. Het filtratieproces start dan opnieuw met het comprimeren van de Filterschijven.
De terugspoel cyclus wordt geregeld door kleppen en een controller, waarin de filtratieapparatuur is geïntegreerd.
Belangrijkste voordelen
Onze Discfilters (schijffilters) bieden een uniek dics filter ontwerp, ontworpen voor een lange levensduur en weinig onderhoud, met aandacht voor tal van functies die de totale operationele kosten verlagen:
Filtratie mogelijk van 5 tot 400 micron
Modulair, om aan elk gewenst debiet te voldoen
Zelfreinigend zonder onderbrekingen
Automatisch spoelen op zowel verschildruk als op tijd
Zeer duurzaam met corrosievrije kunststof constructiematerialen
Werkingsprincipe is de combinatie van oppervlakte-, diepte- en vortex/cycloonfiltering
Zeer veilige structuur – grote filtratiegebieden met modulair en effectief ontwerp
Centrifugale werking optimaliseert de filtratieprestaties en vermindert de terugspoelfrequentie en het onderhoud
Zelfreinigend filterelement – terugspoelproces gebruikt minimaal water en zorgt voor een efficiënte reiniging
Breed scala aan stromen en configuraties met een minimaal aantal componenten
Compacte geassembleerde systemen voor eenvoudig transport en installatie – 'plug and play'
Kosteneffectief – Diverse ontwerpen beschikbaar met lage bedrijfskosten en eenvoudig onderhoud
Eenvoudig en robuust ontwerp – compact ontwerp voor installatie op kleine of krappe locaties
Water- en energie besparend system
Op maat gemaakte filtratieoplossingen om aan uw behoeften te voldoen
Het selecteren van het juiste schijffilter en schijffiltratiesysteem voor uw toepassing hangt af van vele factoren, zoals de stroomsnelheid en het type vloeistof, de grootte en het type en het aantal te verwijderen deeltjes, de werkdruk, de vereiste retentie-efficiëntie en de chemische en temperatuurcompatibiliteit van de media.
Ons team van procesexperts helpt u met het vinden van oplossingen om de effectiviteit van uw filtratieproces te maximaliseren, zodat u de gewenste productie- en kwaliteitsdoelstellingen kunt behalen tegen de laagste operationele kosten.