Fast-paced manufacturing, high-quality standards and large volumes: the food and beverage industry has unique challenges and needs dedicated solutions. The Envirogen PureSep RO plant is a hygienic design reverse osmosis system, developed specifically for the food and beverage industry.
From its hygienic design to its high-efficiency membranes and remote monitoring capability. The PureSep RO plant is designed to provide high-quality permeate for food and beverage applications, where ultra-pure water streams are needed. PureSep RO helps you meet quality and environmental targets while reducing energy use and waste, all in one easy-to-install, skid-based system.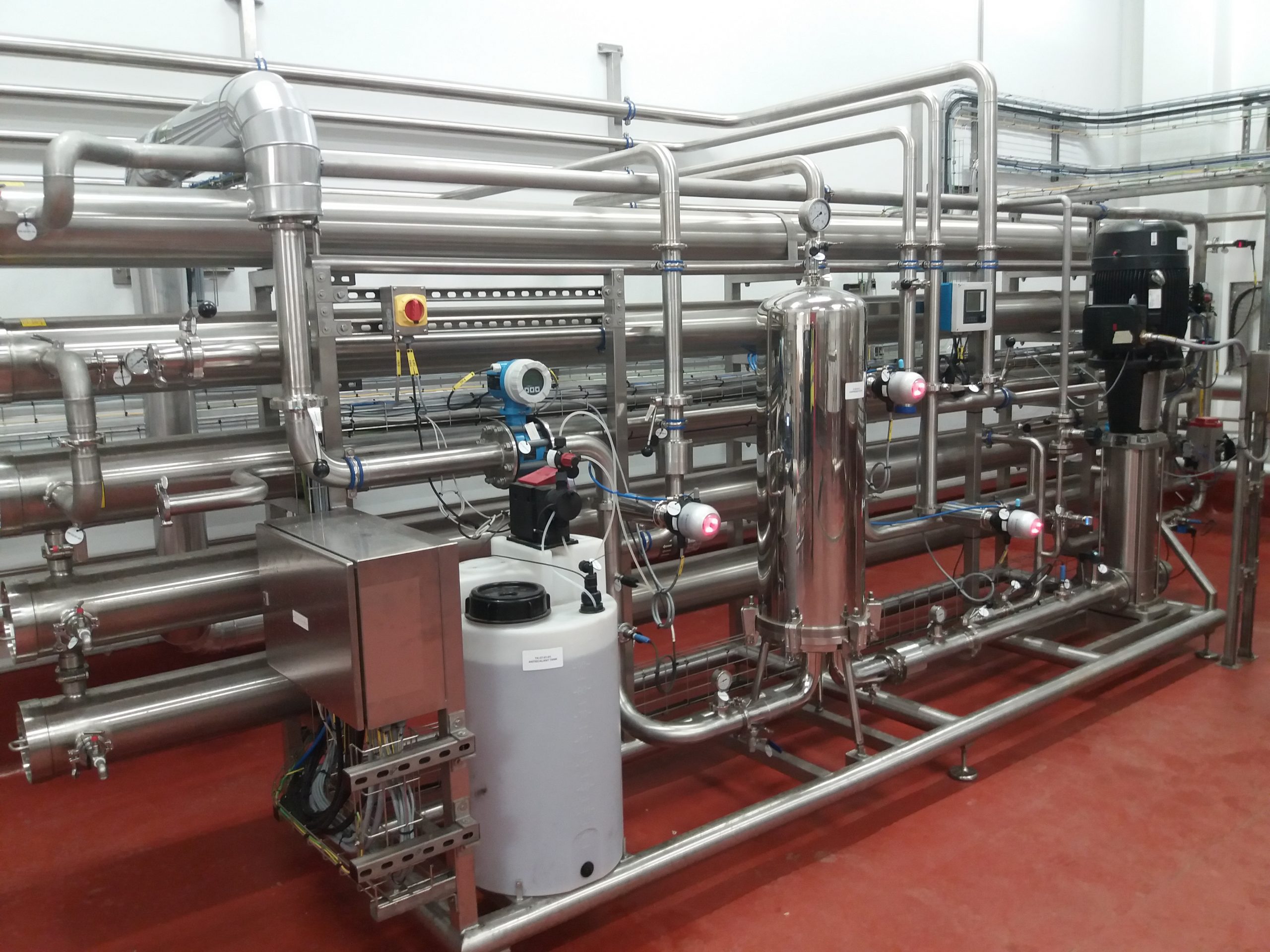 PureSep RO: a commercial RO plant designed for efficiency
Many manufacturers are switching to use reverse osmosis in food processing and drinks manufacturing. Our PureSep RO plant offers several benefits over traditional demineralisation systems, including:
High water recovery rate – up to 90% using nanofiltration (NF) recovery modules.
The highest hygienic standards – with 316-grade stainless steel throughout, polished to deliver less than 0.8 roughness average (ra).
Tri-clover hygienic connections – designed to deliver hygienic and quality standards in high-end food and beverage manufacturing conditions.
Reduced energy usage – high-efficiency, low-energy membranes and frequency-controlled high-pressure pumps regulate and reduce electricity consumption. By working at ambient temperatures, energy consumption is further reduced.
High-quality permeate – with pressure-based filtration, PureSep RO plants achieve up to 99.9% removal of all bacteria, viruses, pyrogens and suspended solids and up to 99% removal of dissolved ions.
No chemicals – with hot water sanitisation options available.
With its stainless-steel, hygienic design and high-quality components, PureSep RO plants enable businesses to use the power of reverse osmosis in food processing, beverage manufacturing and brewing. With high volume rates, both process and ingredient water can be produced through one system. Each PureSep RO system is designed to your exact water specification for complete consistency, even when feedwater profiles change.
Ready to find solutions to your process water challenges?
PureSep RO plant – at a glance
Our hygienic, commercial RO plants are constructed from polished 316 stainless-steel, delivering less than 0.8 ra and come complete with tri-clover hygienic connections. PureSep RO plants are designed and built with our latest technology and future-proofed to grow or adapt as your business needs change. Customise your PureSep RO plant configuration to meet your exact requirements without the cost of a bespoke system.
Best for:
Process and product water
Ingredient water
Puresep RO delivers:
Hygienic design with 316-grade stainless-steel components
Hot water sanitisation capability
Consistent high-purity water streams
Full customisation to meet exact quality requirements
99.9% removal rate for viruses, bacteria and pyrogens
Up to 99% removal of suspended and colloidal solids, dissolved ions and organic compounds
Complete control with intuitive PLC and HMI control system, alarms and remote monitoring capabilities
Smart design provides easy access for cleaning and hot water sanitisation
Skid-based design for straight-forward integration, installation and commissioning
Low operating costs and total cost of ownership, particularly when used with Envirogen consumables
Straightforward service and maintenance with access to a network of nationwide after-sales and support teams
Choose:
Six different models with flow rates of between 5m³/hour to 50m³/hour – bespoke designs for higher flow rates are available on request
Bespoke configuration to meet exact permeate conditions
Optional clean-in-place (CIP) units to extend membrane life
Optional anti-scale dosing options as an alternative to traditional, base-exchange water softening
Optional nanofiltration (NF) recovery modules to achieve up to 90% water recovery rates
Sodium bisulfite (SBS) dosing for free-chlorine removal
Hot water sanitisation option
Download the full datasheet with technical specifications, choosing from six PureSep RO plant models.
Don't take our word for it…
Discover how our hygienic, PureSep RO plant helped Coca Cola European Partners (CCEP) meet safety, quality and environmental standards at its Edmonton site.
For a free assessment and to see how you can save energy, water, waste and money with PureSep RO, have one of our expert engineers contact you directly