Process filtration and water treatment in the food and beverage industry: Efficiency has never been more important in the food and drink sector. Sustainable manufacturing isn't just a buzz word, it's a requirement, focusing companies to reduce energy consumption, water use and waste streams.
Envirogen have been helping companies such as Unilever, Refresco, Coca-Cola, Britvic, Princes Soft Drinks and Heineken use water treatment and process filtration to reduce their environmental impact, streamline manufacturing processes and cut operating costs.
We work throughout the water system lifecycle and our highly experienced process engineers and project execution teams have a deep understanding of the specifications and end user requirements related to process filtration and water treatment in the food and beverage industry.
2021 has been no exception and is yet another excellent year for our food and beverage team…
Our project delivery teams are currently working on several key projects. These include the execution of a 300m³/hr activated carbon system in Europe, along with an installation for a new soft drinks factory in the UK. These are both live projects and we're excited to share with you our key project updates.
Project spotlight – Triplex 300m³/hr activated carbon system (Netherlands):
Triplex system that will treat up to 300m³/hr of borehole water to safeguard against taste and odour taints.
Hygienic design, suited to food and drink sectors, with the system capable of completing a hot water sanitisation sequence – meaning the highest water qualities are maintained throughout each production cycle.
System currently in the mechanical installation phase as coded welders install the 316 stainless steel pipework, polished hygienic single and double seat valves, along with a Varivent connected instrumentation suite.
Our controls team has had an increased workload on this project as we're integrating a remote I/O system which utilises Profibus communication protocols into an existing PLC processor on-site.
Commissioning is due for completion during Q1 of 2022 with further details to follow at that stage.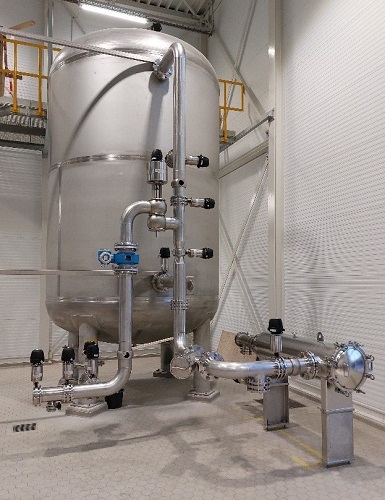 Water treatment in the food and beverage industry:
Triplex 300m³/hr activated carbon system with hot water sanitisation sequence
Project spotlight – Borehole water supply for new soft drinks factory (UK):
In the UK we've designed a system to treat borehole water supply so that it meets the spring water regulations for a new soft drinks factory.
Treated water will be used in the manufacturing of carbonated natural mineral water, spring water, flavoured waters, and soft drinks.
The spring water treatment includes multiple media applications that will achieve reductions in iron, Manganese, Fluoride, and Ammonia content. Post treatment the water will be ready for use in the production of spring and mineral water.
For the manufacturing of soft drinks, the water will be further treated by one of our high efficiency (up to 90% water recovery rate) reverse osmosis skids – PureSep RO.
Each of the two process streams will be capable of treating 80m³/hr, while the PureSep RO plant will produce an initial 60m³/hr of permeate, although the system design facilitates an increase up to 90m³/hr.
Both process streams and the RO are fully automated using a centralised PLC control panel that offers remote digital monitoring for performance diagnostics and preventative maintenance.
The finished system will be constructed from 316 stainless steel, hygienic valves, process connections and instrumentation suite.
Envirogen are currently in the manufacturing phase of this project with pressure vessels and PureSep RO reverse osmosis systems due for delivery during Q1 of 2022.
Advanced 3D modelling and design engineering.
An Envirogen borehole water treatment plant designed for new UK soft-drinks factory
At Envirogen have a very clear remit: to deliver every solution on time, to budget and to the client's exact specifications. You can find details of process filtration and water treatment in the food and beverage industry installations in our extensive library of case studies.
For a FREE, no-obligation assessment on how you can save energy, water, waste and money, contact our team of expert enginners