Compact, modular RO-EDI plant – for high-purity lab water
One of our core EcoRange products, LabPure is a multi-technology centralised laboratory water purification system. Its unique design provides reliable, small volume, high-purity water for laboratories in universities and clinical research environments, healthcare, diagnostics and pharmaceutical settings.
LabPure includes three core technologies in one modular design: energy-efficient, skid-mounted reverse osmosis membranes (RO), carbon dioxide (CO2) degas membranes and electrodeionisation (EDI). The result: fast access to high-purity water all from one compact, centralised unit.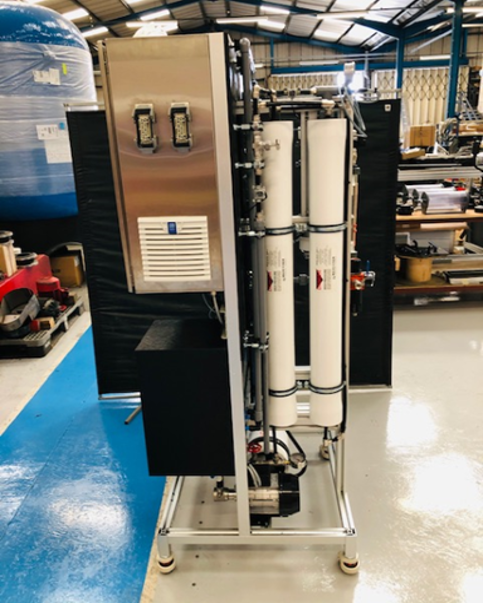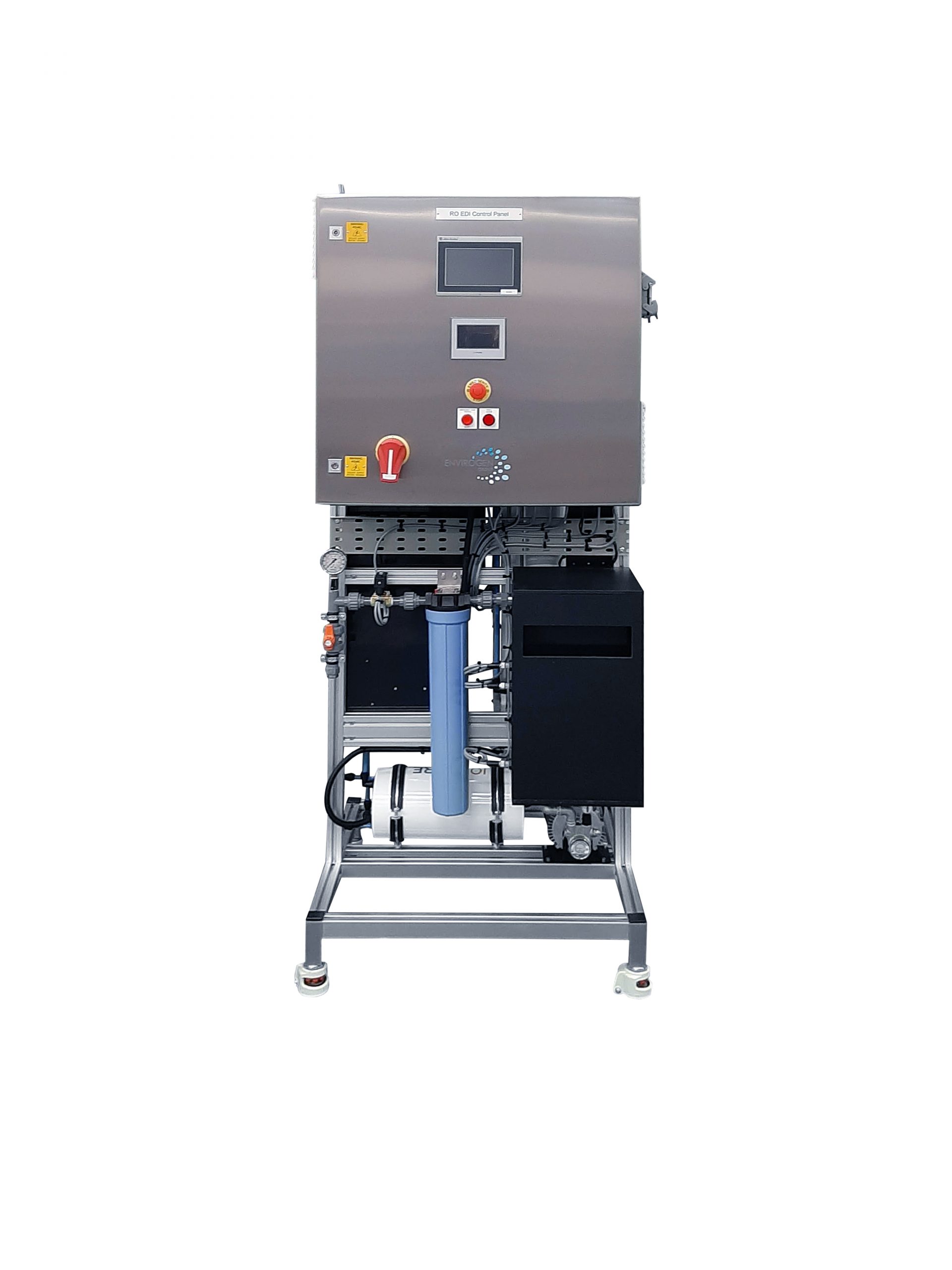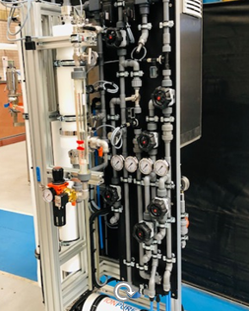 Laboratory water purification: Envirogen's LabPure RO-EDI water system, featuring reverse osmosis membranes, CO2 degasser and EDI modules.
Produce ultra-pure lab water in one compact system – with no chemicals and low operating costs
Pure water is a critical requirement for laboratories. From washing and cleaning to direct use in experiments and workflows, water must be free of impurities, microbes and ions to ensure robust and accurate results.
The Envirogen lab water purification system, LabPure, is designed specifically for laboratories, generating between 150 to 1000 l/hr of purified lab water to a high specification:
1-15 mega-ohm-cm (MΩ) conductivity at 25°C
Less than 50 ppb of total organic carbon (TOC)
Fewer than 1 colony-forming unit per millilitre (CFU/ml)
Neutral pH
Removal of particles greater than 0.1µm
The chemical-free design and low energy RO membranes mean low operating costs, the CO2 degassers improve process efficiency and the high-flow rate electrodeionisation reduces the system footprint.
Each compact, modular LabPure laboratory water purification system is supplied skid-mounted, pre-assembled, and commissioned for simple installation and fast start-up. The small footprint means that LabPure can be installed virtually anywhere and easily connected to provide a centralised source of high-quality water.
With an easy-to-use PLC and HMI control system, LabPure is operated at the touch of a button and intelligent monitoring ensures that water quality is maintained at the very highest standards. With our comprehensive service and maintenance plans, you'll also have access to a nationwide team of expert after-sales support staff.
Looking for ultra-pure water for other industries? Discover our EcoPure demineralised water system.
Best for:
Generating high-quality, purified water streams for laboratory use
Low volume requirements from a centralised system, supplying many laboratories from one source
Fitting in confined plant rooms
Fast connection and quick start-up
LabPure delivers:
Highly efficient, low-cost water streams
Chemical-free generation – reducing costs and risks to operators
Very low conductivity, carbon, bacteria and particulate levels
Automated and remote monitoring to increase productivity and cost
Straightforward service and maintenance
Choose:
From five different models
Flow rates from 150–1000 l/hr
Bespoke configurations for very high flow rates
Download the full datasheet with technical specifications, choosing from five LabPure lab water purification system models.
LabPure is part of Envirogen's EcoRange – a selection of our most popular, modular water technologies that blend high quality with efficiency and a low total cost of ownership.