Overall, Crown Beverage, now recycle 90% of the water in the can making process, helping minimise the environmental impact from the site. Envirogen Group were selected to install new water purification plant and provide after sale service support.

From soft drinks to craft beers, and coffees and teas to new energy drinks, Crown leads the beverage packaging industry with innovative technologies that redefine how the world looks at beverage cans. They approached Envirogen when building their Kechnec plant in Slovakia for consultation on a new water purification plant. It was imperative for Crown to minimise the environmental impact of production. Water is a vital component in the can making process and Crown insisted on sourcing the latest sophisticated water treatment technology. Their goal was to recycle 90% of the water used in production.
We worked in partnership with Crown to deliver a number of different water treatment and process filtration solutions throughout the manufacturing process, starting with the need to treat local towns water supply to bring it up to required regulatory standards. This was achieved by supplying a multimedia filter, reverse osmosis water treatment system with sodium bisulphite and anti-scalent dosing as pre-treatment and a recovery RO system. This minimises the volume of reverse osmosis concentrate ensuring maximum efficiency.
For the recovery of demineralised water from the production line, we supplied cartridge filtration, via an activated carbon filtration unit which feeds a bespoke duplex deionisation plant which was specifically designed to ensure it was robust enough to deal with the return water quality. Of the 5m3/hr water that is used in the rinsing process 4.5m3 is recovered and reused at site.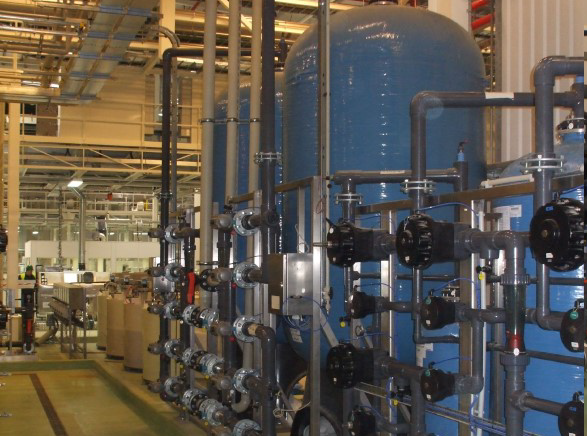 Following-on from the success of the first can line in Slovakia, out customer decided to install a second line at the site…
On this second installation, were asked to be the main contractor for additional water treatment on basis that we'd demonstrated a proven track record. To ensure the success of the second line, we suggested and made the following alterations to the process to further improve efficiency:
Addition of another multimedia filter and primary reverse osmosis water purification plant system to meet an increase in demand from the second line.
Re-commission the duplex deioniser changing the operating parameters, giving the extra capacity for both lines.
A second stream waste-water recovery system included a DAF (dissolved air flotation) unit. The post-DAF filter system was replaced with a continuous backwashing sand filter, which provided improved performance of the system.
The operating parameters of the system were adjusted to give better control of the metal precipitation, leading to improved sludge recovery and treated water quality.
All of the work was completed on time and to budget. By dealing with a single water treatment and process filtration provider on-site the whole process was made much easier.
"Envirogen were chosen for their technical knowledge and ability to provide Crown with a total water treatment solution – including a water purification plant and process filtration – with a single point of contact. We've found them to be very good to work with, not only in their process expertise, but also with the backup after-sale service support provided."

Perry Goodwin, Production Engineer
90% water recycle rate achieved from can making process to minimise environmental impact.
PureCare service and maintenance contract ensures the system runs to maximum efficiency.
Project delivered on time and to budget.
For a free assessment to evaluate water treatment and process filtration solutions for your site, contact our team of expert engineers
Crown Holdings, Inc., through its subsidiaries, is a leading global supplier of rigid packaging products to consumer marketing companies, as well as transit and protective packaging products, equipment and services to a broad range of end markets. The Crown Beverage Can Plant, Slovakia, supplies beverage cans to international brewers and soft drink companies in Slovakia, Hungary, southern Poland, the Czech Republic and Romania.