In 2019, a leading engineering consultancy company won a contract to build and operate an energy-from-waste (EfW) plant on behalf of a major UK energy firm. Scheduled for completion in the near future, the 18-megawatt (MWe) plant will process 169,000 units of refuse-derived fuel (RDF) each year to supply the UK's National Grid while having the capability to send heating and hot water to nearby residential and commercial properties. To protect the steam generator, a continuous supply of purified water will be needed. After a competitive tender, Envirogen Group was awarded the contract to provide a water treatment plant in power plant solution.
High-purity water protects steam generation
At the heart of this EfW plant, will be an 18MWe turbine that will be driven by steam created from burning refuse otherwise destined for landfill and converting it to a low-carbon source of electricity. Steam turbines are expensive and sensitive technology, highly susceptible to corrosion and scale build-up. This means that the incoming mains water quality poses a considerable risk with scale-forming ions and suspended solids, such as silica, depositing on the turbine blades and within pipework and vessels. Just a few millimetres of scale can unbalance a turbine blade, leading to costly repairs or replacement.
To solve this issue, our client started looking for water purification solutions, and after a competitive tender process, Envirogen was awarded the project. Key to the successful design was the offering of a proven, modular water treatment plant in power plant solution: Eco MultiPro.
All-in-one, multi-technology, RO-EDI solution – tailored to meet exact requirements
The single steam turbine will require three steam-generating streams with a total ultra-pure water requirement of up to 11m3/hr in duty and assist mode. Envirogen's expert process engineers created a complete water treatment plant in power plant design based on modular water purification technology.
John Jepson, Commercial Director, Envirogen Group, explains the benefits of modular technology:
"Our power plant water treatment solutions are based on our proven and tested Eco MultiPro system. This system uses a powerful combination of reverse osmosis, carbon dioxide degas membranes and electrodeionisation technology to create ultra-pure water streams."

"By using modular, skid-based systems we can offer a cost-effective solution that guarantees a fast return on investment. Since these solutions are designed for power plant applications, they can be tailored to meet exacting requirements. The client gets the best of both worlds: tried and tested solutions that meet their exact objectives delivered at a fraction of the cost of designing a fully bespoke system."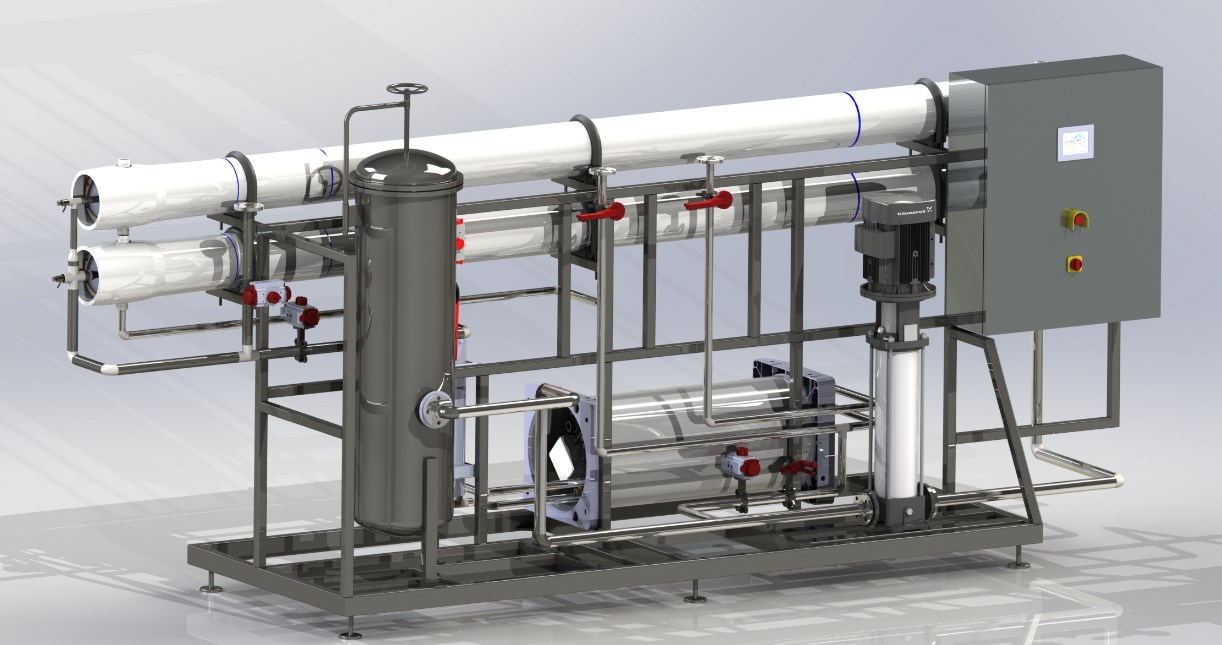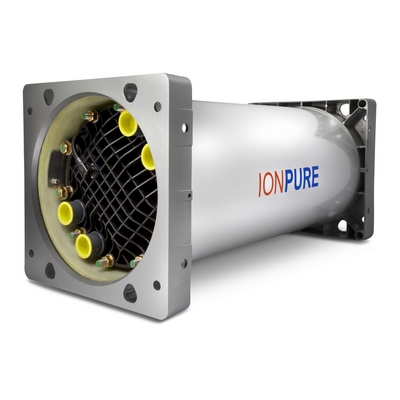 Eco MultiPro RO-EDI plant, featuring reverse osmosis membranes, CO2 degas membranes and electrodeionisation VNX modules
The Power Station solution includes:
A primary water treatment system – including granular activated carbon filters and duplex water softeners to remove free chlorine and reduce total organic load.
A duplex RO-EDI Eco MultiPro power plant water treatment solution, including:

The latest reverse osmosis (RO) membrane technology to remove 96-99% of dissolved ions and 99.9% of all organic compounds and suspended solids.
Gas transfer membranes to remove carbon dioxide, reducing the ionic load on downstream systems.
Continuous electrodeionisation (EDI) system to remove dissolved ions that might cause corrosion or scale build-up in the boiler, pipework or steam generator.

Polishing mixed-bed, ion exchange vessels – to provide the final barrier against silica or sodium breakthrough.
The final water stream will have a conductivity of less than 0.1 micro siemens (µS) and contain less than 20 parts per billion (ppb) silica and less than 10ppb sodium.
Duplex power plant water treatment solution provides failsafe flow
Although our client's standard operating procedures require a 4.5m3/hr solution, the duplex Eco MultiPro system for this site provides a flow rate of up to 11m3/hr. Jepson explains the reason behind installing a duplex system:
"During commissioning, larger flow rates will be needed to flush through the system and, due to the continuous demands placed on the system, a standby system is needed to support future, planned service and maintenance schedules. The systems will alternate during their usual service, and this ensures a steady and reliable flow."
The solution also includes a remote digital monitoring system as part of the water treatment plant in power plant solution. This performance monitoring technology will enable Envirogen engineers to access the plant remotely for smart service and maintenance while providing trending information to the end user. The constant data flow will ensure ultimate control over the water treatment system, providing the real-time feedback and operating parameters needed to prevent downtime and ensure ongoing operating efficiency through predictive maintenance.
"Efficiency and sustainability are critical to the operation of this power plant, and we have factored these goals into every part of the power plant water treatment process," continues Jepson. "Most of the wastewater created by the water treatment system is captured and reused for ash quenching processes. Our Eco MultiPro is one of the most efficient water treatment plants on the market. The continuous electrodeionisation system recovers 90% of the incoming water supply."
"By combining reverse osmosis with electrodeionisation technology, we have ensured further benefits for our client. Unlike alternative ion exchange technology, the Eco MultiPro requires no hazardous chemical dosing. This helps to keep operators safe and removes the need for huge chemical storage units. The modular design further decreases the footprint of the system, which is important for nearly every industry as space is usually at a premium, even in new-build sites."
Interested in other EfW projects?
For more information on other water treatment and process filtration solutions for the power and energy industry: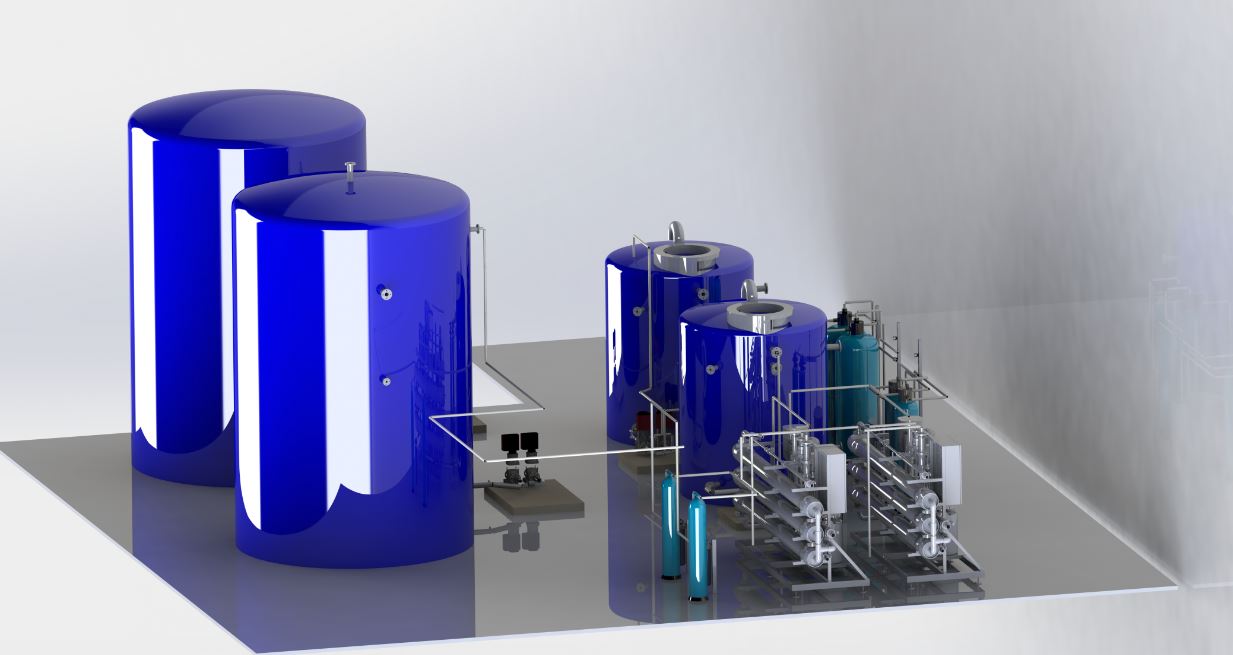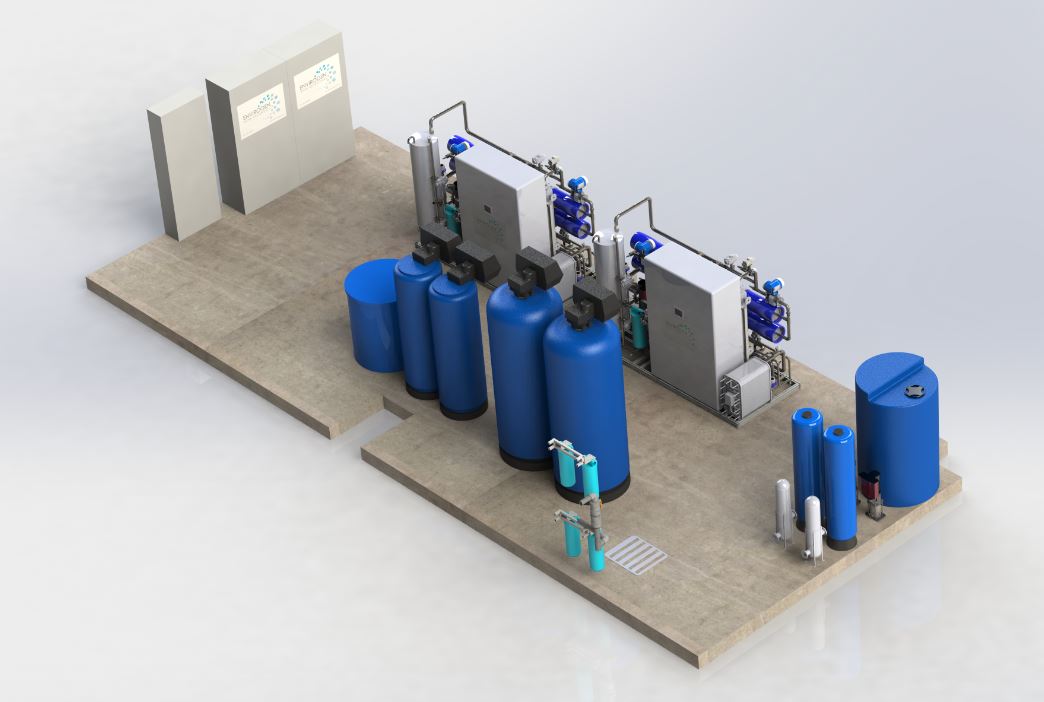 A complete water treatment plant in power plant design based on modular water purification technology.
The modular design means that the client can make use of tried and tested solutions that can be easily installed and commissioned.
The adaptability of the Eco MultiPro and pre-treatment and polishing technology means that the water streams can be tailored to the exact water purity standards needed.
No hazardous chemicals will be required for the regeneration of the system, reducing the health and safety risk and storage requirements on-site.
The duplex design ensures continuous operation and supply, even during routine service and maintenance.
HMI and PLC with digital monitoring software ensure the system can be monitored and adjusted for operating efficiency and remote monitoring can be used to provide servicing or maintenance advice.
90% water recovery rates will be achieved.
Wastewater streams will be collected and used for ash quenching.
No hazardous regeneration chemicals mean safer operating environments and a reduced footprint.
Water quality will be delivered with less than 0.1µS conductivity, less than 20ppb silica and less than 10ppb sodium, ensuring complete protection for the steam generator and associated boilers and pipework.
Flow rates of up 11m3/hr can be provided at times of high demand with a duty/standby configuration used to ensure continuous flow during normal operation, even during service and maintenance.
Multi-stakeholder engagement and specialist water treatment support provided throughout the project in collaboration with our client.
For a free assessment to evaluate water treatment and process filtration solutions for your site, contact our team of expert engineers
The client is an energy supply, generation, management and distribution company based in the UK, and are focused on driving low-carbon projects that generate heat and power from waste.