With hosepipe bans being extended in parts of South-West England, and warnings of potential water shortages elsewhere, Envirogen Group has increased production of its Drinking Water Inspectorate (DWI) Regulation 31-compliant water filtration systems to help water utilities and municipalities supply potable water from ground sources, as necessary. The systems are on standby for quick mobilisation in a summer that forecasters warn is likely to be drier, with higher temperatures, than usual.
Available in the UK for rent or purchase, short or long term or on a permanent basis, the portable and relocatable systems comprise fully containerised and skid-based filtration configurations designed for point of entry, boundary boxes, fixed large-scale treatment systems and mobile purification plants, with Deltapor MW/MWA depth filter cartridges and CF housings*. Additionally, there are options for these cartridges that have been validated for removal of cryptosporidium and clostridium difficile.
"The offering includes both standard and bespoke systems with low capital outlay, reduced running cost and low total cost of ownership," says Steve Parker, Head of Consumables, Envirogen Group. "They are highly adaptable to needs in times of water shortages and expected droughts. A modular design approach means our systems are scalable and can flex according to requirements, with easy bespoke configuration should water requirements demand it."
An Envirogen filtration skid for UK water utilities and municipalities. The units are a help in resilience planning for particularly challenging situations caused by weather extremes such as drought: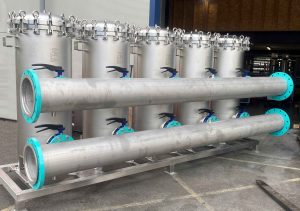 Proven, and ideal for resilience planning
Parker adds, "Our investment in mobile and skid-based systems is designed to give long-term value, from the housing and connecting pipework to the valves, ancillary equipment and remote monitoring instrumentation. Already proven in north and north west England with utility water authorities, they're the backbone of resilience planning and ready for installation with immediate effect, regardless of location.
"Being plug and play, with automatic alerts and remote maintenance, they are also a quick, seamless and reliable answer to shortages, and that, if rented, require no capital expenditure."
For customers requiring further upstream processing, such as DWI-approved UV screening and reverse osmosis filtration, Envirogen has entire end-to-end solutions. For all its systems, PureCare RemoteView – Envirogen's remote water monitoring solution – gives secure, resilient, highest level possible cybersecurity in line with international security standards.
Greater than 99.98% removal rate
Envirogen's Deltapor MWA cartridges provide high performance and a greater than 99.98% removal rate, and supply consistent and cost-effective drinking water to DWI standards. "They are especially effective with variations in flow demand and broad particle range, easily meeting seasonal demands and, with our stock levels, year-round demand," says Parker.
*Envirogen MW/MWA Deltapor cartridges and CF housings are approved under regulation 31 of the Water Supply Regulations 2000 under references DWI 56.4.1274 and DWI 56.4.1257 respectively.