Liquid filtration is an important step in many industrial and manufacturing processes. Whatever your application, process filtration technology can be used to successfully remove unwanted particles and microorganisms from liquids and fluids. The challenge is to achieve the best quality standards with a low total cost of ownership while reducing waste and ensuring the safety of operators. To do this, many organisations use filter housings that contain consumable cartridges, but with many types of filters available, it can be a complex and time-consuming task to find the ideal model for your application.
This guide explains how process filtration can be used to ensure quality, repeatable consistency and product safety.
What are industrial liquid filters and what are they used for?
In this blog, we'll be focusing on filter cartridges or candles. These types of filters can be constructed from many different materials, are available in a range of sizes and can be used to filter nearly every type of solid contaminant from nearly every type of liquid. All industrial liquid filters will have a micron rating, determining the size of particles that will be retained. Depending on the design, the particles will be captured on the inside or outside of the filter element.
As more particles are captured by the media, the differential pressure across liquid filters increases. Once this differential pressure reaches a defined level, the filter will need regenerating or replacing to prevent breakthrough or flow restriction. For this reason, most types of filters are seen as consumable items, but they sit within a permanent filter housing.
All consumables have an ongoing operating cost but by sizing a filter correctly and considering all elements that might affect its operation, its life can be extended without compromising quality, delivering a low total cost of ownership.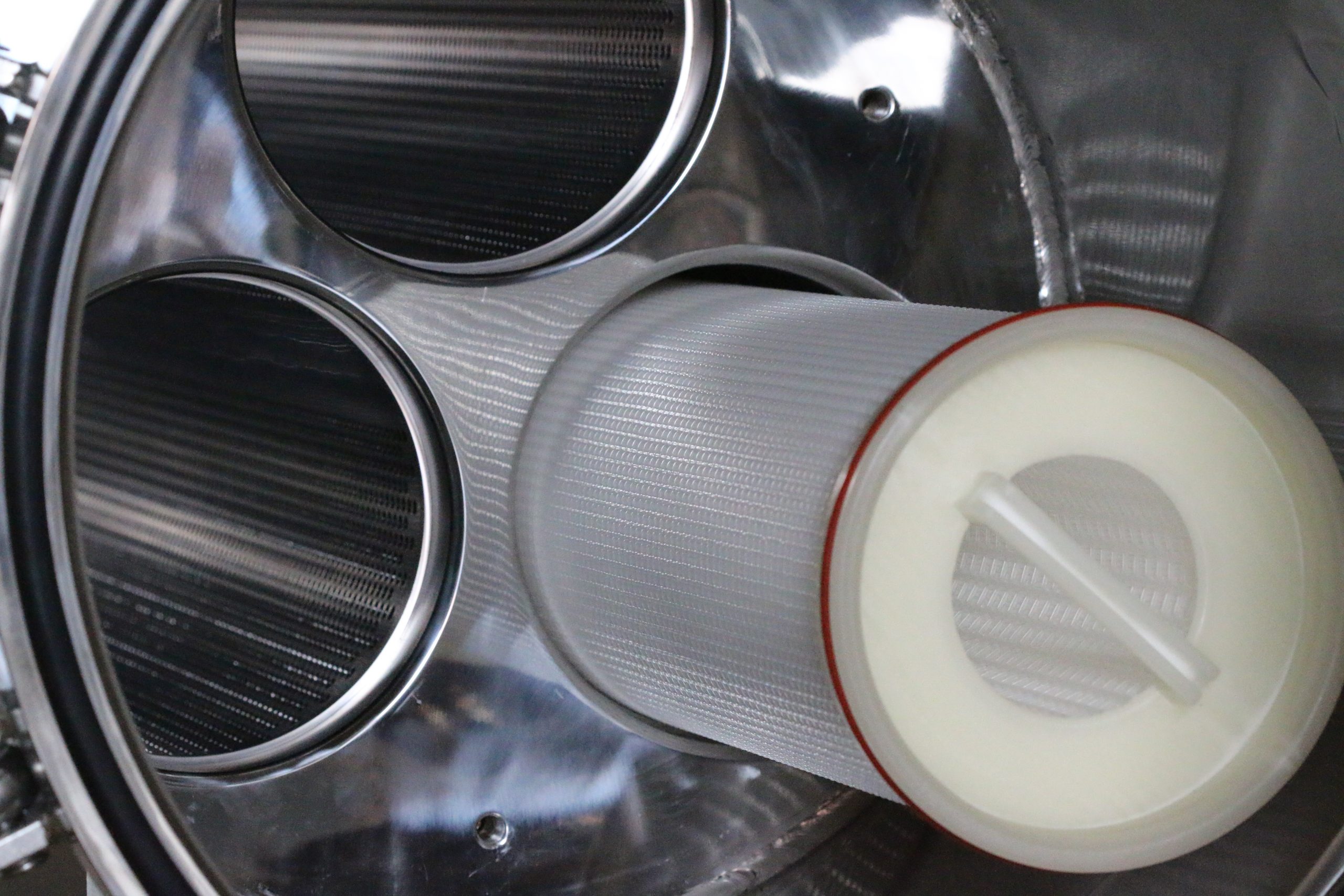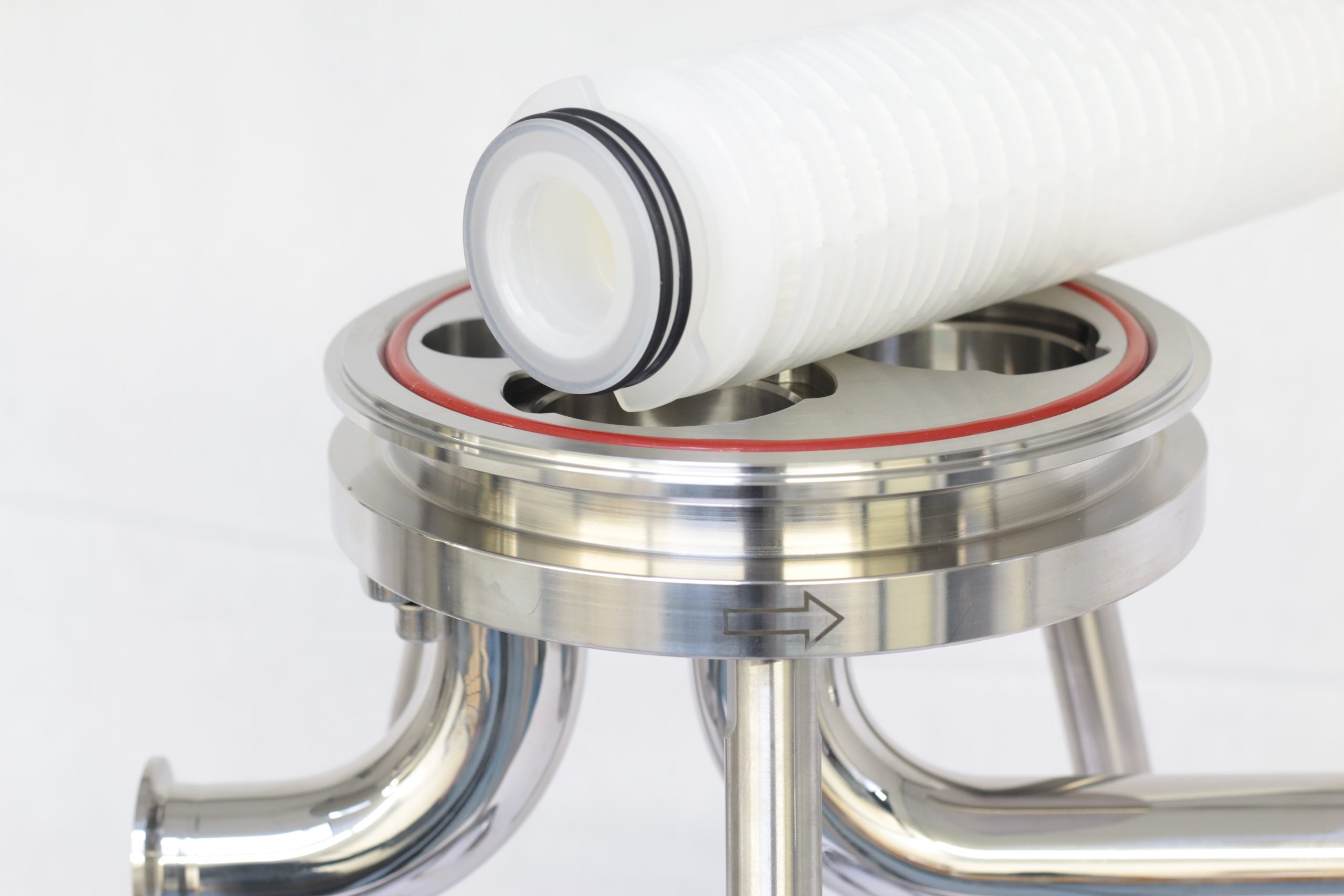 The risk of using the wrong filtration product is too great to ignore
With so many filtration methods and types of filter cartridges available, it can be a complex task to choose the right one for your application. If the filter cartridges are wrongly sized or are incompatible with your processes it can cause issues throughout your operation, including increased risk of contamination, breakdown and downtime while systems or filters are replaced. This all has an impact on your bottom line.
Since every customer has unique requirements, we tailor our approach to your application, choosing filter cartridges that meet your needs while delivering reliable service and a low total cost of ownership.
What to look out for when choosing different types of filters
There are several key criteria to evaluate when choosing liquid filter types for your application:
Particle size – the micron rating determines the size of the solid particles that will be prevented from passing through liquid filters.
Quality requirements – absolute filters will capture 99.99% of particles at or above their micron rating. These types of filters are often used in polishing stages or high-quality applications and since they are more expensive than nominal filters, they are often used as the final filtration step in a multi-filtration process. See our absolute vs nominal blog to understand more.
Flow rate – the area presented by liquid filters will have a direct impact on the flow rate. The flow rate also varies according to the viscosity of the liquid, the type of filter material and filter thickness. All filters should be slightly oversized to ensure they can cope with slight surges and so that they do not become a limiting factor for other areas of the operation. We offer a range of high flow liquid filters for particularly demanding applications.
Pressure – by increasing the pump pressure, higher flow rates can be achieved but this must still be within the operating parameters of the filter. Industrial liquid filters should be sized a third higher than the maximum operating pressure to prevent damage or breakthrough. When build-up increases the differential pressure to the predefined limit, the filter must be replaced or regenerated, but by sizing the filter correctly, replacement and regeneration periods can be extended.
Dirt load – some liquids will have a high solid load and this will affect the types of filters selected. For particularly high loads, multiple filtration steps with progressively lower micron ratings may be needed, perhaps with an absolute filter polishing stage.
Temperature – filtration temperature can have a big impact on the nature of liquids, including their flow rate and viscosity. The location of the solid/liquid separation technology will affect cartridge filter choice. Humid, heated, or outdoor environments will all have an impact and filters should operate comfortably at 5°C above and below your normal filtering temperature.
Viscosity – generally speaking, the higher the viscosity of the liquid, the slower the flow flux and the greater the demand on filters. When viscosity increases, filters should be larger sized to ensure no detrimental effects on flow rates.
Chemical compatibility – the filter material must be compatible with the liquid being filtered. If the filter can be degraded, then it can end up causing contamination rather than preventing it. Every element of the filter, from the adhesives, seals and filter media should be evaluated for compatibility. Even polypropylene and polyester cartridge filters, which appear interchangeable, have different operating parameters in regard to temperature and chemical compatibility.
Filtration material chemical compatibility and working temperatures:
Cartridge
filtration
materials
Maximum
working
temperature (°C)
Aromatic
solvents
Aliphatic
solvents
Water
solutions
Acids
Strong
acids
Alkalis
Strong
alkalis
Vegetable /
animal oils
Polypropylene
60 – 90
 
✓
✓
✓
✓
✓
✓
✓
Polyester
150
✓
✓
✓
✓
✓
✓
 
✓
Type of process (batch or continuous) – for batch processes a filter changeout would be expected at the end of every batch, whereas a continuous process can rely on the same liquid filters for many months. Price becomes a deciding factor in batch processes but often a more expensive filter can deliver a lower total cost of ownership for continuous processes.
Size and footprint – the filter must fit the filter housing exactly and ensure flush connections with any pipework. Available space should always be factored in for the removal and replacement of filters too.
Regulatory requirements – in highly regulated industries, such as pharmaceutical or food and beverage manufacturing, filter cartridges must meet stringent regulatory requirements. We have many types of filters that meet even the toughest health and safety and regulatory standards, including UK DWI Regulation 31 of the Water Supply Regulations 2000, European Regulation Number 1935/2004, NSF 42 and FDA CFR title 21.
These are just some of the elements to consider when choosing from the many types of filters on the market. Many factors, such as viscosity, temperature and flow rate, are interrelated and the joint impact also needs to be assessed. But above all, it's important to take a holistic approach, considering all the factors that might affect the ability of the filter to meet your requirements.
More than a cartridge filter supplier – we look after your entire process filtration and water treatment systems
We offer an extensive range of filter cartridges, filter bags, filter sheets and filter housing products as well as straining and sieve solutions and cake filtration. Our process filtration and water treatment products and solutions are used in a wide range of sectors, including healthcare, pharmaceutical, food and beverage, oil and gas, power, energy, automotive and industrial processing sectors.
But we are more than a filter supplier. We take the time to get to know your filtration processes and your challenges, designing filtration solutions to meet your exact needs.
We provide:
A consultant-led approach – we ensure our liquid filters add value at every step, not only achieving process filtration requirements but having a positive impact on other downstream and upstream processes.
Filter evaluation services – including product sampling to determine optimum performance and planned maintenance routines.
A low total cost of ownership – the cheapest filter doesn't always offer the best value, especially if it needs replacing more regularly. We'll help you choose the filter that offers the best lifetime value.
Quality as standard – every one of our filters is manufactured using premium quality materials and tested to exacting standards to deliver complete reliability every time.
Complete integration – as experts in water treatment and process filtration solutions, we ensure integration between each of your assets for seamless operation and servicing.
Extensive choice – no matter your process, we have a range of filters to deliver your exact requirements, with bespoke solutions for more demanding applications.
Aftersales support – a complete package to protect your filtration systems and water treatment assets.
Flexible stocking – all filter cartridges and other filtration consumables can be supplied as part of our PureCare service and maintenance packages, ensuring a consistent supply of consumables when you need them.
Fast delivery – many of our filter cartridges are available for next-day despatch, helping to keep your processes running.
Our team of process experts recommend solutions to maximise the effectiveness of your filtration operation, enabling you to hit production and quality targets with a low total cost of ownership