Process filtration is a critical activity for many industrial or manufacturing organisations. The effectiveness of solid/liquid separation has impacts on downstream processes and can determine quality standards. When choosing filtration solutions, it's important to choose the right micron rating. But this is only the start. In this guide, we'll help to address some important questions when choosing a filter: What is a micron rating? What's the difference between nominal and absolute filters? And how do you choose the best filter micron rating for your application?
How does a process filtration filter work?
Whether you're working with water, oil, chemicals, or food or beverages, every liquid will have solid contaminants. For this reason, solid/liquid separation techniques are commonly used to protect downstream processes, remove impurities and protect quality standards.
A filter removes solid contaminants by capturing and retaining these particles as they pass through the filter media. Filters can consist of many different materials, and they are presented in different formats, such as cartridges, bags and sheets. Each of these consumable filters fit within a permanent housing or vessel. Cartridges are often the most popular format of filter and provide an efficient, effective way of achieving solid/liquid separation.
Choosing between the wide range of filter cartridges can be complicated and dependent on many different factors, including flow rate, process filtration stage, pressure, temperature, chemical compatibility and much more. Envirogen offers a comprehensive range of filter cartridges for every process filtration requirement, including depth, pleated and membrane filters.
The key starting point for every filter selection is the micron rating. So, what is a micron rating and why is it important?
What is a micron rating?
The micron rating is the size at which particles are retained by the filter. For example, a five-micron filter will stop particles of five microns or larger from passing through the media. A micron is a micrometre, which is a thousandth of a millimetre. To put this size into context, a human hair is between 40 to 90 microns in diameter, bacteria range from 0.5 to 50 microns and particles above 50 microns can be seen by the naked eye.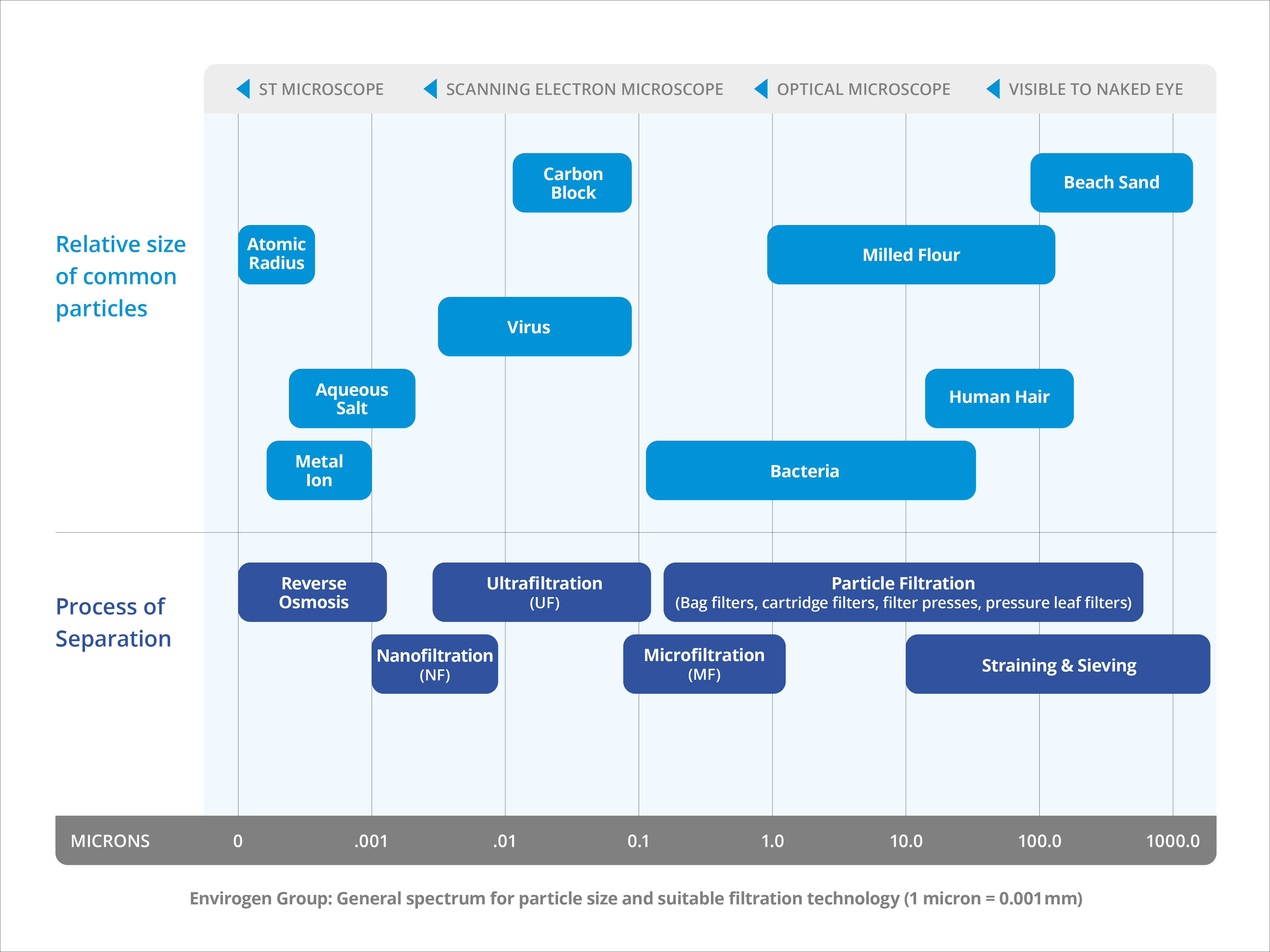 When filtering solids from liquids, the smaller the micron rating, the more effective the filter and the greater the number of particles that are removed from the final filtrate. However, where there is a heavy sediment load, a fine filter with a low micron rating will quickly become saturated, meaning that the differential pressure will increase to a point at which the flow rate reduces and the filter will require changing.
In systems with high sediment loads that require a high-quality filtrate, several filtration stages may be needed, from coarser filters with higher micron ratings to smaller ratings further upstream. This way, each filter can work to maximum efficiency while lengthening the periods between change-outs, providing a lower operating cost.
We offer a range of filter cartridge options including specialised membrane versions delivering micron ratings as low as 0.05 microns, small enough to filter viruses.
Nominal versus absolute filters
Although the filter micron rating will give a good indication of its effectiveness to achieve the required levels of solid/liquid separation, the standard to which it will remove these particles must be factored in. The micron rating is based on the pore sizes within the media, but filters can be constructed from many different materials and these can flex and change according to different operating conditions. The 3D shape of the pore can, therefore, change and particles larger than the micron rating can occasionally pass through.
For this reason, filters are often categorised into two main types:
Absolute – providing assurance that 99.9% of particles at or bigger than the micron rating will be stopped by the filter.
Nominal – these filters are given a percentage rating which indicates the proportion of particles at or bigger than the micron rating that will be trapped by the filter.
Absolute filters address this issue by providing a filter efficiency rating at or above 99.9%, when used according to the manufacturer's instructions. This ensures that particles greater than the micron rating will not pass through. The use of specialised materials and stringent construction methods ensure that these filters perform to an extremely high standard. For this reason, they are usually more expensive than their nominal equivalents and are often reserved for processes that require a very high-quality filtrate and for use in final-stage and polishing filtration stages.
We offer a range of absolute filters for every type of solid/liquid filtration process with absolute micron ratings from 0.05 micron up to 100 microns. Many of our absolute filters, such as our Deltapor MB melt-blown range, are FDA compliant and meet the requirements for food contact as detailed in European Regulation Number 1935/2004. The polypropylene or nylon microfibers offer high throughputs, low pressure loss, high dirt capacity and a long onstream lifespan while bonded fibre construction minimises fibre migration and resists particle shedding, even under pulse conditions.
Nominal filters are a lower-cost alternative and provide great results in many applications. When selecting a nominal filter, the micron rating and the filter efficiency rating should be considered together. The micron rating will state the particle size, above which solid particles should be retained and the filter efficiency rating will give an indication of the percentage of these particles that should be stopped by the filter. A nominal filter with a 95% of 10-micron rating will stop 95% of particles at 10 microns or above.
We provide nominal and absolute versions for many of our filter cartridge range to ensure that you achieve the results you need while maintaining a low operating cost.
Testing to establish real-world results
Our filter cartridges undergo rigorous testing during manufacturing. Filters are tested in controlled conditions to establish beta ratios which give an accurate indication of the filter's effectiveness and efficiency.
The filter is challenged with a control liquid which is known to contain a specific number of particles of a particular size, corresponding to the pore size of the filter. During the filtration process, the number of particles is measured upstream and downstream, using particle counters. The beta ratio is then calculated by dividing the upstream particles by the downstream measurement. The higher the beta ratio value, the biggest the differential on either side of the filter and the more effective the filter is at removing those particles. Our filters are available in a range of beta ratios, depending on your filtration requirement, with specialised food and beverage and pharmaceutical filters reaching beta ratios of up to 5000.
Of course, these tests are robust and accurate, but they measure the performance of the filters under strict laboratory-controlled conditions. Our filtration products have a long history of success in a wide variety of challenging conditions across the process filtration lifecycle. Our experience and comprehensive customer portfolio mean that we can offer real-world information on all our filters, and we can help you select the best filtration solution based on your needs.
However, some of our clients, particularly in niche and specialised industries, are keen to test our filters in the real-world environment before they invest. For this, we offer a pilot testing facility . Our team of expert engineers can conduct full process filtration testing on your samples, on or off-site. We'll provide a full report on every element of the filtration process and help you to choose the filter cartridge that offers the best results at the lowest operating cost.
Speak with our expert team to maximise the effectiveness of your filtration process and achieve production and quality targets with a low total cost of ownership