Change happens. And when it does, businesses need to adapt. But these changes aren't always constant and they don't always require a permanent solution. Temporary contracts, planned equipment outage or emergency breakdowns can mean that your process filtration and water treatment requirements change. When change happens, Envirogen Rental process filtration and water treatment rental equipment is ready to deal with it.
Generate ROI without the CAPEX
Envirogen's process filtration and water treatment rental equipment deliver the benefits of fully bespoke new systems without the CAPEX. Simply hire the equipment for as long as you need it and return the equipment when your circumstances change.
Tell us your water quality or process filtration requirements and our engineers will tailor the equipment to meet your needs.
Our temporary hire mobile water treatment and process filtration systems are:
Engineered to meet your requirements
Tested in our purpose-built manufacturing facilities
Fully containerised or skid-mounted systems available for flexibility and potential operation outside of your main building
Primed for easy connection to your existing water treatment plan
Ready to run, with easy commissioning and ultra-fast start-up
Once your system is connected, take advantage of our support services and maintenance plans, including spare parts and consumables, for smooth ongoing operation
Emergency response service
When unplanned breakdowns occur unexpectedly, you need a fast solution. Our emergency mobile water treatment solutions are available 24-hours a day, 365 days a year for an immediate solution to breakdowns or a surge in demand. Our complete, containerised systems sit outside of your main water treatment plant and connect easily to prevent costly shutdowns.
Reverse osmosis mobile water treatment plant
This fully containerised reverse osmosis plant was designed for rental use and delivers up to 9m³ per hour of ultra-pure treated water. The whole unit is supplied within a 20-foot shipping container for easy connection and operation outside your main building.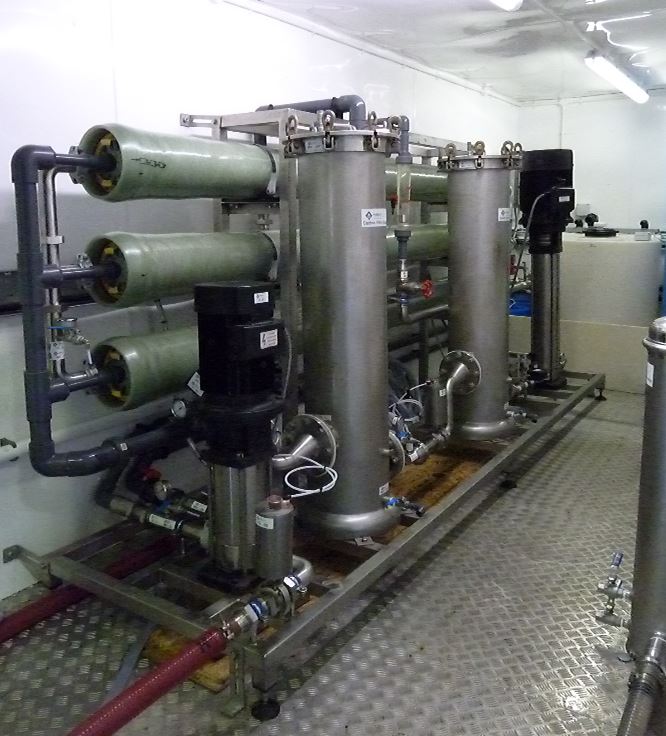 Minimum rental periods may apply
Available immediately
Price available on request
This water treatment rental equipment includes:
Pre-treatment system for pH adjustment, chlorine removal, suspended solids reduction and scale prevention
Reverse osmosis (RO) membrane treatment with high-rejection, low-pressure polyamide thin film composite (PA TFC) membranes
Inlet buffer tank with level and valve control to feed the primary feedwater pump
Integrated chemical in place (CIP) system for membrane cleaning and pre-treatment backwash
Ring main polishing filters and UV sterilisation
Control integration to treated water storage tank and forwarding pumps
Programmable logic controller (PLC) and human-machine interface (HMI), complete with remote access facility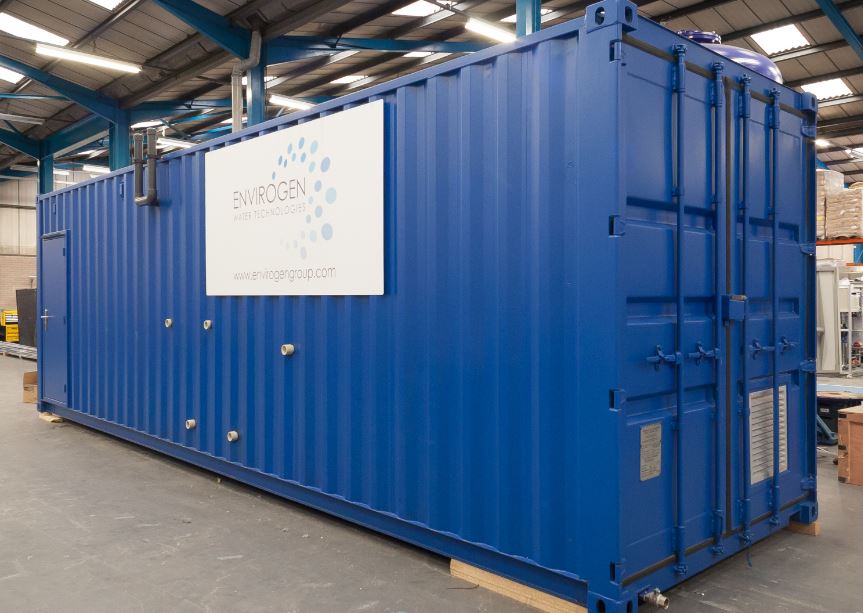 Pilot plant for on-site trials and hire
Envirogen holds a range of pilot equipment in stock. We can offer on-site trialling of microfiltration technologies and an off-site, bench-top ultrafiltration testing service.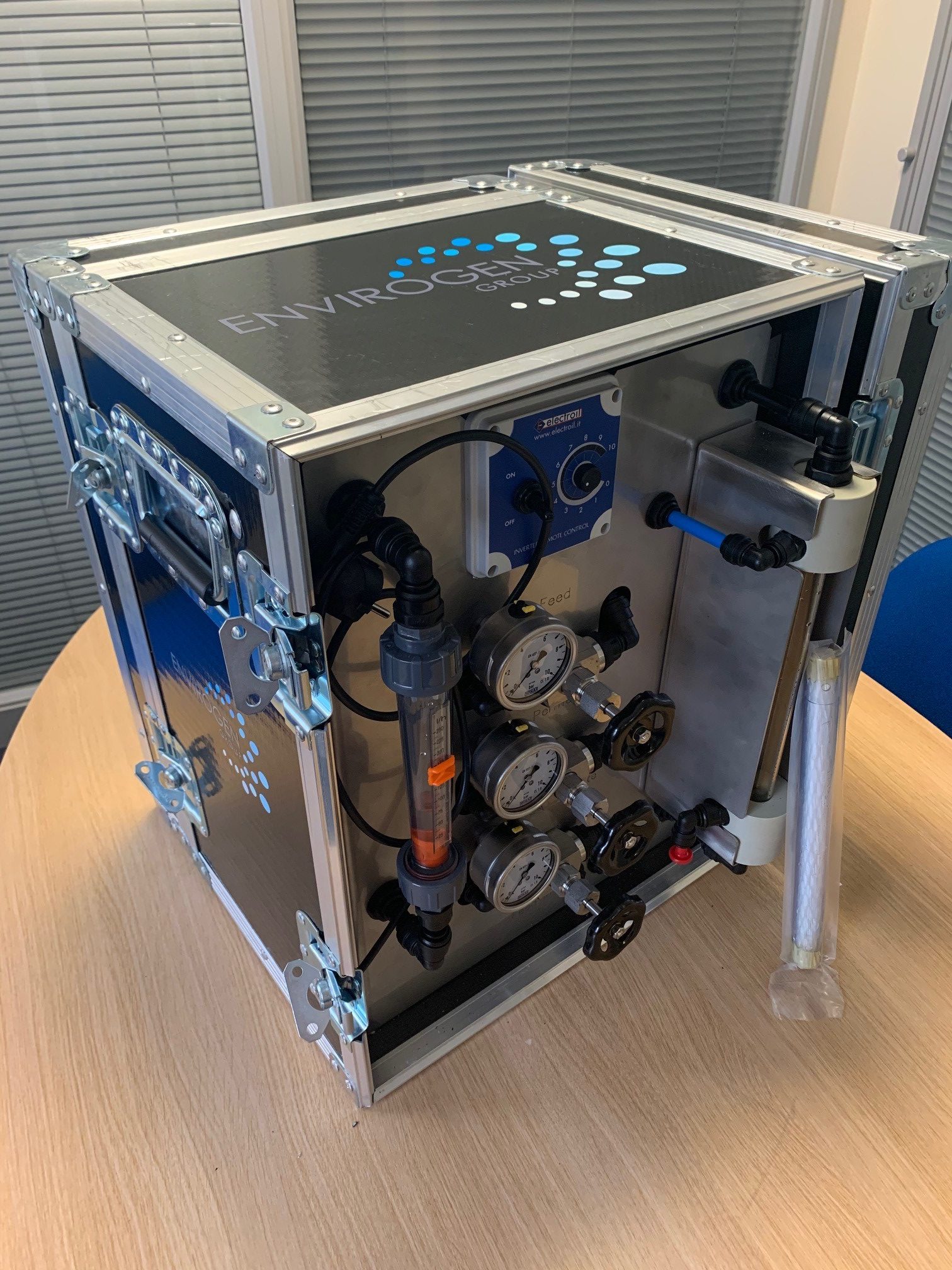 If you are looking to trial the latest technology for an existing process, or upgrade a conventional filtration process, we can demonstrate our technologies on-site while providing product samples for testing and confirmation.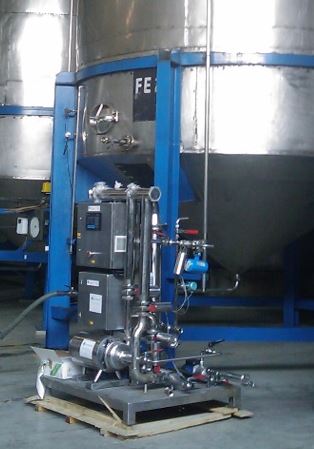 For the most challenging processes, talk to us about our bespoke water treatment solutions.