Bij gebruik van een pulsefilter om vaste stoffen van vloeistoffen te scheiden, wordt een textiel filtermedium (filterdoek) rond de metalen filterelementen geplaatst om de vorming van de filterkoek te bevorderen. Bij het selecteren van het juiste filterdoek komen veel overwegingen kijken, waaronder de toepassing, temperatuur, chemische compatibiliteit van de filtermedia, doorlaatbaarheid, poriegrootte en koeklossing.
Filterdoeken worden gefabriceerd van geweven of niet-geweven materiaal, de dikte en het type draad, de oppervlaktebehandeling, weefpatronen, slijtvastheid en treksterkte, evenals of een mono- of multifilament bepalen het succes van uw filtratie proces. Prijs speelt natuurlijk ook een rol echter soms kan een duurder filterdoek vanwege een langere levensduur toch de voordeligere oplossing bieden. Denk hierbij ook aan de voordelen in tijd door minder vaak te wisselen en door lagere kosten als gevolg van productieverlies of terugroep van producten.
Gebruikelijke filterdoekmedia zijn polyester, nylon en polypropyleen, maar soms worden meer exotische materialen gebruikt, zoals ethyleentetrafluorethyleen (ETFE) en polytetrafluorethyleen (PTFE).
Om een efficiënte werking en snelle en effectieve reiniging te garanderen, zal ons team van experts u ondersteunen bij het selecteren van het juiste filterdoek voor uw toepassing. Wij leveren een breed assortiment filterdoeken voor ons eigen merk pulsefilters, maar ook voor bijna elk type merk of model op de markt.
We leveren een reeks vervangende stoffen filterdoeken voor voedsel, plantaardige olie en industriële processen en de meeste voldoen aan de normen van de EC 1935/2004-regelgeving van de Europese Commissie voor contact met voedsel. Onze deskundige medewerkers kunnen u de beste filterdoek aanbevelen om aan uw vereisten voor koekfiltratie te voldoen tegen de laagste operationele kosten.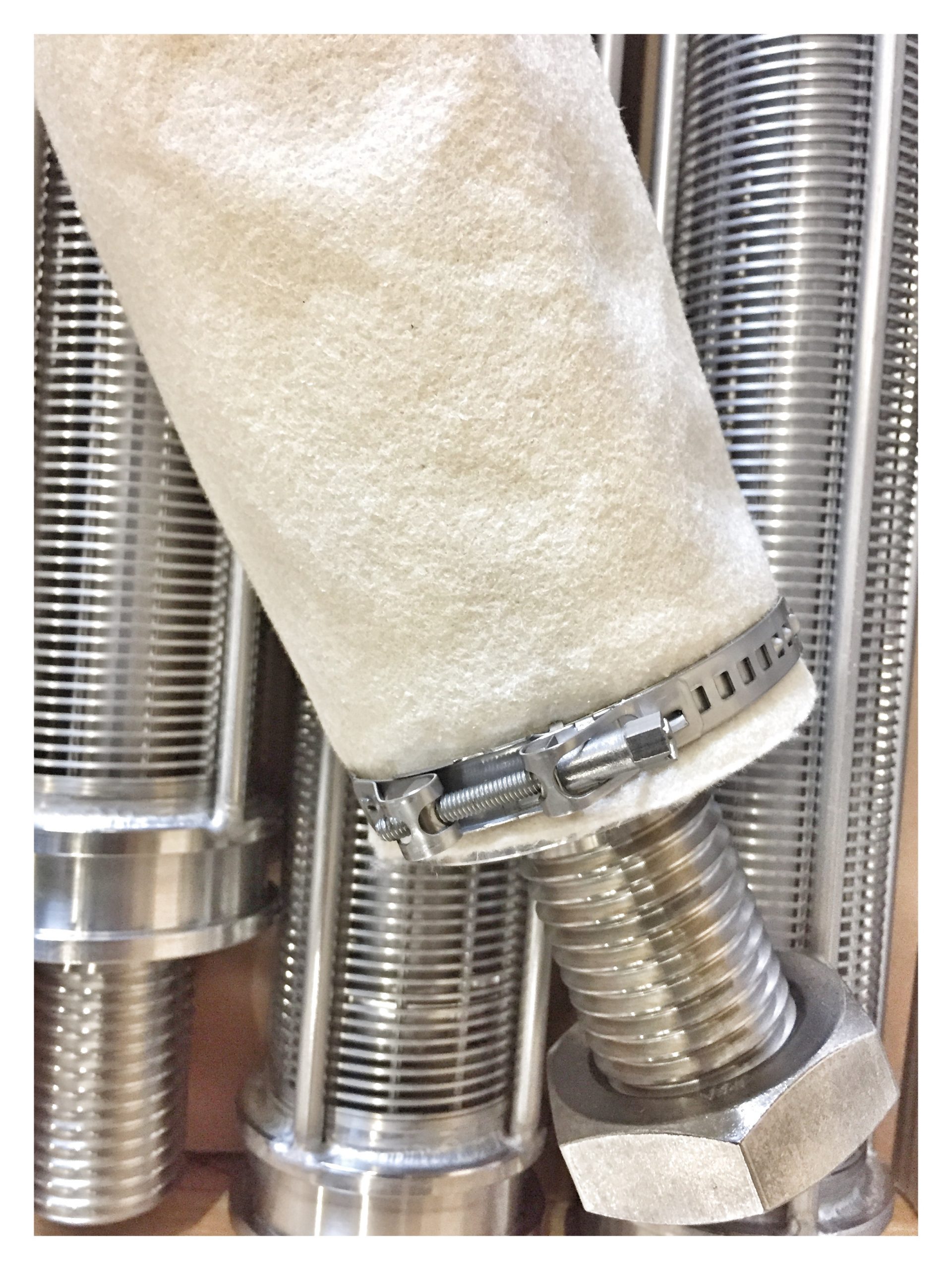 Pulsefilter (pulse elementen) voorzien van filterdoek
Filtratieoplossingen op maat
Het selecteren van de juiste koekfiltratie technologie voor uw toepassing hangt af van vele factoren, zoals het debiet, continue of batch proces, het type en de hoeveelheid vaste stof, de aard van de vloeistof, de temperatuur en de viscositeit.
Ons team van procesexperts helpt u met het vinden van oplossingen om de effectiviteit van uw filtratieproces te maximaliseren, zodat u productie- en kwaliteitsdoelstellingen kunt behalen tegen de laagste operationele kosten.