When a leading industrial manufacturer wanted to grow its site operations, it was the perfect time to re-evaluate water recycling and reuse within its manufacturing process. After a successful tender process and pilot plant testing, Envirogen Group was appointed to provide an end-to-end industrial water recycling system based on state-of-the-art hollow fiber membrane technology. The result: over £800,000 saved on water bills per year and a payback period of less than 18 months.
Reaching a sustainable, cost-effective solution was paramount. The manufacturer had initiated a factory move which meant switching from borehole water to mains water with costs set to reach nearly £1 million which simply wasn't viable.
Our client has several crucial rinse stages within their manufacturing process that results in wastewater with high turbidity and conductivity. These complex streams make recycling difficult, but with the added cost of mains water and a strong desire to reduce environmental impact, it made sense to solve this problem now. With a holistic approach, the Envirogen team were able to design a cost-effective industrial water treatment system to meet their exact needs and allow them to recover a minimum of 272,000m3 per annum.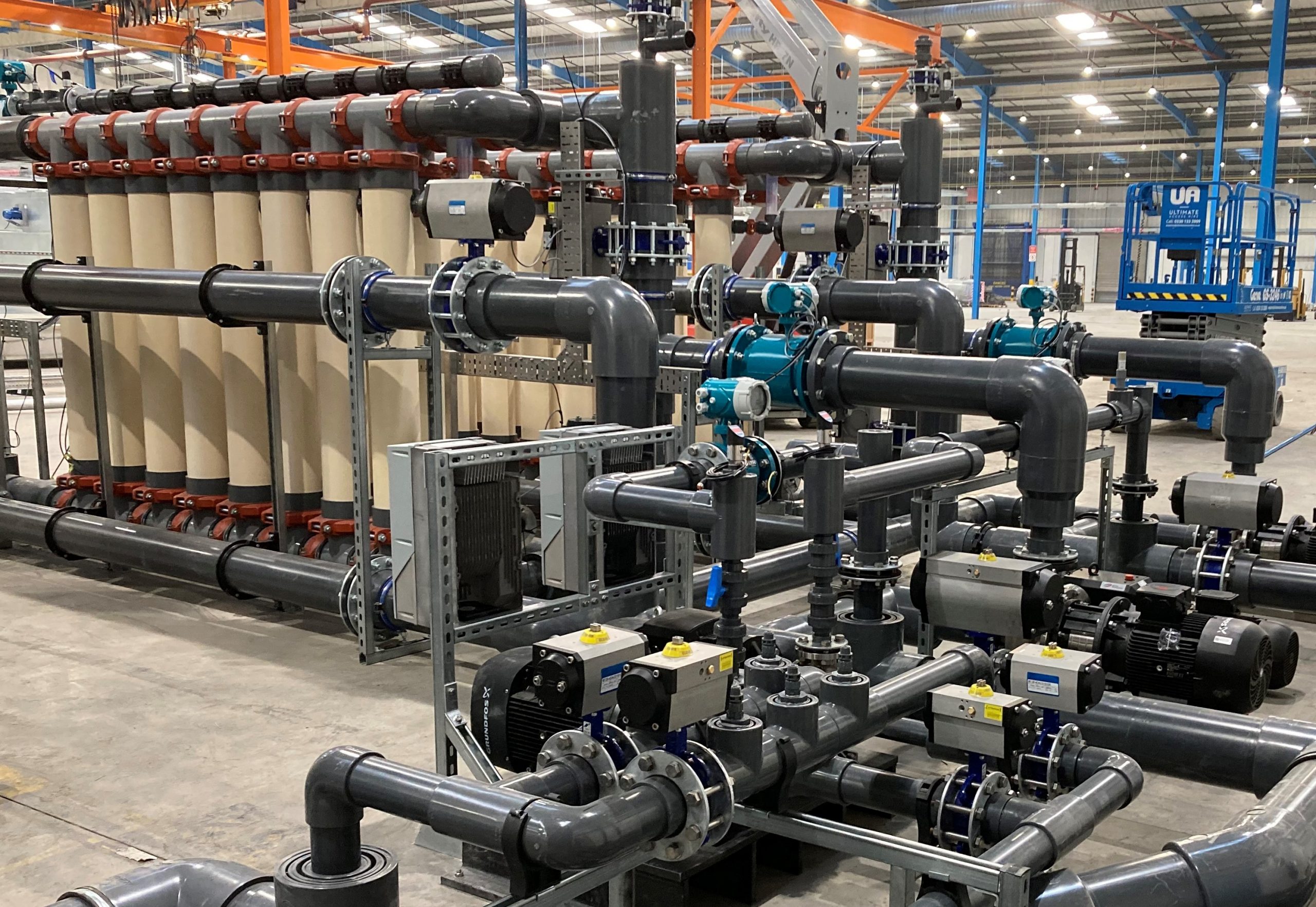 New industrial water treatment system: Envirogen's PureSep NF direct nanofiltration plant (dNF) with hollow fiber membranes.
Pilot plant for industrial water recycling system trials
Following a site assessment, the Envirogen team used hollow fiber membrane technology to design a nanofiltration water treatment plant. This one-step, Envirogen PureSep NF solution replaces several conventional technologies, including coagulation, clarification, sand filtration, ultrafiltration and reverse osmosis. The result is a low-maintenance, reliable system with low operating costs and small equipment footprint (leaving more space for manufacturing).
John Jepson, Commercial Director, Envirogen explains:
"Due to the complex nature of their industrial wastewater streams, we designed a full pilot plant to ensure the technology would meet requirements and provide the level of water reuse the team needed.

"To make the process cost-effective, 75% of the wastewater streams needed to be recovered. By carefully analysing the chemistry of the streams and the processes, we were able to achieve 89% recovery with our PureSep NF hollow fiber nanofiltration membrane technology. This makes a massive difference to the cost savings that the client can achieve, both in terms of operating costs and payback on capital expenditure."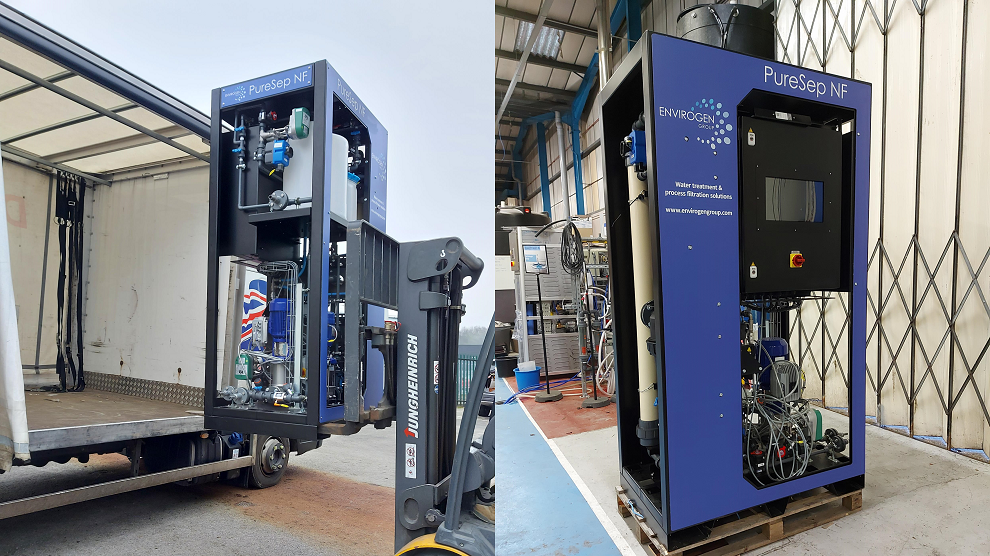 Envirogen's nanofiltration pilot plant provides a low-risk method for investigating a range of operational factors that can determine the viability of an industrial water recycling system. The initial trial provided crucial test results and validation for full-scale implementation.
The solution
Envirogen designed a direct nanofiltration technology system that receives wastewater from three production lines to meet a flow rate of 30 m3/hr. With a compact modular skid design, the system is future-proofed to accommodate many more streams, should operational expansion demand it.
"Nanofiltration systems have many benefits versus conventional technologies," continues Jepson. "They produce no sludge, are easily cleaned using backwash sequences, have excellent tolerance to pH and chlorine, are extremely energy efficient, use very few chemicals and have a space-saving vertical design. As soon as we could demonstrate recovery rates over and above the client's requirements, with the water quality requirements needed, there really was no other option."
With a remote water monitoring system, and an easy-to-use human machine interface (HMI), the whole system is straightforward to use. It will continue to be maintained to the highest standards as the client has continued to work with us, opting for an Envirogen PureCare maintenance plan.
Innovative direct nanofiltration membrane technology delivers:£800,000 a year cost-saving on water bills
Expected payback on investment within 18-months
Wastewater recovery rates of up to 89% versus 75% target
Nanofiltration process has a low chemical requirement and delivers significant energy savings and carbon footprint reductions
Future-proofed dNF hollow fiber membrane filtration technology with compact modular skid design to accommodate future expansion
Ongoing PureCare service, maintenance and consumables plan ensures continued optimisation and efficiency of the industrial water recycling system
The project helped the client achieve its environmental and CSR objectives
For a free assessment to evaluate water treatment and process filtration solutions for your site, contact our team of expert engineers
The client is a leading manufacturer of advanced materials and components with global manufacturing sites, including UK, Europe and USA.