Horizontale sparkler filter type zijn ontworpen voor batchverwerking van vloeistoffen met een hoog gehalte aan zwevende stoffen en waar filterzakken of filterkaarsen geen economische oplossing bieden. Ons assortiment Envi Scavenger sparkler filter type filterplaten kan worden gebruikt in normale en omgekeerde stroomconfiguraties om ervoor te zorgen dat alle vaste stoffen in de elementenbundel blijven. Elk van de filterplaten kan worden gebruikt met voorzien van filterpapier, filtersheets of gaas, afhankelijk van de toepassing. De sparkler type filterelementen in een Envi Scavenger worden horizontaal geplaatst, waardoor de filterkoek gemakkelijk kan worden gewassen. Deze filter in de uitvoering voor de normale flow evenals die voor reverse flow zijn ontworpen om lage restvolumes te hebben aan het einde van de gefiltreerde batch.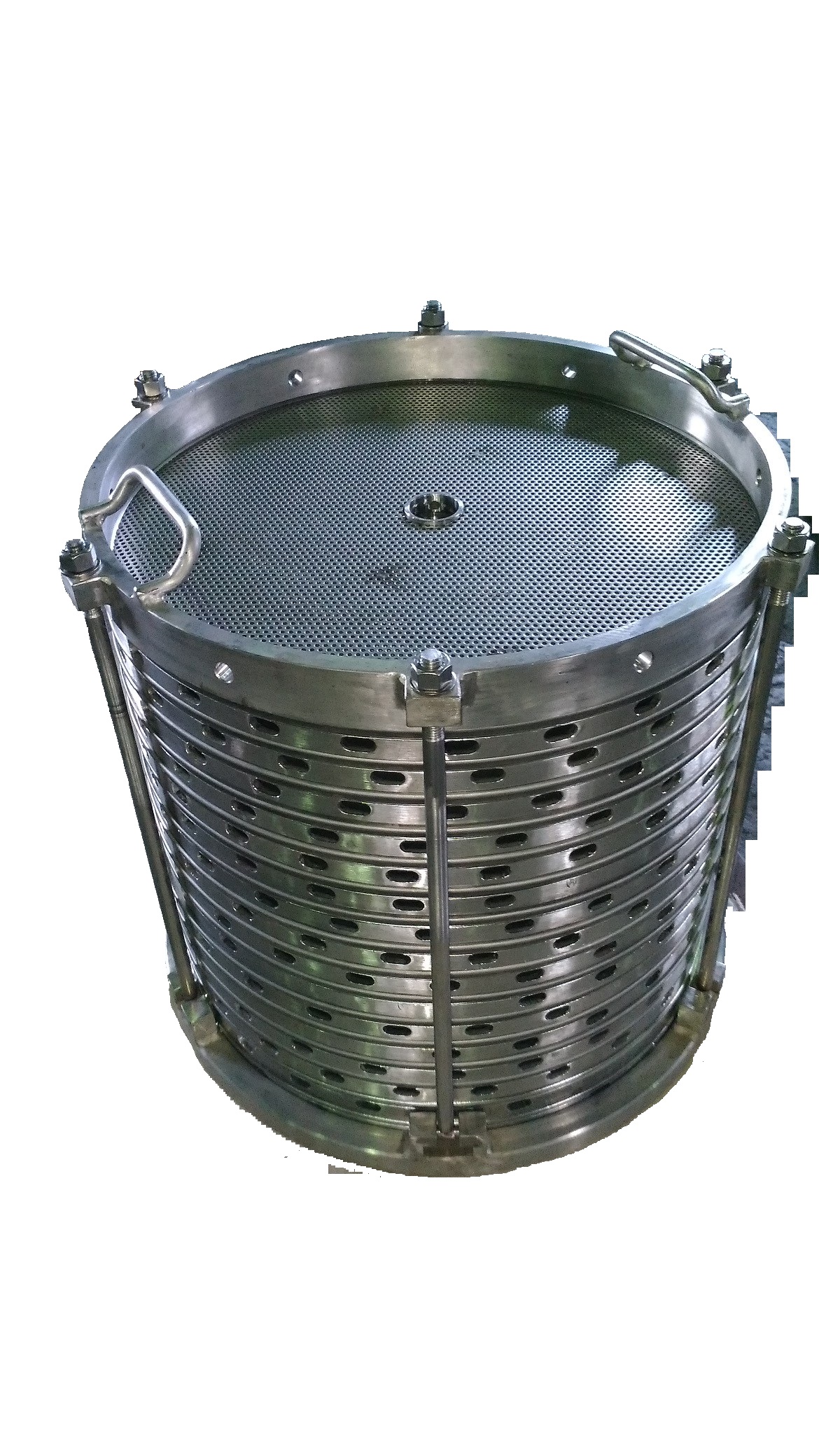 Horizontale platenfilters
Onze Envi Scavenger-platenfilters zijn bij uitstek geschikt voor batchfiltratie, waarbij het volledige volume wordt behandeld en er slechts een zeer beperkt restvolume achterblijft. Onze Sparkler filter type platen bestaan uit een reeks horizontale platen die in een verticaal drukvat worden gestapeld. Tijdens de filtratie verlaat de schone vloeistof het de centrale collector het filtervat. Met een bodemfilterplaat (zgn. Scavenger) wordt het filter aan het einde van de filtratiecyclus volledig worden geleegd, zonder rest volume en met een optimale productterugwinning. Het filter kan worden bediend met directe filtratie met behulp van filtersheets, filterpapier of precoat filtratie door gebruik van gaas.
Voordelen van Envi Scavenger Sparkler filter types:

Roestvrijstalen drukvat aangepast aan uw specifieke eisen
Geen restvolume
Verschillende plaathoogtes beschikbaar voor specifieke cakediktes
Geschikt voor filtersheet of filterpapier
Geschikt voor pre-coat filtratie indien voorzien metaalgaas
Lage bedrijfskosten

Toepassingen zijn onder meer:

Farmacie
Eetbare oliën
Chemicaliën
Harsen
Gelatine
Oleo chemie
Katalysator verwijderen
Actief kool verwijderen
Filtratieoplossingen op maat
Het selecteren van de juiste koekfiltratie technologie voor uw toepassing hangt af van vele factoren, zoals het debiet, continue of batch proces, het type en de hoeveelheid vaste stof, de aard van de vloeistof, de temperatuur en de viscositeit.
Ons team van procesexperts helpt u met het vinden van oplossingen om de effectiviteit van uw filtratieproces te maximaliseren, zodat u productie- en kwaliteitsdoelstellingen kunt behalen tegen de laagste operationele kosten.