Geavanceerde deïonisatie technologie
EcoDI is ons meest geavanceerde deïonisatie systeem en een nieuwe toevoeging aan de EcoRange van Envirogen. EcoDI's intelligente bewakingssysteem en het counter- current regeneratieprogramma zorgen voor een efficiënt waterverbruik en leveren ultra puur water en een lager chemicaliënverbruik.
Ben u ook geïnteresseerd hoe u energie, water, afval en kosten kunt besparen met de EcoRO, laat een van onze adviseurs contact met u opnemen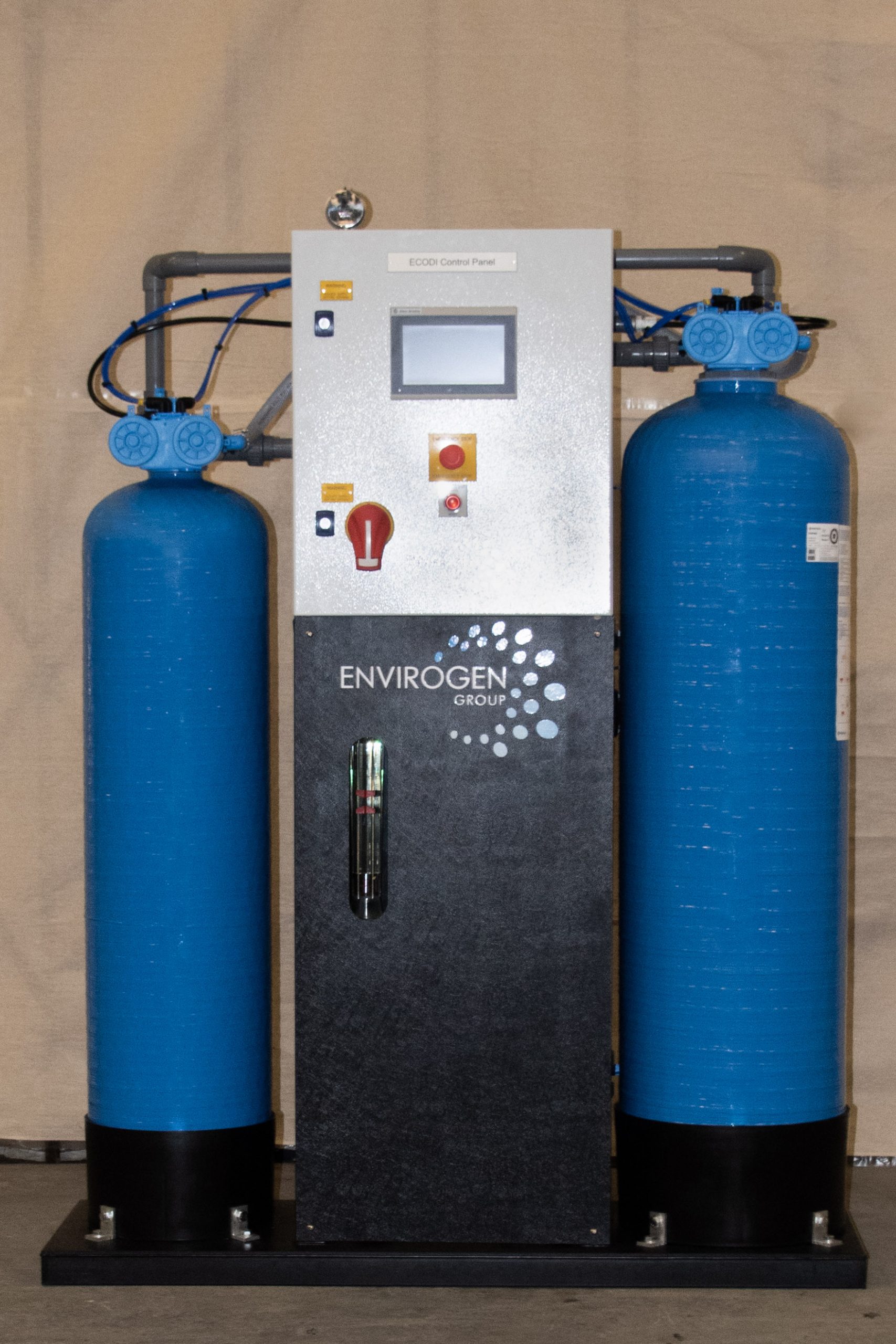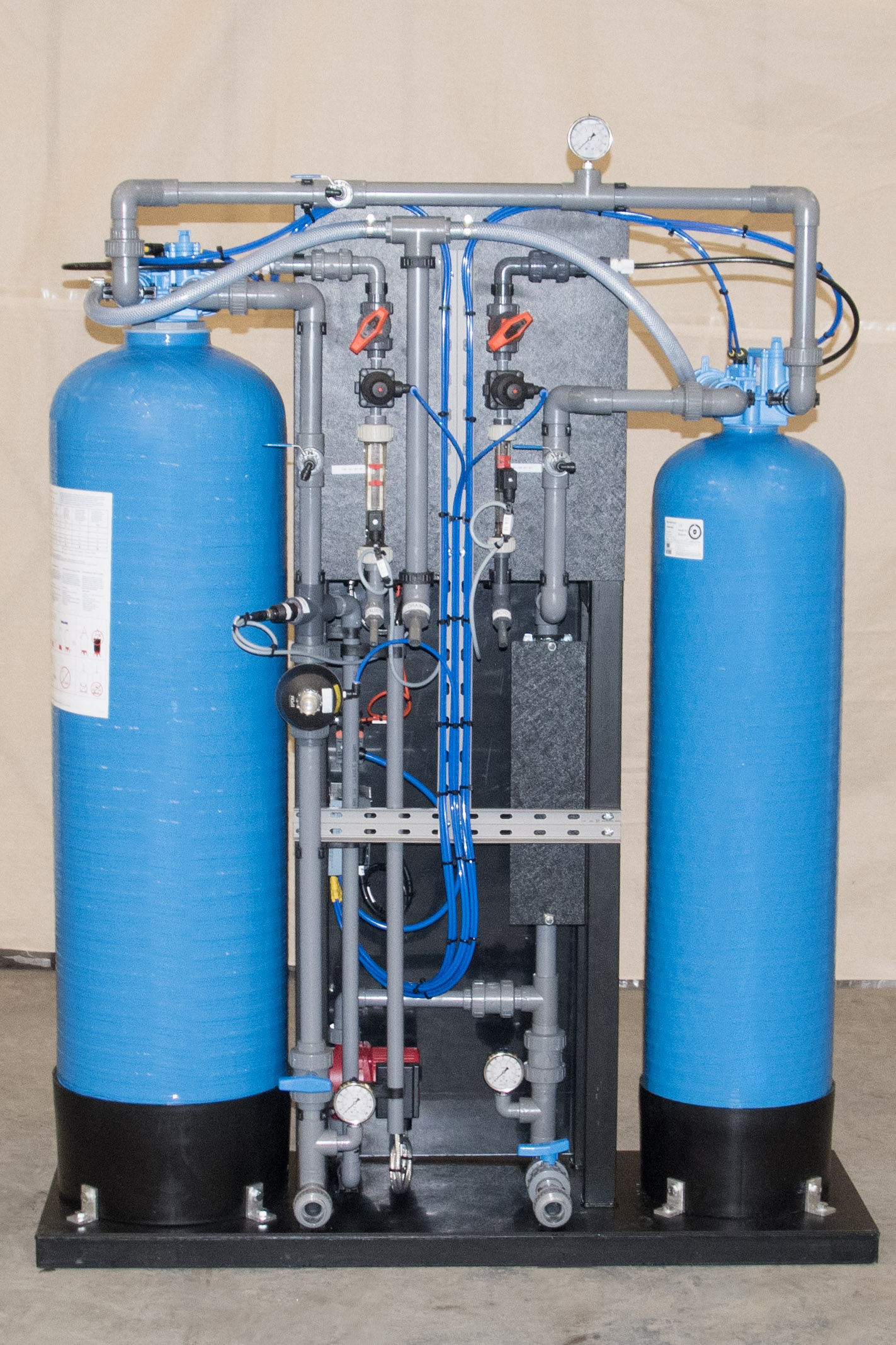 De Envirogen Group EcoDI "Nieuwste Generatie" deïonisatie installaties bestaat uit geavanceerde deïonisatie technologie en wordt standaard voorzien van een PLC met full colour touchscreen. Deze range deïonisatie installaties is leverbaar in capaciteiten variërend van 0,3m³/uur – 14m³/uur en levert gedeïoniseerd water met een geleidbaarheid <5μS/cm of <30μS/cm. EcoDI is inzetbaar voor een breed scala aan toepassingen: ketelwaterbehandeling, energy opwekking, farmaceutische-, voedingsmiddelen-, elektronica-, en automobiel industrie.
Produceer water met een zeer lage geleidbaarheid
De-ïonisatie maakt gebruik van ionenwisseling technologie en bevat een Anion hars / Resin bed en Kation Hars / Resin Bed voor de de-ionisatie van het water. Door gebruik te maken van de-ionisatie bevat het water een zeer lage geleidbaarheid tot 5 micro siemens per centimeter (µS /cm). De nieuwste regeneratie is voorzien van counter-current ( tegenstroom) technologie zorgt voor minimale hoeveelheden afvalwater- en een laag energieverbruik.
De Kation- en anion ionenwisselaar hars verwijderen alle ongewenste geladen deeltjes uit het water en vervangen ze door waterstof (H+) en hydroxide (OH-)-ionen die samen gedemineraliseerd water met een zeer lage geleidbaarheid genereren.
Na de-ionisatie is het water perfect voor gebruik in een breed scala van veeleisende processen, zoals chemische verwerking (inclusief petrochemie), energie- en energieopwekking en farmaceutische, voedingsmiddelen en dranken, elektronica en de autoindustrie.
Eenvoudig en effectief ontwerp
EcoDI is zeer compact en voor gemonteerd op een skid, hierdoor is de installatie snel en eenvoudig, Complexe ontwerpfasen worden geëlimineerd en opstarttijden verkort.
Eenvoud, is de basis van elk EcoDI-model volledig geautomatiseerd en vereist minimale tussenkomst van de operator. De geleidbaarheid van het voedingswater wordt bewaakt en de optimale regeneratie tijden worden voorgeprogrammeerd om de downtime te minimaliseren en de productiviteit te maximaliseren. Hierdoor worden verspilling van chemicaliën en water tot een minimum beperkt. Elk deïonisatie systeem wordt aangestuurd via een gebruiksvriendelijk bedieningspaneel met een touchscreen Human-Machine-Interface (HMI).
De EcoDI + -modellen gebruiken een vernieuwd regeneratiesysteem (Counter-current), waardoor een geleidbaarheid van 5 µS / cm wordt bereikt met minder chemicaliën en een verminderde effluentstroom.
U heeft de keus uit maar liefst uit negen standaard EcoDI-modellen, die een capaciteit tot 14 m³ / uur leveren met een geleidbaarheid van 20 µS.
Daarnaast zijn er ook negen EcoDI + -modellen, met capaciteiten tot 13,2 m³ / uur leverbaar. Deze modellen produceren gedeioniseerd water met een geleidbaarheid van 5 µS /cm.
Voor grotere demiwater behoeften, ontdek onze EcoPure-reeks demineralisatie installaties, welke eenvoudig capaciteiten tot 60m³/uur behalen.
Is EcoDI de-ionisatie geschikt voor uw toepassing?
Toepassingsgebied:
Productie van ultra puur gedeïoniseerd water
Zeer lage geleidbaarheid tot 5 µS / cm
Voor kleine en midden capaciteiten
Veeleisende toepassingen, zoals industriële fabricageprocessen
Voldoen aan duurzaamheidsdoelstellingen en lage operationele kosten
EcoDI:
Lage operationele kosten
Nieuwe generatie demineralisatie-installatie voorzien van Counter-Current regeneratie
Minder afvalwater, versus traditionele deïonisatie- en demineralisatie systemen
Minder gebruik van chemicaliën
Eenvoudige programmering
Standaard ingebouwde automatisering voor een optimale werking
Snelle en eenvoudige installatie, gemakkelijk te integreren in bestaande waterbehandelingsprocessen
Eenvoudig in service en onderhoud
Keuze uit:
Uit 18 verschillende modellen uit de EcoDI en EcoDI + reeks
Capaciteiten van 0,6-14 m³ / uur
Keuze uit geleidbaarheden tot 5 µS / cm of 30 µS / cm
Leverbaar met optie voor het opvangen en/of neutraliseren van afvalwater
Een volledig assortiment aftersales en service- en onderhoudsopties
Vind de volledige specificatiedetails in het EcoDI-gegevensblad.
EcoDI maakt deel uit van Envirogen's EcoRange – een selectie van onze meest populaire, modulaire technologie die hoge kwaliteit combineert met efficiëntie en lage operationele kosten.
Ben u ook geïnteresseerd hoe u energie, water, afval en kosten kunt besparen met de EcoRO, laat een van onze adviseurs contact met u opnemen