EcoRO Compact is the latest reverse osmosis system to be added to Envirogen's growing range of modular water treatment technology.
Developed specifically for lower flow rates (250 – 1,000 litres per hour), the EcoRO Compact provides high-purity, low-conductivity water streams for a wide range of processes across many market sectors.
Cost-effective, high-purity streams delivered through one compact reverse osmosis system
Although many industrial and manufacturing processes have a high demand for purified water, this isn't always the case. Businesses often require different purity standards to achieve multiple goals within a process or just a smaller flow where water demands are less. Oversized water treatment systems come with greater CAPEX, higher operating costs and inefficiencies, in terms of electricity use and waste streams.
EcoRO Compact has been designed to fulfil lower flow requirements, using the very latest reverse osmosis technology to deliver very high standards of water purity in a compact design.
John Jepson, Commercial Director, Envirogen Group, explains the motivation behind this new product launch:
"Working closely with our customers, we have developed a smaller and more compact water treatment system. Clients were asking for chemical-free solutions that could easily slot into their existing processes. By designing a compact system based on reverse osmosis technology, we were able to create a plug-and-play solution that is pre-assembled, pre-tested and ready to go. The skid-based reverse osmosis system is only 400mm wide, 1600mm high and up to 800mm in length so it really can fit into any setting and even through a conventional door opening."

"EcoRO Compact is a cost-effective reverse osmosis water treatment system. But cost-effective doesn't mean compromise. Its compact design packs the same high standards of reliability and efficiency that you would expect from any of our process filtration and water treatment solutions."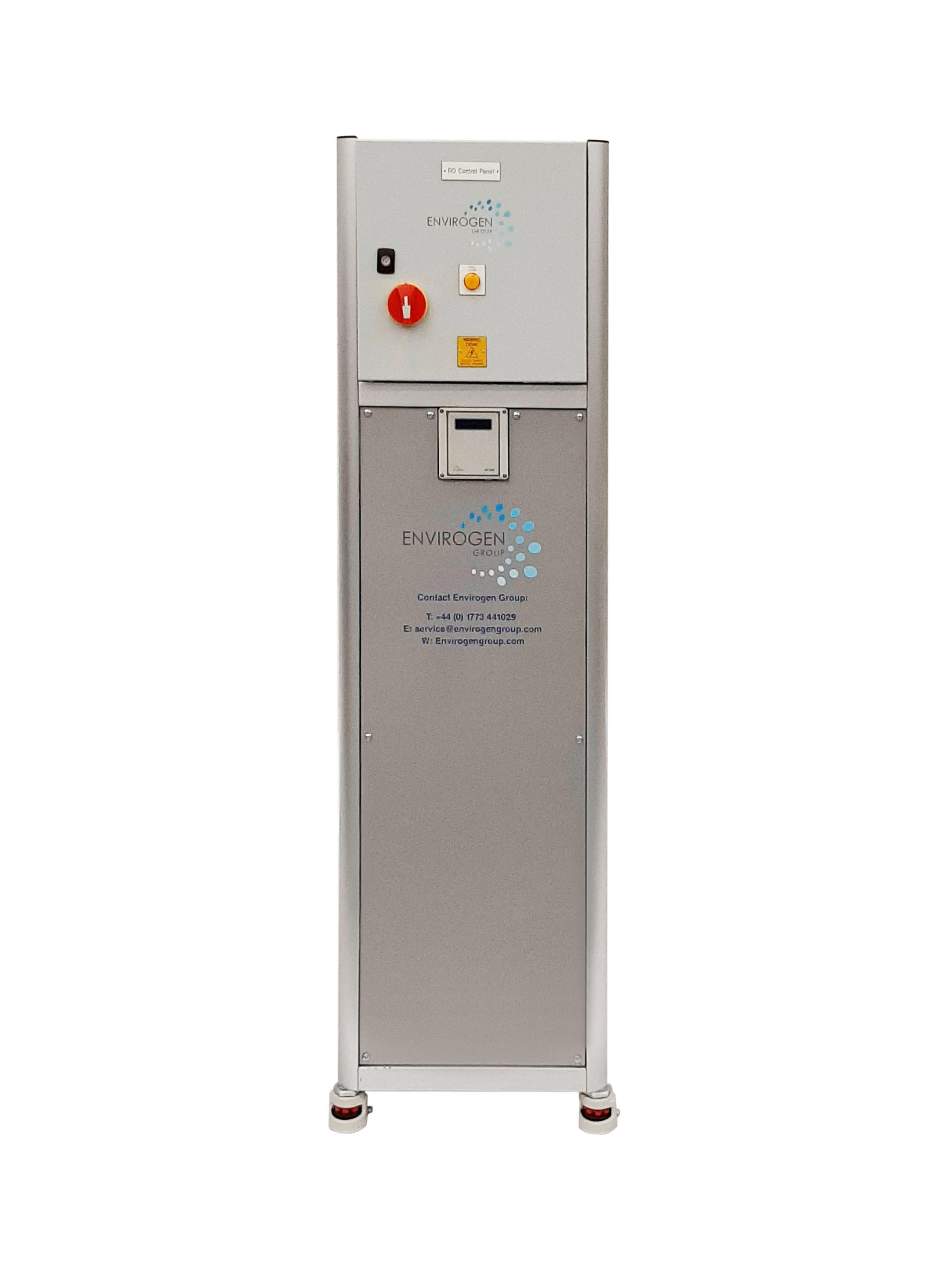 EcoRO Compact – the compact reverse osmosis system with high standards
EcoRO Compact is designed to remove a high percentage of most water impurities including up to 98% of dissolved inorganics and over 99% of total dissolved organics, colloids and particles. With its broad purification range, EcoRO Compact is suitable for multiple applications, including general laboratory use, industrial process water, climate control, cooling towers, closed hot water systems, cleaning, final product rinsing and water reuse.
This compact reverse osmosis system incorporates many other benefits:
High efficiency, low energy membranes mean low operating costs.
The pre-assembled and tested, skid-based design enables easy integration with existing processes.
A five-micron filter carbon filter helps further reduce particulate and chlorine levels.
An internal AB Airgap break tank and inlet filter meets Water Regulations standards and removes the need for a large, external break tank.
Safety comes first with a Pilz safety relay for emergency stops and no chemical handling.
Easy operation is delivered with a simple-to-use display linked to concentrate and permeate flow meters.
All EcoRO Compact models are eligible for PureCare service and maintenance plans, with access to an expert network of nationwide aftersales support.
EcoRO Compact is just one of our popular reverse osmosis systems and part of our EcoRange – a selection of modular technology that blends high quality with efficiency and a low total cost of ownership.
For a free assessment and to see how you can save energy, water, waste and money with EcoRO Compact, have one of our expert engineers contact you directly.