Green Technology Cleans Up Drinking Water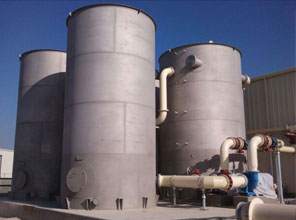 Green Technology Cleans Up Drinking Water
Removing Perchlorate with Envirogen's FBR
Today, history is being made in the Rialto-Colton Groundwater Basin of California where Envirogen, in conjunction with its customers, the West Valley Water District (WVWD) and the City of Rialto, are building the world's first biological treatment plant to remove the contaminant perchlorate from groundwater destined for the area's drinking water supply. The project, which began construction in August of 2011, is based on Envirogen's fluidized bed reactor (FBR) technology and will begin delivering treated drinking water to the customers of the WVWD in early 2013.
Like many areas in the state of California, Rialto relies on its groundwater to supply much of its drinking water. In 1997, a major plume of the contaminant perchlorate was detected in the Rialto-Colton Groundwater Basin that the city has used as a source of drinking water for decades. Perchlorate is used in the manufacture of solid rocket fuel, fireworks, road flares and several other products. It also occurs naturally in some areas of the southwestern United States and in certain fertilizers. Today, the state of California has in place a maximum contamination level (MCL) of 6 parts per billion (ppb) for perchlorate in drinking water supplies – above which those supplies may not be used.
Since its detection in 1997, the perchlorate plume affecting the Rialto-Colton Groundwater Basin has continued to grow and move through the aquifer, resulting in the shutdown of nearly a quarter of the Rialto's 22 drinking water wells. In some instances, wellhead treatment has been applied – usually ion exchange (one of Envirogen's core technologies) – to put individual wells back into service. But like any other city, with limited resources and a growing population, Rialto was interested in new alternatives. And the scientists at Envirogen had an idea – the adaptation of its FBR technology to a new application.
The Envirogen team has been using FBR technology for groundwater remediation of perchlorate in industrial applications for over a decade. Envirogen teamed with Rialto and the WWVD to demonstrate the FBR to California' State Department of Health and then to secure funds for the projects from California's Proposition 84 legislation and various federal and regional authorities. California State officials selected Envirogen's FBR treatment approach from more than 100 competing applications for grant money – showing the innovative quality of the concept.
The new facility will consist of Envirogen's FBR followed by a typical surface water treatment plant to polish the effluent to potable water standards. Using naturally occurring microorganisms on a fluidized media bed, the Envirogen system will simultaneously reduce influent perchlorate concentrations as high as 300 parts per billion (ppb) and nitrate at 20 ppm to non-detectable levels. The end products of this treatment are innocuous nitrogen gas and sodium chloride (salt). Unlike physical-chemical processes commonly used for the removal of these contaminants that simply involve a phase transfer of the perchlorate the FBR treatment system is "green" in that it is a destruction technology, requires low energy inputs, and does not produce hazardous by-products. When it goes online, the system will produce up to 3 million gallons per day (MGD) of quality drinking water for area residents.
What's the future of the FBR for drinking water treatment? Depending on local conditions and contaminant levels, it seems promising. Levels of perchlorate in groundwater have been detected in 33 states in the United States. And while currently, only seven states in the U.S. have given perchlorate any regulatory status, in February of 2011, the U.S. Environmental Protection Agency announced the agency's decision to move forward with the development of first-ever national standard regulation for perchlorate. The allowable levels have yet to be determined, but with the FBR's ability to eliminate perchlorate down to non-detectable levels, this first installation will serve as a showcase to illustrate the exceptional efficiency of biological treatment for drinking water in an economical, environmentally sustainable manner – lighting the way for other similarly challenged communities around the world in the years to come.